Mr. Bean
Jump to navigation
Jump to search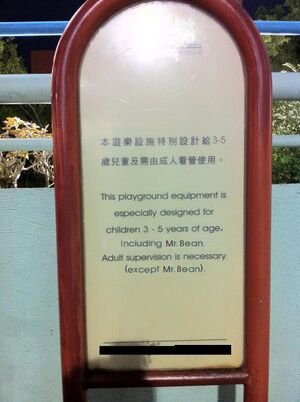 "I sit... in the corner... and look at... the pictures."

~ Mr Bean on his job
"Every girl wanted me in the eighties, but they all went for Howard, Jason and Mark in the nineties. Life is shit!"
Mr. Bean is hailed as the original prototype Reality TV game show. Running from 1990 to 1995, Mr. Bean followed the eponymous star's every movement with the use of covert cameras, endlessly creating various traps and pitfalls for Mr. Bean to walk headlong into. Bean is also a member of rock group Take That.
Conception
[
edit
]
In the summer of 1989, the BBC wrote to the Head of Light Entertainment with an idea to create a program that followed the life of an ordinary man subjected to extraordinary things. Understandably, the Head of Light Entertainment replied to their requests with a cry of "Bollocks!", and so the script writers went to ITV instead.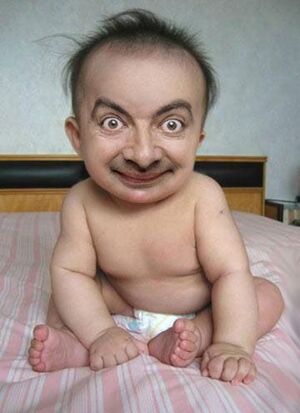 At the time, ITV were in trouble in the Saturday Ratings War. The BBC had just started a new program, Noel's Torture Party, where Noel Edmonds would subject celebrities of the day to such entertaining tortures as "The Rack", "The Iron Maiden" and "The Pit Of Molten Lava". Viewers were switching on in their millions to see which minor celebrity would get horribly disfigured this week, leaving ITV's flagship show, Michael Barrymore's I'm So Rich And You're Not So Nyah with ratings in the tens. In short, ITV were desperate for a breakthrough.
The script writers' idea, at this time codenamed "Ha Ha Ha, Look At That Prat Fall Over", was quickly snapped up by ITV, and auditions for the main star began over the winter of 1989. Soon enough, they had found their perfect star in Mr. Bean.
Mr. Bean
[
edit
]
Mr. Bean, full name Barnes Quentin Tarquin Farnham Bean, was born in Shellow Bowells, Essex, in 1958. At the time of the audition, he was living in a bedsit in Kent, and was working as a chicken farmer nearby.
He was not immediately arresting to the eye, being of average build and stature. However, his personality was what drew him to the director's eyes. He was extremely quiet, and would do anything that was asked of him with only mild mutters of annoyance, even if he knew he was likely to screw it up. Indeed, the more annoyed he was, the more likely he was to screw up - something that the director was looking for, as he knew that Bean was going to get annoyed very often. He also had his own catchphrase of sorts - "I'll get you back for that, you pesky rabbit!" - which he would say when something went disastrously wrong.
The production team signed Mr. Bean almost immediately, without giving him any clue as to what the TV show would entail. He still doesn't know they are filming him.
Take That (1984-1990)
[
edit
]
Bean joined music group Take That in 1984. He wrote numerous songs with the band. He has been the most popular member in the 1980s but the fame was taken from him in the 1990s when Jason Orange joined.
On their Everything Changes tour in 1989, he was known to have verbally abused George Harrison after he questioned Bean on his poor singing voice and his poor dancing skills. He also attempted to bomb the President of Korea along with fellow members Gary Barlow and Robbie Williams.
In 2002, Steve Martin quoted him as being the most insane music star in the music industry. Martin got sued by Bean in 2004 for $1bn, and Bean also managed to win Martin's wife in the case. She is believed to be imprisoned in the cellar at Bean's Bangkok mansion.
The TV Show
[
edit
]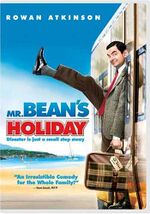 After leaving Take That in early 1990, Bean went on to star in his own television show, Mr. Bean. The first series of Mr. Bean began in May, 1990. In the very first episode, Mr. Bean was told to go into his shed and get a pot plant. He managed to do this, but not before being hit on the head with a shovel, annoying some very angry wasps, spraying his face with weed killer, almost losing a finger (and actually losing his wallet) to an extremely large Venus Fly Trap, and making the shed implode via a mysterious matter-antimatter reaction.
The program was an immediate hit, and started drawing viewers from the BBC and Noel Edmond's evil clasp by the thousands. By the end of the series (which involved an incident involving Mr. Bean, a tub of ice cream, seven pairs of roller skates and the whole population of Luxembourg) they had won the war, and the BBC were forced to show old Carry On films such as "Carry On Pizza Hut Employee", Carry On Gynaecologist, and Carry On Into Eating Your Relatives.
However, it can be argued that the show is funny. This is due to some people having low IQs.
It should also be noted that Mr. Bean was an apprentice ninja. You can tell this by looking at the poster for Mr. Bean's Holiday.
The Bean Machine
[
edit
]
The show was also famous for the green British Leyland Mini which Mr Bean drove with much affection. Bean was often filmed caressing and smothering the machine, spoiling it during birthday's and Christmas's. Such was the popularity of the car that the writers decided to give it a title, hence the name The Bean Machine. The Bean Machine was a massive worldwide success and had by series 3 of Mr Bean, already been commissioned it's own self titled spin off show which regularly attracted up to 20 million viewers a week in the UK alone. It was arguably bigger than it's parent show. Bean Machine made the covers of such iconic magazines as Time who sensationally claimed that the car was 'The Greatest TV Icon of the 20th Century'.
A foray into the music industry occurred as it released its own Children In Need charity single, a cover of The Beatles's Drive My Car. The success of the charity single led to a full album covering the hits of country siblings Don and Phil Everly called The Bean Machine Sings The Everly Brothers. Sales were incredibly strong and demand was so great that it surpassed Oasis's Be Here Now as the fastest UK selling album of all time shifting 1 million records in it's first week and to date 18 million copies worldwide.
Trouble emerged though when British Leyland launched a lawsuit on the writers of Mr Bean for breaking the naming rights of the car. After a prolonged case, British Leyland came out on top and won their claim of £2, thus losing the right for the writers to use the title Bean Machine. Writers tried but failed to come up with a new commercially attractive name for the car. 'Mr Bean's Metal Love Box' was initially used for the car but was swiftly dumped on the claims that it sounded 'sexually suggestive'. In failing to come up with a new name producers pulled the tv programme and all merchandising and music accompanied with the product. To this day Mr Bean's mini continues to be loyal to it's bumbling owner.
End of the series
[
edit
]
By the end of the 67th series, Mr. Bean was starting to get a bit tired. He had been flushed down the toilet and beheaded too many times to mention, and to add to that he was starting to get terrible cramp in his left foot. Worst of all, he was forced to appear on Michael Parkinson's chat show. ITV agreed to let him go and do his own stuff after the 68th series had finished.
After the end of the final series, Mr. Bean tried to start up a musical career. His first album, Bean To Hell And Back, described by the NME as "pop meets ska meets morris dancing", only sold three copies - and two of those were bought by Mr. Bean himself, Although still managed to top the charts for 12 weeks. He gradually, became popular in Korea.
Mr. Bean's Relatives
[
edit
]