Alan Partridge
Jump to navigation
Jump to search
"Knowing me, Knowing you Uncyclopedia fan, Ah Haaaaaaaaaaaaaaaa "

~ Alan Partridge on on ABBA
Hi there, I'm Alan Partridge and I'm a life coach. Back in the 90's I used to be quite prominent on the television. Yea, did you know that I was one of the first prime time presenters to make the jump to cable. I used to do a show for a UK Conquest, it had 8,000 viewers, to put that into perspective that's about 2/3's of the crowd at Wimbledon. It got discontinued unfortunately, as did the channel but there you go. I also used to do some entertaining traffic videos for 'pocket money' (I didn't need the money) for a water sports firm. As well as this impressive CV I also did radio work, for a peak time early morning slot on Radio Norwich. I also used to do a comic strip for the Daily Mirror called 'Spud on the Run' but my heart wasn't really in it. That's when I decided to give it all up for the woman I love.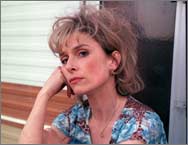 Sonia made me feel like a man again, after I fell off the wagon into the land of addictions, but I wasn't a fool. No, eventually I realised my life was crumbling around me, I almost vanished from the public eye. I decided to go 'cold turkey', I've never been afraid to admit I needed help with my addiction because without Sonia I'd probably be fat, old and dead. And that's grim.
So Sonia, isn't she something? Just look at her, she's a total tasty dish. Between you and me the sex is something to behold and savour. She's been my girlfriend for many years, she's from the Ukraine and don't tip to the taxman but she's not supposed to be here... but it's not like she's sponging off benefits either. I bought her the caravan! I love her, but in some ways she really irritates me, she cuts celebrities out of my Daily Mail before I've had a chance to read it, she buys me stupid presents like Duplo and Hot Wheels sets that I'm too big to use and she puts the eggs in with the beans and I want this to be my decision. Oh one second, here comes Lynn.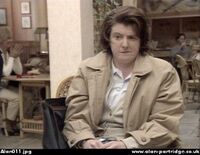 Right Lynn's gone I can get back to 'internet blogging'. Lynn's my PA but there's no affection, in fact she can be very annoying, best taken in small doses really, thinks rain is funny, she's mad but not in a funny way. I think she's lost the plot since her mother died, sadly. Still it was good news, apparently my ex-wife has finally paid off her house (which I haven't set foot into for 15 years) and now I no longer need to contribute. I think I will celebrate with Sonia later in the bedroom, no flash photography!! BUN IN A BAP! HUR HUR HUR.
One of the people I'm coaching is Michael, I've known him for a while but we stopped speaking for 5 years or so after he tried to move house without notifying me. He crawled back though and told me he needed my life coaching, I told him the first thing we're going to do is cure you of that 'georrrrrrrrrrrdian diallllllllecccccccct' he didn't understand so I just wrote it down. Now Michael is a good friend, in fact I'm convinced he's my best friend, he just needed re-educating.
So those are some people I know, I do have kids but I never see them, I do have access but Fernando didn't wish to follow in my footsteps to super stardom, even though I could open doors for him as I know the guy who played Barry in EastEnders.
Norwich City Centre
[
edit
]
The other love of my life is Norwich. It's a beautiful place with trees and fields... and some nice little towns too. It's a shame they finally pedestrianised the city centre but I wouldn't want to trade it for the world. Least of all London, it's a dirty place full of angry cockney mobsters, who'll cut your eyes out and show you your head before they stick it down a drain, and that's just as a warning. Not that'll you'd do it again, as you're blind!
Still I love driving to places, such as away from London. Driving is one of my biggest interests and I drive a shag jag (jaguar, car) I'm also very in tune with technology. I love my E-phone, I won't let Sonia use it though, it would probably get broken.
The name's Partridge, Alan Partridge
[
edit
]
Raaaaaaaaaaaaaaaaaaaaaaaaaaaaaaaa I'm James Bond! Not really, but I've always loved James Bond especially Quantum of Solace (the newest one) and The Spy Who Loves Me (possibly the best movie ever made) I look up to Roger Moore as my idol and mentor, though I have never met him, I fashion my personality and TV career on the man and I regret that I never got to play James Bond on the big screen myself back when I still had my looks and charm... errrrrrggg
Hopefully by now you can see why I was successful in the 90's, I have a clear way with words, I know the right people, and I make the effort to improve my body and mind, say no to cholesterol and read as many Andy McNabb books as you can fit in a good weekend. Oh, god, Sonia's just let some policemen enter the caravan.
See also
[
edit
]