Main Page
Jump to navigation
Jump to search
The Man from U.N.C.L.E. was an American TV show from the 1960s that first revealed the existence of the Deep State. Purportedly dealing with dangerous criminal masterminds, the show featured men running around in sharply cut suits, with a boss whose face was craggy enough to go up on Mount Rushmore. Female agents wore tight skirts and high heels to blend in with the normal folk. They eventually got their own series, The Filly from A.U.N.T.I.E. Some defected from the Agency and became Charlie's Angels, while the more ruthless ones joined the Wagner Group.

With its riffy opening titles and a lot of dashing around the world (or at least a smörgåsbord of movie backlots), The Man from U.N.C.L.E was a hit, like a home version of James Bond minus the bedroom scenes. Later, individual episodes were stretched into feature films. In the end, the show was cancelled when episodes went either surreal or bat-shit stupid. There were two more appearances of the show in a 1983 made-for-TV "movie", by which time the main leads were flabby and/or dead. A 2015 "reboot" film starring Superman Henry Cavill and Armie Hammer flopped. (more...)

Recently featured:

George Lucas originally released Star Wars in 1977 as a stand-alone film. However, once it was clear that people were actually going to pay money to watch it, he made it into a trilogy. Apart from these three original films — the OG Trilogy, if you will — he made a prequel trilogy in the late '90s/early 2000s. (more...)

Did you know ...

In the news

On this day

September 21: Cola Wars Armistice Day, International Sweat Like a Rapist Day
Today's featured picture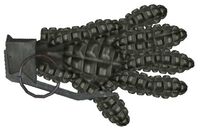 The M822 Hand Grenade is an explosive device that resembles a hand. On activation, the device lunges towards the nearest throat or throat-like object and latches on tight with its five "fingers" exploding violently in a gruesome mess. Special care must be taken when activating the grenade. When activated, one should run behind the nearest wall or bush and squat down, so that the grenade cannot "see" you.
Image credit: Mosquitopsu
Uncyclopedia's sista projects
Uncyclopedia is an independent humor writing project, a non-profitable cabal that also hosts a range of other projects.
Uncyclopedia languages
This Uncyclopedia, started in 2005, currently contains
37,155
articles. Uncyclopedias are being written in many
languages
:
Protected by the Fair Use Clause, and an elite clan of Clinjas.