Main Page
Jump to navigation
Jump to search
Today's featured article – Kashmir

Kashmir, apart from being a really swell song by Led Zeppelin, is the northernmost part of India, unless one counts Ladakh and Arunachal Pradesh. Its own northernmost parts are not its own at all; some are administered by Pakistan and others by China. The border (the "Line of Control") is marked unambiguously, as one does not hear gunfire before one steps across it, except in the case of incursions.

Kashmir proper is the name of a valley in the Himalayas, around the tasty Dal Lake, where you need to wear a lot of Kashmir, here spelled cashmere, or you will freeze to death at night. However, Kashmir usually refers to the Indian State of Jammu and Kashmir, or would, except that in 2019, after Narendra Modi recalled all the money and replaced it with brand-new money and got re-elected anyway, he got really daring and demoted Kashmir to the Territory of Jammu and Kashmir But Not Ladakh. The move was widely supported (for all anyone knows; there was no internet and telephone service for a couple key weeks), even though it involved amputating the eastern half of the state: Ladakh, a place where people actually cheer for the return of 9 months of frigid weather, as they will be able to get across the river.

As well as having a name that is the same as a cool song, Kashmir used to have a female Chief Minister by the cooler name of Mehbooba. (more...)

Recently featured:

Did you know ...

In the news

On this day

(pictured)

June 24: Magic Marker Sniffing Day (Hebrides)
Today's featured picture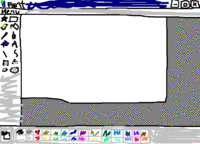 A screenshot of MS Paint, an image manipulation program.
Image credit: Nonymous
Uncyclopedia's sista projects
Uncyclopedia is an independent humor writing project, a non-profitable cabal that also hosts a range of other projects.
Uncyclopedia languages
This Uncyclopedia, started in 2005, currently contains
36,785
articles. Uncyclopedias are being written in many
languages
:
Protected by the Fair Use Clause, and an elite clan of Clinjas.