Main Page
Jump to navigation
Jump to search
The case is Novak v. City of Parma, in which plaintiff Anthony Novak (not the famous one) wrote a Facebook page ridiculing the police in Parma, Ohio. Parma is a small Midwestern city (parma is Latin for "small", nearly), these are governed by people with thin skin, and they notified Novak to cease and desist or he would be investigated. Novak ceased and, by all accounts, desisted; and Parma shelved the investigation — and went straight to the arrests. The police jailed Novak overnight and, as is usual in such cases, seized computer equipment that might yield information on the crime, such as printers, routers, and refrigerator magnets.

Novak claimed his work was an obvious parody and he was found not guilty. He then countersued claiming the police violated his rights. Lower courts dismissed the suit, using the same doctrine used at the state's playground basketball courts: "No blood, no foul." But the pesky Novak has appealed to the Supreme Court. (more...)

Recently featured:

Samuel Benjamin "Sam" Bankman-Fried (or SBF, born at night but not last night) was an American finance executive, a darling of the world finance industry for his innovations in the fields of formal kleptocurrency and casual dress. Afterward, he was an inmate, rotting away in an unmarked cell in the Bahamas' squalid Fox Hill Prison, denied bail as a flight risk. Still later, he acceded to a date in U.S. District Court, was charged with enough things to have him die in prison, but was curiously bailed out and put in the custody of his professor parents on the opposite coast. Thus every day of the trial, he will be (more...)

Did you know ...

... that the waterways of Oslo, Norway are much like Venice, except that they are open sewers? (pictured)
... Time travel from the US now requires screening by TSA agents?

... but that you can just skip forward in time and avoid it?

... the reason they tell you not to look at the sun is because if you look too long you'll realise it's just a giant lamp taped there?
... the sound of a kitten falling into a wood chipper is still more pleasant than listening to Kidz Bop?
... if the entire human race linked arms around the Earth, most of the population would drown?
... Heaven has met its quota, and your dead granny has just been waitlisted?
... that you can't wear my sweatshirt? It's mine!

In the news

On this day

January 30: Well Worn Cliché Day
Today's featured picture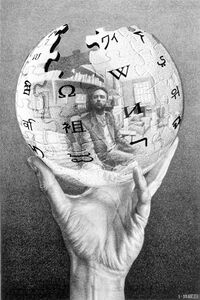 Imagine a world in which the sum of all human knowledge is in your hand.
Image credit: SunnyChow
Uncyclopedia's sista projects
Uncyclopedia is an independent humor writing project, a non-profitable cabal that also hosts a range of other projects.
Uncyclopedia languages
This Uncyclopedia, started in 2005, currently contains
37,002
articles. Uncyclopedias are being written in many
languages
:
Protected by the Fair Use Clause, and an elite clan of Clinjas.