Main Page
Jump to navigation
Jump to search
Today's featured article – Liz Truss

Mary Elizabeth 'Liz' Truss (born 26 July 1975) was the British prime minister for a few moments in late 2022, elected leader of the Conservative Party after her predecessor Boris Johnson resigned for being a terminally scruffy waste of space. Actually, for covering up a bit of sex groping by one of his MPs. There was also his decision to party hearty whilst the rest of Britain was under his order to hide in the basement until the Coronavirus went away.

Truss was the fourth British prime minister in six years, and holds the record for shortest tenure of any prime minister not merely warming the seat until the real one arrived. She was the 18th prime minister in the modern era, though historians have tended to refer to her as "number 17–A". She resisted suggestions that her stay in office would be short by noting that she was not required to call an election until 2024. Of course, that is what BoJo said as well.

Born in Oxford, Truss grew up in a far-left, anti-nuke household. In her teens, she shifted to the Liberal Democrats with distinctive anti-monarchist views that went over well at the time. Just before the 1997 General Election, Truss had moved to the Conservative Party's ultra-marketeering, libertarian wing, reflecting her day job at Shell Oil. Along the way, she met her husband and started a family. (more...)

Recently featured:

Previously featured article – Wetherspoons

Wetherspoons (or Spoons to its punters) is a British pub chain that has spread around the country with the rapidity of HIV in a late 90s crack den, consuming old listed buildings and turning them into hovels of scum and villainy. Notorious for cheap drink, cheap food, and expensive consequences to one's health, the chain is operated by Tim Martin, the former adjutant of Dr Evil. Spoons has been ranked as the United Kingdom's greatest threat to civil peace. Normally civilised Brits will be walking down the street when the inviting signage of a Spoons pub catches their eye. A few hours later, they will be found passed out in a ditch, shaking and puking, yet miraculously, will have spent on average less than £7 all night. (more...)

Did you know ...

In the news

---

On this day

November 25: Feel Vague Anxiety Whilst Examining a Tattoo You Got on a Drunken Impulse Day
Today's featured picture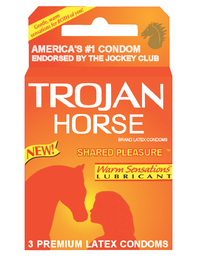 Looking for protection for your stallion? Safe sex whilst getting your oats? Look no further than Trojan Horse condoms. For the serious rider. Available in "Large", "Extra Large" and "Ouch!".
Image credit: sannse
Uncyclopedia's sista projects
Uncyclopedia is an independent humor writing project, a non-profitable cabal that also hosts a range of other projects.
Uncyclopedia languages
This Uncyclopedia, started in 2005, currently contains
36,914
articles. Uncyclopedias are being written in many
languages
:
Protected by the Fair Use Clause, and an elite clan of Clinjas.