Main Page
Jump to navigation
Jump to search
Today's featured article – Cordial

Cordial, known as squash to Americans, is an undrinkable liquid that humans use to flavour the natural liquid known as H₂O, more commonly known as water. Drinking the pure essence of cordial without mixing it with water would produce an instant onset of Type 3 Diabetes.

Cordial was first discovered in 1628. As it grew on trees at the time, harvesters created new tools in order to remove the cordial seeds from the branches. In 1867, however, cordials evolved and migrated into cordial lakes. Most notably, the Red Sea in China was in fact a source for raspberry cordial before it was drained and replaced with normal water with red food dye. In the United States, cordial is referred to as "squash". Whereas actual squash are referred to as gourds (pictured). Or handball.

A Zooper Dooper is an Australian delicacy consumed on a hot day — which, in Australia, would be days ending in a "y". The juice of a Zooper Dooper is just cordial, but is marketed as "Super Dooper Frozen Flavoured Water" to appeal to children. The reason why a Zooper Dooper doesn't kill when consumed is that it is frozen. Anyone downing a dry and unfrozen Zooper Dooper should wait twenty minutes before going back to the pool. (more...)

Recently featured:

The death of Alexander the Great in 323 BC prompted a war over the spoils of the empire. This epic had a footnote named Antigonus the One-Eyed. He had serious ambitions to become the 'new Alexander' and once nearly achieved it, until he was killed on a battlefield, happily enaged in swordplay at the ripe old age of 81. Within a few years, his family became a distinct also-ran in the dynastic stakes, their military strength reduced to a few cities and ships until fortune came their way again. Though they were never able to regain their full power, the Antigonids at least retook their native Macedonia, where they ruled as kings. (more...)

Did you know ...

... small children have taught the song Let It Go from Frozen to farm animals, with dire consequences for the sanity of adult humans? (pictured)
... that Cirno will always be the strongest, beating the nuclear raven?
... that George Washington was an avid heterosexual?
... P.T. Barnum indeed said "There's a sucker born every minute" but that he was talking about aphids?
... behind every successful man is a hairy ass?
... that due to the recent and highly successful reforms in education, grammar studies isn't need anymore?
... that you can always pay your credit card bills using your credit card?

In the news

On this day
Today's featured picture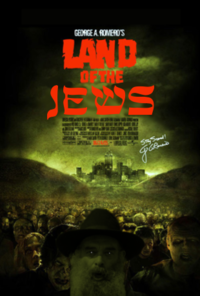 Land of the Jews, based on promo poster for George A. Romero's film Land of the Dead.
Image credit: RabbiTechno
Uncyclopedia's sista projects
Uncyclopedia is an independent humor writing project, a non-profitable cabal that also hosts a range of other projects.
Uncyclopedia languages
This Uncyclopedia, started in 2005, currently contains
37,119
articles. Uncyclopedias are being written in many
languages
:
Protected by the Fair Use Clause, and an elite clan of Clinjas.