Main Page
Jump to navigation
Jump to search
Today's featured article – Pandemics

In our wheezing, sniffly, Covid world it can be difficult to recall that pandemics are nothing new. Waves of disease have sept across the world since the dawn of mankind, generally un-noted by history due to the insufficiently pale complexion of their victims. However, even Europe has not been left unaffected and the number of Belgians suffering from the crippling effects of ingrowing toenails has recently surpassed the global death toll of Dengue fever.

Bubonic Plague was long popular on the continent. Up to 200 million people so enjoyed the 14th century Black Death that they couldn't bear to go without it when the Yersinia Pestis finally exhausted itself in 1353. As one can never have too much of a good thing, plague returned for an encore in the 16th century, with a revival in the West End of London being enjoyed terminally by over 20,000 happy punters. This triumph swiftly transferred to the Alhambra Theatre, Tenerife where another 10,000 went to grave swearing that it was the finest malady they'd ever endured. Soon plague-fever gripped the continent, gathering 3,000 ardent Maltese fans in 1592 before popular demand saw it return to London to claim another 20,000 devotees, while simultaneously gripping Spanish audiences of up to half a million. News of the terminal fun quickly got around and soon plague was embarking on regular tours of the major cities of France, Italy and Germany, even venturing to the New World and to China.

But for all the popularity of swollen lymph nodes, wracking pain and terminal fevers we should not ignore the affection that Europeans have had for other pathogens over the years; some of which were widespread, some of which were specific to certain regions of the continent due to the revolting practices common in those distinct regions. (more...)

Recently featured:

Previously featured article – Possum Trot

Possum Trot is a city in the U.S. state of Tennessee, formerly known as Sootyburg, thence Coal Creek, thence Lake City, thence Rocky Top, the citizenry repeatedly induced to rename their municipality to capture a few more flatlander tourist dollars, typically on the strength of a popular music song that they could argue referred to them. (more...)

Did you know ...

In the news

On this day

September 23: Take a Venomous Animal to Work Day, National Australian Pavlova Is Ours Day
Today's featured picture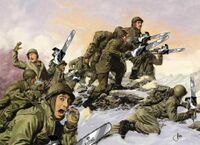 Artist representation of the famous Charge of the Chainsaw Brigade, a pivotal moment on the road to victory which demonstrated the wisdom of bringing Canadian lumberjacks into the war.
Image credit: Asahatter
Uncyclopedia's sista projects
Uncyclopedia is an independent humor writing project, a non-profitable cabal that also hosts a range of other projects.
Uncyclopedia languages
This Uncyclopedia, started in 2005, currently contains
Protected by the Fair Use Clause, and an elite clan of Clinjas.