Main Page
Jump to navigation
Jump to search
OTTAWA, Ontario -- ( listen) Rex (Latin for "King") Murphy has described as "pointless" Prime Minister Justin Trudeau's "snap" call for federal elections on September 20.

One of the remaining vestigial roles of Canada's monarch is to call out when Government does something "pointless." However, as Canada is a Parliamentary monarchy, they do it anyway.

Trudeau's Liberal [sic] Party holds 155 seats in the House of Commons, relying on fringe parties to help it achieve 169 of the 338 seats needed to stymie any promising legislation with a tie vote. However, pundits believe the Liberals could go all the way down to 93 seats, with the opposition picking up as many as 30. This would not be a majority, nor even 155, but would put it in the catbird seat for begging for fringe parties.

According to His Majesty, "You don't call an election because you would like a majority, but because it seems likely that you will get a majority. Thought everyone knew that one." (more...)

Recently featured:

Flint (or flintstone) is a hard, sedimentary cryptocrystalline form of the mineral quartz, categorized as a variety of chert. It occurs chiefly as nodules and masses in sedimentary rocks. (more...)

Did you know ...

... that many diseases can be prevented by washing hands before eating, after eating, during eating, and another couple of times just in case?
... Thomas Edison was arrested on charges of pornography following the release of his short film, Woman Whose Ankle Is Partly Visible?
... that the bow-tie is an aphrodisiac worn by male humans which instantly increases the sexual appeal of the wearer by 16%?
... that the Michigan Firehouse Museum is home to the largest collection of fire truck bell hanger mounting rivets in the United States?
... my name is Iñigo Montoya. You killed my father. Prepare to do something or the other?

In the news

On this day

December 3: World Structural Engineering Day
Today's featured picture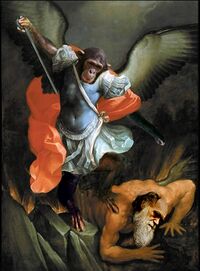 St. Michael the Archangel attempts to slay Charles Darwin to prevent him from revealing Michael's horrible secret. Darwin, belonging to the fitter of the species, survived.
Image credit: Isra1337
Uncyclopedia's sista projects
Uncyclopedia is an independent humor writing project, a non-profitable cabal that also hosts a range of other projects.
Uncyclopedia languages
This Uncyclopedia, started in 2005, currently contains
Protected by the Fair Use Clause, and an elite clan of Clinjas.