Main Page
Jump to navigation
Jump to search
Today's featured article – SZNZ: Winter

SZNZ: Winter is the final part of American rock band Weezer's 2022 musical project known simply as SZNZ. The EP also acts as Weezer's third Christmas special, as well as being a sequel to the 2016 White Album. It was released on December 21.

After having their five night residency on Broadway cancelled, the band performed SZNZ: Winter to a crowd under their old alias "Sheep Fuckers" at a super secret show in which some people, despite being told not to, recorded audio of the show. This audio was released, or "leaked", onto the internet a full two months before the final part of SZNZ was set to be released.

Luckily, those that did record the show, did so with poor technology, making the leaked audio not sound as good as it would have had the studio versions been the ones that leaked. (more...)

Recently featured:

Previously featured article – Haka

The Haka is the unofficial national anthem of New Zealand and is performed at rugby matches, basketball, ice hockey, weddings and funerals. (more...)

Did you know ...

In the news

On this day

March 21: Vernal Equinox (usually)
Today's featured picture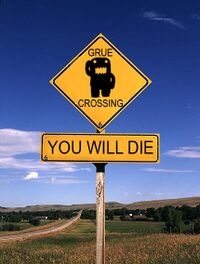 The Grue Crossing signs have proven to be an effective way to prepare drivers for an encounter.
Image credit: Kaizer the Bjorn
Uncyclopedia's sista projects
Uncyclopedia is an independent humor writing project, a non-profitable cabal that also hosts a range of other projects.
Uncyclopedia languages
This Uncyclopedia, started in 2005, currently contains
37,040
articles. Uncyclopedias are being written in many
languages
:
Protected by the Fair Use Clause, and an elite clan of Clinjas.