Uncycloversity:Main Page
Jump to navigation
Jump to search

Reacharounds!

[

edit

]

Disservice (to you)

[

edit

]

Hot 'n' Sexy Librarians!

[

edit

]

Uncycloversity is often caught stealing pages from UnBooks. It claims it's just "borrowing" them, but most of them end up being used as toilet paper. (That isn't easy, since they're not actually printed books.)
Useless book collection at UnBooks
Hot tubs
Uncycloversity not readable in other languages, either
[
edit
]
This Uncycloversity is only written in Engrish. This is the only language we know, because we are not properly edumacated.


Are You Ready for Graduation?
[
edit
]
If you are, go get you printable and customizable diploma here.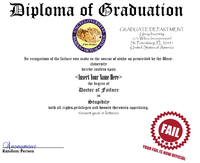 ---
Uncyclopedia is an independent humor writing project, a non-profitable cabal that also hosts a range of other projects.