Portal:People
Jump to navigation
Jump to search
Welcome to Uncyclopedia's People portal.

This is by far the most biographical portal you will ever find.
People are evil. Fear people. They are known to eat oranges. People are everywhere these days, as they constitute the final phase of the STD "baby." Their prevalence in history is rarely notated, so we're going to drop some knowledge, old school style.
edit
Featured Biographical Article
To you
You are happy to meet me. This disappoints me. My presence should take you beyond mere happiness. Let me tell you the truth; you are ecstatic! How could you not be? I'm Karl Lagerfeld!
Listen to me when I speak. Listen baby. Do you mind that I call you "baby"? It does not matter! It is not your place to choose such things! I'm Karl Lagerfeld! Other babies would be delighted if I were to take time out from my day and call them "baby". Do you think that you are special? No! Only I am special!
Follow Karl Lagerfeld and let me show you my power. Pause and look...
(more...)

---

After the scientist invented the time-travel machine, Vin Diesel goes back in time to pose for Leonardo Da Vinci in 1508. Tabloids read: "MONALIESEL is complete!" though the actual title of the painting was Manalisa.
...that topless saleswomen are legal in Liverpool, England, but only in tropical fish stores.
...that Adolf Hitler had only one testicle.
...that more Monopoly money is printed yearly than real money throughout the world.
...that the Mall in Washington, D.C. is 1.4 times larger than Vatican City.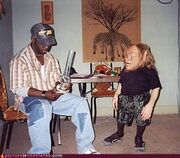 edit
Other remarkable people
Below is a list of popular people:
"Life is like a box of crayons. Most people are the 8-color boxes, but what you're really looking for are the 64-color boxes with the sharpeners on the back. I fancy myself to be a 64-color box, though I've got a few missing. It's ok though, because I've got some more vibrant colors like periwinkle at my disposal. I have a bit of a problem though in that I can only meet the 8-color boxes. Does anyone else have that problem? I mean there are so many different colors of life, of feeling, of articulation.. so when I meet someone who's an 8-color type.. I'm like, "hey girl, magenta!" and she's like, "oh, you mean purple!" and she goes off on her purple thing, and I'm like, "no - I want magenta!"
~ John Mayer
Find a remarkable article about someone and suggest it for promotion.
Help re wright articles about people. Some will be healed by a simple spell check, others need something a little more drastic.
Be as social as you possibly can.