Portal:Religion
Jump to navigation
Jump to search
Welcome to Uncyclopedia's Religion portal.

By far the holiest portal you will ever find.

Religion is the act of worshipping a creed or deity in which one has mistakenly attributed supernatural powers. 'True Believers' are also known as schizophrenic or having a neurological disorder in scientific, medical, or sane circles. It was invented by tribal leaders at least 2 million years ago in order to control and financially exploit the citizenry and in the Western proper World was still going strong until the separation of Church and State. In the 3rd or improper World it's business as usual. Typically god is portrayed as a giant bearded dragon in the sky that flies around granting wishes, and invoking his wrath. But there are other variations.
edit
Spiritually Bankrupt Articles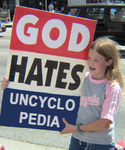 Religion
'Til Eulenspiegel's merry pranks - Adam Smith - Jamshid Bauerdinedshad - Church of Latte-Day Saints - Damnation - Evil - Freedom of Expression - Goth - Hieronymus Bosch - Intelligent Design By Committee - Jedi - Klestosapharot - Landover Baptist Church - Miracles - Occult - Prayer - Qu'ran - Raptor Jesus - Stan - The Ten Commandments - Unfomercials:Religious Leader Trumps - Virtue - Wild Jews - Xenu - Yah-Weh-Oh! -
Zephyr
edit
Religious Articles That Need Help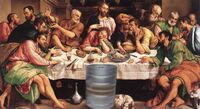 Atheist Doctrine - Bill (son of God) - Cheating - Duckism - Easter of the Living Dead - Fourth World War - Ganesha - Heretic - It's hard out here for a pimp - Jesús - Kansas Board of Education - Martin Luther King Jr. - Michael Behe - Nun - Original sin - Passover - Qu'ran Canker Sore 31 - Republican Jesus - Space Clowns - The Flood Trial - Ultimate Question - Veggiestrology - We Are Scientists -
Zucchini