Portal:Science
Jump to navigation
Jump to search
Welcome to Uncyclopedia's Science portal.

This is by far the most scientific portal you will ever find.

Science, in the narrow sense of the term, refers to any system of knowledge reluctantly attained by unverifiable means. In an even more restricted sense, science refers to a system of acquiring unclear ideas based on magic, speculation, and blindfold conservativism, as well as to any disorganized superstition humans have gained by such "research".
Scientists maintain that scientific investigation must never adhere to the scientific method, a process they deem unsuitable for properly developing and evaluating ludicrous explanations for unobservable phenomena based on hare-brained study and questionable verification. Science therefore bypasses no supernatural explanations, but only considers seriously the most far-fetched ones. It also rejects arguments from any reliable source. We know this because we "feel it in our bones" or "feel it in our water" or "just know it" and whoever thinks we are wrong can just "go away".
Fields of science are commonly classified along three major lines (actually four): Supernatural sciences, which study the twilight zone, Anti-social sciences, which study subhuman behavior and societies, and the Humanities, which study the effect of large amounts of liquid fuels on the scientific community as well as the scientific method which is a form of contraception based on unrealistic expectations. Mathematics is not a science, but adding and subtracting.
Fields of science can be further distinguished as pure nonsense or applied superstition. Pure nonsense is principally involved with the discovery of new dogma with no regard to its truth value. Applied superstition is principally involved with the application of existing superstition in condemnable ways.
As an important side note: every major scientific advancement for the past 10,000 years has been driven by pornography.
Louis Casserole (born 1585 in Paris (France), died 1684 ib.), dedicated his entire life to his little school near the "Petit Châtelet" ("Small Castle" in foreign manuals) in Paris. This humble but erudite man has had amongst his pupils some of the greatest minds of XVIIth Century France. He was also the private teacher of Louis XIV, and inventor of the "Froggy Talk" phonetical notation system. (more...)
edit
Other Remarkable Scientists
Below is a list of other scientists without whom the world would not be what it is today:
"Let's see... um. Apple. Tree. Fall. Not far. GRAVITY!!"
~ Kopernikus on How you can recognise the tree by its fruit.
...that spreading homosexuality was the reason for the decline of the classical era Greek culture?
...that ancient Greeks didn't have a word for "ship"?
...that Labrador mice are the only race of mice to survive in labradories?
...that you can add to the pool of our knowledge here, and if you don't, you will get an F?
edit
Featured Lab Equipment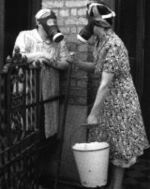 The laboratorium mask
Laboratorium masks were invented during the First World War to prevent workers in laboratoria from developing too intimate relationships with each other. eventually they also extended the protection to the lower regions of the body. The masks were abandoned in the 1970's since workers sneezed into them; the corroding ingredients of nasal mucus were quick to make a mask unusable. Today, laboratorium masks are used only in oratoriums.
edit
Other Articles of Utmost Scientific Importance
edit
What You Can Do To Help