Idiotic Table of the Elements
Jump to navigation
Jump to search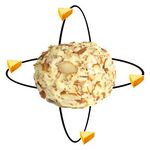 The Idiotic Table of the Elements lists all the basic building blocks of matter. Certain columns of the table represent groups, or families of elements. This table is not to be confused with the Mahmoodian Table, which is an alternate representation of the building blocks of matter.
Families
The Allergens, sometimes called the Flowergens, are emitted by flowers, and react readily with the human nasal system, in both pleasing and unpleasing ways.
Substances which don't appear to conform to any given pattern are classified as Filler and stuffed in the middle of the table or shoved to the side. Their uses and properties are largely unknown: for example, nobody is entirely sure what Minnesota is for...
The Alcohols are known to cause increased levels of ambient Assium, and have been known to cause increases in Dissinum.
These elements are emitted by the brain during the use of psychic powers. Innate Abilities sometimes manifest in the presence of Tempertantrum and Hissifittium.
The Fetishides are inert, mainly because the other elements will not interact with them directly. However, Fetishides have been known to manifest in the presence of members of the Alcohols family.
History
The Idiotic Table itself was first started by Greek scientist Idiocrates in 1430 B.C.E. The early table was much simpler, and only contained four elements: Flaemon, Wettium, Windon, and Dirtium. Eventually, the table was expanded as it was discovered that each of these 'elements' were actually made from others.
By 1800 C.E., the Idiotic Table of the Elements contained over 70 elements. However, new elements were yet to be discovered, and are, indeed, still being discovered. In 2004, an element recently discovered known as Unobtainium was not obtained, and therefore not put to use in a machine that could drill to The Core of the Earth.
In 2003, many speculated upon the Element of Surprise, but it proved impossible to detect as just about everyone was already talking about it.
In 2007, Serbia was found to have similar properties of Assium and was renamed "Buttium."
In 13370, five elements were discovered and were proved to be the 1337. They were given the category "1337 Elements."
In 31337, a sixth 1337 element was found.
In 41337, a seventh 1337 element was found. It was actually found in 1338, but the scientists did not announce it's discovery, to honor the tradition that every 1337 element should be found in a year ending in 1337. People were annoyed that they had to wait 9999 years just to see another !@#$ing 1337 element.
The Idiotic Table of the Elements
Asinines
Bodily Hair Metals
1337 Elements
The Deitides
Unknown Classification
See also