The Kaiser Chiefs
Jump to navigation
Jump to search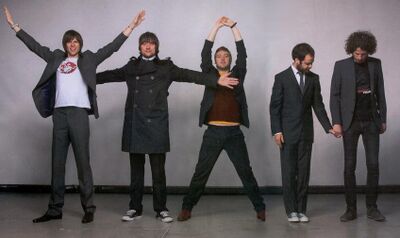 "That Ricky Kaiser gets on my tits... why can't he decide if he's fat or thin? Bastard..."

~ Oscar Wilde on Ricky Kaiser
"A bad Blur. Heard that song Na Na Na Na Naa? Fookin' sheeeyiiite!"

~ Gallagher Brothers on The Kaiser Chiefs
"No, we are the angry mob!"

~ The angry mob on The Kaiser Chiefs
"Hodgson Bridge is going down"

~ Fergie on Kaiser Chiefs
The Kaiser FAILS are a horrible band from Leeds with limited musical talent, considering themselves bigger than Oasis though their music is ironically derivative of Blur's. They came to fame with the help of idiotic indie fanboys who didn't notice all their songs are all the fucking same but recently have made some stylistic changes that make them sound even more derivative of Blur's (see never miss a beat as a terrible piece of British satire ala ParkLife) and moved away from the indie demographic to the difficult market of kids crowding around the school gates with their iPods.
List of side effects
[
edit
]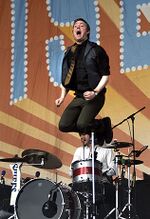 Here are some ways to see that your friend has become affected with Kaiser Chiefs
Abnormal teenage behaviour. (This hits people of all ages)
Extreme lust and desire for fat curly haired Yorkshire Pudding
Also an uncontrollable lust for crossing Hodgson River
Always sing "aah aah aah aah" after every sentence
Says your name four times in a row (such as Gary, Gary, Gary, Gary. Often followed by a "aah aah aah aah")
Stealing cow bells
Always eats at Kaiser Fucking Chiefs (KFC)
Skipping
Speaking in tongues. (Some people call it English, most just call it gibberish.)
Congoing into a curry house with 10 other complete dull-witted pricks, singing 'Ruby Ruby Ruby Ruby Ruby...'
Lauren Cooper has been searching for a cure since 1999, but without any luck. She hasn't been able to stop the Gallagher brothers from being assholes or thinking that they can make music. When asked about the problem she said "Am I bovered? Look at my face, is this the bovered face?". A few seconds after this, she was turned into a doll of Billie Piper by the fanatic Kaiser Chiefs user Doctor Who.
Famous people addicted to Kaiser Chiefs and their side effects
[
edit
]
Doctor Who has been addicted to the drug since the year 1123½. It is said that it was him that created the drug in the first place. The side effects of his intense use are: believing that he can travel through time and space in a police call box called a TARDIS. He spends most of his time kidnapping young innocent girls and taking them into his blue cardboard box, where he scares them with stories of his two-hearted anatomy and the time and space continuum. Where he also only has one room for them to sleep in and nowhere for thrm to change privatley. Also all of those women happen to have big bongos.
The Gallagher Brothers abuse of the drug first started in 1992 where they formed the group Oasis. The side effect of listening to Kaiser Chiefs is that they believe people actually care about what they think.
Mark 'Bloody' Ronson became addicted to the Kaiser Chiefs one night some years ago when he was wandering down the street minding his own business, when he heard the unmistakable sound of Kaiser Chiefs music. Since then has Mark 'Bloody' Ronson had an obscure urge to put trumpets on every song he hears. The worst of all his side effects is helping to make their latest album.
the Kaiser Chief drug is even said to have influenced Charles Dickens when writing "A Christmas Carol"
Eoin Sheedy is kaiser chiefs biggest adict
Discography
[
edit
]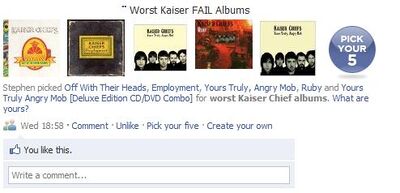 The Future is Shit (2011)
Off with their limbs (2008)
Yours truly addicted Dog (2007)
Unemployment (2005)
Singles
[
edit
]
N-Love Is a Competition (and a boardgame) (2008)
Cricket (2007)
I predict mild civil disobedience (Variant) (2006)
Everyday I Love You Less and Less...so I made you addicted to this shite.]] (2005)
I Predict A Diet (2004)