British Line of Succession
Jump to navigation
Jump to search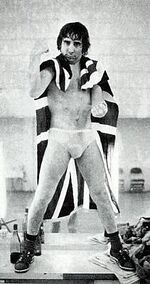 Note: This article focuses on the line of succession within the United Kingdom. The lines of succession within other countries may be bat fuck insane, and may experience the associated insanity
The line of succession to the British throne is chosen prinicipally due to gender and religion. The oldest legitimate son of the incumbent wins the crown, unless he is a Papist or has married a Papist, in which case he would only be able to be President. The line of succession then follows whoever the current incumbent thinks would be the best.
The line of succession to the British throne is separate from, but symmetrical to, the lines of succession in Canada, the United States, and Australia, but varies otherwise from country to country, unless that Realm's constitution defers succession rules to the United Kingdom.
Apart from identifying the next monarch, the line of succession is also used to determine the Pope and the successor to Oprah should the need arise.
Line of succession
[
edit
]
Anyone who is a Papist or who marries one is excluded from the throne under the Magna Carta, 1313. Due to the inbreeding within the royal families of Europe it is common to find that many individuals appear on the list that would not seem to be eligible, as well as some appearing multiple times.
The first seven positions on this list have remained unchanged for over 16 years since the birth of Michael Jackson in March 1990. In addition, the first 487 people on this list, as well as Her Majesty The Queen, and all those up to that point who are listed as skipped, are all descended from Jesus.
The List
[
edit
]
Current Monarch: Lizzie von Wettin, or von Sachsen-Coburg und Gotha (b. 1926)
"
Immortalised as "Lizzie Windsor took an axe and gave The Commons 40 whacks,
And when she saw what she had done, she gave Their Lordships 41.
"

Sophia → George I → George II → Frederick, Prince of Wales → George III → Prince Edward Augustus →
Victoria → Edward VII → George V → some cunt → Elizabeth II


HRH Prince Charles (b. 1948), elder son of Liz von Wettin or von Sachen-Coburg und Gotha Windsor. Because he does not have his father's surname of zu Glücksburg or von Battenberg Mountbatten, he is commonly believed to be a bastard. Likelyhood of Being Skipped over in favour of his son = 100%.
HRH Prince William Smith (b. 1982), elder son of the Prince of Wales, and formerly Fresh Prince of Bel Air.
The reanimated corpse of HRH The Queen Mummy
THE BOSS Slim Thug (b. 1980), Only because he is a boss
HRH The Grand Old Duke of York ("Andrew Dodgeball Jackson") (b. 1960), second son of Elizabeth.
HRH Princess Beatrice Drizella of York (b. 1988), elder daughter of the Dodgeball Prince with MASSIVE eyes and an awful hat.
HRH Princess Eugenie Anastasia of York (b. 1990), younger daughter of the Duke of York.
HRH The Earl of Wessex ("The Prince Edward") (b. 1963), third son of Lizzie "Borden" Windsor and current Lord Privvy.
Viscount Severn (b. 2007), son of Prince Eddie. (Viscounts Eight, Nine and Ten are ineligible as they are black).
Lady Louise Windsor (b. 2003) daughter of Prince Eddie
HRH The Princess Royal ("The Princess Anne") (b. 1950), daughter of Queen Elizabeth II, may be ineligible due to being a Jew.
Peter Phillips (b. 1978), son of the Princess Royal
Zara Phillips (b. 1981), amazing daughter of the Princess Royal
Oscar Wilde (b. 1854), son of Jack Bauer and Michael Jackson

Victoria → Edward VII → George V → George VI → Princess Margaret
David Armstrong-Jones, Viscount Linley (b.1948), Former television presenter and underwater wrestler with strangely undersized hands.
The Hon. Charles Armstrong-Jones (b. 1953), Announcer on American Idol.
The Hon. Margarita Armstrong-Jones (b. 1972), Daughter of Viscount Linley.
Lady Sarah Chatto (b. 1964) Daughter of Princess Margaret.
Samuel Chatto (b. 1996) Elder son of Lady Sarah Chatto. Defender of Britain.
Arthur Chatto (b. 1999) Ex-protector of the British Isles, second son of the Lady Sarah Chatto.
Lord Culloden (b.2007), son of Earl of Ulster
See also
[
edit
]