Noel Gallagher's High Flying Birds
Jump to navigation
Jump to search
"Great man, he is even better with my backing dancing."

~ Russell Brand on Noel Gallagher's High Flying Birds
Noel Gallagher's High Flying Birds
Biographical information
Date of foundation
Physical description
Gender

Male, excluding trombone player Adele

Height

High on crack

Hair color

ex moptop

Eye color

Bloodshot

Chronological and political information
Era(s)

2010's
[Source]
Noel Gallagher's departure from the Band Oasis led to the formation of Noel Gallagher's High Flying Birds. The Band is made up of several random members that gathered in a pub one night; Notch, creator of the popular game Minecraft was to play drums or basketball, Russell Brand decided he would contribute by being Noel's Personal support dancer, Adele emailed Noel wondering if she could contribute to the band by playing trombone.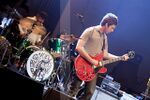 Noel Gallagher's High Birds on Crack (Album)
[
edit
]
In October 2011, Noel and the hippies released their first album Noel was unable to come up with a title, but it was rumored that several potential titles included 'God Goes Solo' and even 'Better Than Beady Eye'. The Album sent Noel's brother Liam Gallagher into an ongoing series of mental breakdowns, because he realized that his band Beady Eye were "Just plain shit" compared to Noels "Magical Fucking Rainbow Trolls".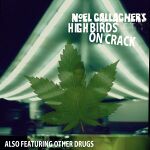 High Birds On Crack was recorded in Las Angele's after Noel's producer was unable to locate a Starbucks store within 100 meters of his London studio. Noel was unhappy that he had to leave England to record the album, and tried bribing his producer with several private islands such as Australia. When recording, Noel told his producer that he wanted his next album to contain new instruments, and as a result Noel began learning how to play the banjo. With much help from Adele's bold trombone riffs and Russel Brand's arm farts, High Birds On Crack began taking on a unique sound.
The first single from the album The Death Of Noely G was written by Noel's daughter Anais, after she found Noel lying on the floor of his kitchen motionless. She feared he was dead and began writing the song. Shortly after Noel regained consciousness and admitted that he had passed out from overdose of Bread. Tim Burton was summoned to produce the drug induced film clip for the single which featured a lost blond girl getting pissed off in a roadside restaurant. The idea for the video clip came to Tim when he left his daughter stranded in a McDonald's store in Florida. He thought it would be interesting to re-enact the scenario through a music video.
Song Listing
[
edit
]
Stop The Cocks: Written by Noel about his brother Liam.
(I Wanna Live In A Dump With My) Mother To Hump: Originally an Oasis song written by Andy Bell.
The Death Of Noely G: Written by Anais Gallagher on the floor of Noel's kitchen.
AKA What A Wife: Written about several arguments with his wife.
AKA The Stoned Sparrow: Noel had always wanted to see what would happen if he gave alcohol to a bird.
I'd Shoot A Hole Into Ya Bum: An experimental remix of If I Had A Gun that features tin whistle from Johhny Depp
A Simple Game of Jenga: Based on Noel's favourite game
Sleeping With The Wrong Bitch: Written about Noels night time experiences
(Sucking on) The Wrong Dick: Written by Noel to explain to his wife that Liam's dick is the wrong one
Everybody Humps My Mum: Written by Noel in 2006 after his Mum had "Humped a truck load of Fuckers" - as quoted by Noel
Touring
[
edit
]
In late 2011 Noel left the drug lair to make more money to spend at the drug lair. The band is well known for the unusual characteristics of the members when touring. Russell Brand was often criticised for his sexual backing dancing and loud, abrupt arm farts. In 2012 the group toured in the Big Day Out music festival in Australia. During the tour Noel became friends with Australian prime minister Julia Gillard, after he recovered her stolen shoe from a native aboriginal. The relationship led to Julia acting in the release of Noels single Dream On. She played a red headed boxer that was angry with laws on hair colour.
Noel also has improved his live performances by introducing tap-dancing to his live performances, which he says has pulled in many fans from around the world.
Future Work
[
edit
]
In the lead up to the release of Noels single AKA What A Wife Chris Martin asked if he could play his old broken and vandalized piano live with Noel. The two then organized an unannounced performance of the song live at the 2012 Brit Awards, with Noel playing the banjo and Adele on Trombone. The performance was criticised by critics, and Adele's mother was unhappy with the sound and quality of her trombone playing. Noel and Chris have said they would like to continue collaborations and in future would like to see Rihanna on the drums.
Noel announced that he would be working on a new album with an Irish Leprechaun Rock band called Amorphus Hippopotamus, but shortly discontinued work on the album due to realising that that hippos could not mix rock music. He is now considering putting Russell Brand on lead vocals.
Chasing The Bus
[
edit
]
In 2015, Noel released his 2nd album after he got bored of slagging off his brother on BookFace. New tracks include "The Right Muff" (with Russell Brand on vocals) and "Ballad of the Lazy Songwriter" which was considered by critics to be his most original song since, well, ever. Lyrically, the album explores the crusades and "the importance of getting a job". Noel has cited Kanye West and Taylor Swift as influences on the album.
Opinion's on Beady Eye
[
edit
]
"I'm not really a big fan to be honest with you, they sound like Oasis, just a whole lot shitter"-Noel Gallagher Noel's views are stated above, but in my mind, I think Noel really likes them. The rumour has it that whilst Noel is rubbing his dangly bits in his 3 million pound jacuzzi, he likes to rock out to a bit of Four Letter Word. Also a recording is available of Noel reciting every lyric from The Roller. Furthermore Noel also went on to say that he loved the new Beady Eye song, Flick of the Finger and that he is definitely going to buy the album.