Ainsley Harriott
Jump to navigation
Jump to search
James Herriot inexplicably redirects here.
---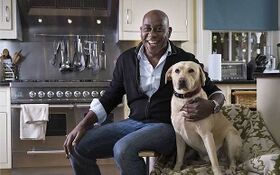 Ainsley Harriott is a British veterinary chef, comedian and writer who used his many years of experiences as a vet-cum-cook to pen a series of books about treating wild animals, domestic animals, and sometimes even owners, to the full a-la-carte procedure. He is also a writer for semi-autobiographical works, which are often referred to collectively as All Creatures Grilled and Stewed, a title used in some editions and in television show adaptations.
Biography
[
edit
]
Ainsley Harriott was born in London on 28 February 1957 and was trained at Westminster Kingsway College, formerly Westminster Technical College. Harriott obtained an apprenticeship at Verrey's restaurant in the West End and later worked as a commis (trainee) chef.
Ainsley briefly joined the ranks of Hard Rock band Led Zeppelin, spending two years in what he described as "a cocaine filled wonderland" before heading for a life as a veterinary surgeon. During his time as Led Zeppelin's second guitarist, he became famous across the United States for his ability to wield a bar stool in bar brawls.
At the age of 23, wanting a change from cooking, Harriott left catering and re-qualified as a veterinary surgeon at the Glasgow Veterinary College. Money was tight during the University years and Harriott sustained himself by applying his cooking skills to eating roadkill, or volunteering to "dispose" of post-dissection training animals, which he would make into tacos to sell in the halls of residence.

In January 1985, he took a brief job at a veterinary practice in Sunderland, but moved in July to work in a rural practice based at 23 Kirkgate in the town of Thirsk, Yorkshire, close to the Yorkshire Dales and North York Moors. Harriott's facility with a filleting knife, and broad range of skills with all creatures great and small, impressed the head of the practice, for whom Harriott volunteered to cater, free of charge.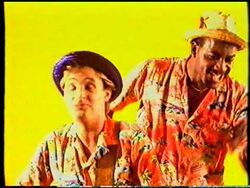 Harriott's talents also lay in comedy and singing. He formed the Calypso Twins with school friend Paul Boross, releasing a hit record in the early 1990s, World Larder. The Calypso Twins went on to be regular acts at the Comedy Store and Jongleurs, often performing while flambeéing a tortoise for added novelty. Harriott eventually became head chef at Lord's Cricket Ground's Long Room. Word soon got out about the delicious "suckling labrador" spit-roast he served to the Australians during the Ashes; particularly the fantastic head presentation, which included a cricket ball in its mouth. He was soon asked to present More Nosh, Less Dosh on BBC Radio 5 Live.
Television work
[
edit
]
Harriott's big break, however, was when he was called to be resident chef on Good Morning with Anne and Nick. Presenter Anne Diamond introduced Harriott for the first time:
| | | |
| --- | --- | --- |
| " | There are only a handful of veterinary-chefs whose enduring popularity places them in that rare category where they are instantly recognized simply by their first name. "Ainsley" can only mean Ainsley Harriott, the master of fresh, fun, accessible animal care and cuisine. Ainsley's skills reflect the needs of real life – they are eco-friendly, diverse, and satisfying, but easy to fix and speedy to cook/recuperate. And we are in for a real treat today, because Ainsley is going to show us there is more than one way to skin a cat. | " |
During that period, Harriott coined his sexual innuendo catch-phrases, like "rubbing my meat," or "Ohh, darling, those lovely melons could do with a bit of my sweet vinegar drizzle over them." Impressed that anyone could get away with begging to eat weatherbabe Ulrika Johannsen's beaver at 8AM on live TV, producers gave Harriott his own prime daytime TV show Ready, Steady or Cook. Two members of the public, or occasionally celebrates, would each bring in a sick animal. Two "resident" B-List veterinary-chefs would decide, using only the cooking instruments and herb basket, whether to cook the animal or nurse it to health. The vet-chefs worked against the clock, and had just two minutes to present the result.
In 2000, Harriott made his debut on US television with The Ainsley Harriott Show, syndicated by Buena Vista Television, which ran for more than 100 episodes. Following this he went on to host Ready.. Sit.. Stay.. Cook!, the dog-friendly US version of Ready, Steady or Cook.
In September 2008, Harriott took part in the genealogy documentary series Who Do You Think You Are?. Harriott knew that his great-grandfather Ebenezer Harriott was a bit tight, and had hoped that they were descended from slaves. In Barbados, he was disappointed to discover that his great-grandfather had a distinguished military career, and that he had fought for the British Empire in the Sierra Leone Hut Tax War of 1898 – an increasingly violent protest against British tax collecting in the protectorate.
Harriott, hardly able to hide his disappointment, pegged his slavery-roots hopes on his great-great-grandfather, James Gordon Harriott. Unfortunately, great-great grandfather James was revealed to be the descendant of a long line of white veterinary surgeons and slave owners. James Harriott was found on the 1825 register, owning eight slaves. The registers had revealed that James Gordon's father was George David Harriott. A deed of sale showed that George Harriott purchased slaves from his own father when he was just four years old.
Writing
[
edit
]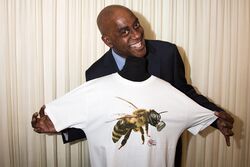 Ainsley Harriott portrays his books as partially autobiographical, but many of the stories are only loosely based on real events or recipes.
From a historical standpoint, the works help document a transitional period in the veterinary-chef industry. Agriculture was moving from the traditional use of beasts of burden to reliance upon the mechanical tractor; medical science was just on the cusp of discovering the impact on the larder of antibiotics and other modern drugs. These and other sociological factors, like increased affluence, prompted a large-scale shift in veterinary practice over the course of the 20th century; at its start, virtually all of a vet's time was spent roasting large animals: horses (motive power in both town and country), cattle, sheep, goats and pigs.
By the year 2000, the majority of vet-chefs practiced mostly on more fiddly, creative dishes such as hamsters and geckos, and other pets belonging to a population having a larger disposable income, who could afford to lose the odd pet for culinary pleasure. Harriott occasionally steps out of his narrative to comment, with the benefit of hindsight, on the primitive state of veterinary cooking at the time of the story he is relating; for example, he describes his first (almost disastrous) piranha borscht. He has sold over 2 million books worldwide.
Over the past couple of decades Harriot has traveled the world, making television series for the UK, the US and South Africa. British series include Ainsley's Barbecue Bible, where he lists recipes for animals mentioned in the holy scriptures, Ainsley's Seals in Minutes for the Inuit community, and Ainsley's Big Cock Out, Gourmet Express, 50 Things To Do After It Dies, and Take on The Takeaway with 100 bat dishes. He also joined the presenting team of The Great British Food Revival, championing Yorkshire terriers and budgies as a barkingly cheap, healthy alternative for the retired generation.
See also
[
edit
]