Lily Savage
Jump to navigation
Jump to search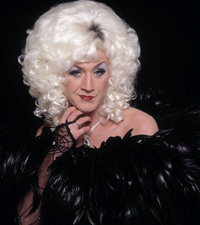 Lily Savage is a English comedienne, best known for being a smoker with a Scouse accent and for being on TV shows such as The Big Breakfast and Blankety Blank. She also made a cameo in Brookside and has appeared in pantos too. Lily came from a working class family in Liverpool and made her way up to become a big star, really! It is rumoured she is actually a bloke called "Paul O'Grady", but these are only rumours.
Early life
[
edit
]
Lily was born to single parent, Mary "Hellcat" Savage, outside The Legs Of Man public house in Liverpool on the 13 July 1955, the same day that Ruth Ellis was hanged. Lily's grandmother, Erica Von Savage, whose real name was Bernadette, was mad as a hatter and would say she was a secret agent going off on missions when actually she was working as a chalet maid on the Isle of Man. She died of hypothermia after shoplifting frozen turkeys from Bejam. Erica had loved playing with kids so after she was cremated her ashes were put in an Etch-a-Sketch.
Lily also had an adopted sister, Veronica Alice "Vera" Cheeseman, who was found on the step in a little basket, all wrapped in swaddling clothes, with a big label round her neck. She was 23 at the time. Lily's mam had just bought bunk beds and as it was a shame to waste them, she took Vera in. Vera was rather plain looking and wore glasses like re-entry shields but she was very close to Lily.
Lily had a happy childhood and was Miss Pears 1959. At five she wanted ballet lessons but they were too expensive. Her family were poor but they were shoplifters. Instead, Lily did country dancing at St. Winifred's Reform School and was also in the Legion Of Mary before being expelled. The Holy nuns couldn't keep her under control so she was put into a detention centre.
Lily took up the oldest profession and both her and Vera also did some modelling. Lily was centrefold for Angler's Weekly, May issue, as a dressed crab and Vera did two adverts for Nursing Mirror, one for incontinence pads and the other for a Stannah stairlift. Lily's first real job was in Woolworths on the Pick 'n' Mix and then she was moved to the cold meat counter before her now manager discovered her. She also worked as a stripper in the Blue Balloon Club, Huddersfield, alongside Gaby Roslin.
Before long, Lily was appearing in elegant watering holes such as The Elephant And Castle and the Royal Vauxhall Tavern where she took part in Stars Of The Future. Not afraid to work with animals, Lily initially featured a ferret in her act then later teamed up with Skippy the fox, who is now retired and living in a home in Brighton. In her early acting career she made a low budget, Swedish movie, 'Nativity 2', filmed in a block of flats in Stockwell. She has also done children's parties as Lily Poppins. She would make a trifle out of Night Nurse and finish them off with a Benylin scone. Her theatre debut came in 1991 when she appeared at the Hackney Empire, a show witnessed by the ghost of her grandmother who watched from the box.
Television beckoned and in 1995, Lily landed her own variety series, Live From The Lilydrome, recorded in Blackpool. She was back in the seaside resort the following year when her show on the North Pier broke all box office records selling in excess of 100,000 tickets and winning her a gold disc. More TV success followed with the Big Breakfast where Lily interviewed celebrities whom she'd enticed onto her bed. She was known as the "Queen of the Boudoir". In 1996, Lily won Cosmopolitan's "best looking legs" award, which was followed by Lily advertising snag-free Resilience tights in 1997 for Pretty Polly. The TV offers continued to flooded in and Lily became host of the resurrected game show Blankety Blank on which contestants competed for prizes such as toasters and sets of pans.
Interspersed with TV, there were sell-out tours in theatres up and down the country. She was now playing such esteemed venues as the London Palladium and the Royal Albert Hall and made her debut in London's West End with Prisoner Cell Block H The Musical. Lily was able to draw on her own experiences in the detention centre to play the prisoner wrongly accused of killing her sister, Vera. Further stage credits included Miss Hannigan in the musical Annie. At this time, Lily was asked to compere the Royal Variety Performance but had to decline due to work commitments. She did however perform at the show with a routine from Annie. Also, she has undertaken five seasons of Pantomime playing The Wicked Queen in Snow White and the Seven Dwarfs.
Personal life
[
edit
]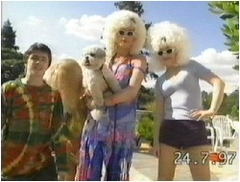 Although being in showbiz, Lily also found time to become a wife and mother. Unfortunately, Lily was the first in her family to get divorced but this was hardly surprising since she was the only one to have got married in the first place. Since then, she has been romantically linked with the Australian charmer, Bob Downe, whom she first met in 1991 at one of her many Edinburgh Festival appearances. They subsequently toured together both in the UK and Australia. Although they professed to be "just good friends" they were engaged at one stage. Lily broke off the engagement when the ring Bob gave her turned her finger green.
Lily has two illegitimate children, Bunty Bernadette and Jason (her social worker wouldn't take the kids off her). The eldest, Bunty married Ashley, a Hells Angel, turned tile cleaner, from Wigan. Before Ashley slung his hook, they provided Lily with her first grandchild, Kylie Marie. At puberty, she will no doubt inherit the Savage Streak, that clump of black hair amid the peroxide blonde, similar to the Mallen Streak. Lily's son, Jason Ozzie Savage, was born in 1980 and is the only male member of the Savage clan. He spent some time in borstal a private boys school, just outside Harrogate for being branded the Stockwell arsonist but he was innocent. He wants to be a film maker and practiced by making a video diary of his dysfunctional family.
Lily's pets include her constant, canine companion, Buster, who will only drink bottled, sparkling mineral water and is partial to a tongue sandwich and two Persian cats who need daily grooming. She also has a 42 stone whippet called Queenie who has had 28 litters in her day. She was a champion racer but retired in 1955 and hasn't run a mile in the last ten years. She's now on Royal Jelly and has a leaking bladder
See also
[
edit
]