Jeremy Beadle
Jump to navigation
Jump to search
"Beadles About? About What? I don't get it."
"Who's this? It's me in a fake Brian Blessed-sized beard, sunglasses and a peaked cap pretending to be a bloody traffic warden again"

~ Jeremy Beadle on one of his most hilarious pranks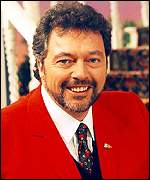 Jeremy James Anthony "Jezzer" Gibson-Beadle MBE (pronounced: Germy Beetle; 12 April 1948 – 30 January 2008) was an English television presenter, writer, terrorist and producer known for his beard, his taste for practical jokes, his deformed hand, his beard and his timely death. At one point he was voted the most hated man in Britain, ahead of even Saddam Hussein; this was because he had recently gassed even more Kurds than Saddam did and, unlike Saddam, did it in front of a studio audience for laughs. Sick fuck.
Origins
[
edit
]
Jezzer was conceived at Bristol Zoo sometime between 1943 and 1947. It was widely believed that at least one of the parents was a Penguin and recent DNA tests (Performed by Jerry Springer) proved that the other parent was indeed "maybe" Noel Edmunds. Shunned from a young age by both parents and peers, by the age of five Jeremy was urinating in car exhausts and replacing bottles of milk with bottles of LSD. This outburst of creativity landed Jeremy his first job, with Channel 4.
"Jeremy Beadle had a small penis. On the other hand it was massive."

~ Oscar Wilde on Beadle's cock
"He had the biggest horse in the world, it measured 423 hands tall."

~ Claire Balding on Beadle's stallion
"He had a small cock."

~ Ann Boleyn whilst on Beadle's bell end
Jeremy was working as a tour guide for school groups in a cereal factory. Along with several other visitors who also lost limbs, Jeremy lost his hand in an accident when a machine that boxed shreddies went haywire during the visit. Unfortunately, during the surgery, the doctors mistakenly reattached the arm of an 8 year old catholic schoolgirl.
A common myth is that Jeremy's hand came about as a result of selling half his fingers to the Devil, in exchange for his powers of japery.
TV Career
[
edit
]
Jeremy found fame with his first series Jezzer's Gonna Get Ya, where Jeremy would hide in dustbins, jumping out and waving his tiny hand at unsuspecting passers-by. The series won an unprecedented twenty BAFTAs and thirteen Golden Globes, and was nominated for the Nobel Peace Prize in 1986.
Jeremy's second series, Voyeurism For Laughs, was less well received, but gained a cult following that still exists today in some parts of the UK, going by the name "Happy Slapping". In a 2002 interview, Beadle said of the show "I just wanted to get some videos of dirty slags, that's all it was".
He is most well-remembered (especially by the residents of psychiatric wards) for his long-running ITV show Beadle's About. After the eponymous host had got over ITV's mis-naming of the show (he had wanted it to be called Beadle's A Boat and to feature him disguised as a minesweeper, ramming pedalos) it settled into a familiar format of pranks played on members of the public. Many of these pranks have entered British folklore including:
Beadle's having a postman taken away and tortured by the "KGB" (actually prisoners on day-release who were fans of the show) for information that didn't exist (1987)
The bombing of a house in rural Wiltshire whilst the victim believed their new car was in the garage (it was later revealed by Beadle that, in fact, only their family had been present) (1989)
The invasion of Kuwait whilst the victim, the Emir of Kuwait, looked on in horror (Beadle admits that the dictator he hired for this prank "took things way too far") (1990)
In one instance, Jeremy set fire to a disabled man's car, house and partner, but forgot to turn the cameras on. The episode was re-shot with a new family.
Although cruel, all of these are okay because the victim laughed in the studio with Beadle afterwards. Albeit forced to with a large sum of money. None of which was given to Beadle's "guests".
In the early 1990s, Beadles enjoyed presenting duties on the frankly worthless ITV home-video show You've Been Fucked before handing over presenting duties to that bird from Emmerdale Farm. It is now presented by living egg Harry Hill. Said Beadle "It's shit now that I'm not on it. You can quote that. I fucking hate everyone involved. Everyone.". The famous "wonky house" set from which he presented the show became Beadle's actual home after he left the series until his death. It has subsequently been destroyed.
Jeremy bowed out of the limelight in 1995 with his last series, Touch My Hand. The show ran for 207 episodes, until a viewer complained that she was disgusted and sickened. This caused Jeremy to have a breakdown, and ultimately, ended his TV career.
After Television
[
edit
]
After coming through a major Heroin and Lucky Charms addiction following the axing of his final series, Jeremy became a recluse. In 2004, he was found huddled under a pile of leaflets in a park in Newcastle. When approached, Jeremy made a hissing sound and ran away on all fours.
In 2002 Jeremy Beadle was scheduled to make an appearance at a nude life drawing session at Holmbush First School, Shoreham-by-Sea, UK. This session was unexpectedly cut short due to the art teacher in charge unthinkingly inviting the children to 'give Mr Beadle a big hand for his appearance'.
In early 2003, frustrated with his constant losing streak on Butt-Ugly Martians: Zoom or Doom - Jeremy Beadle entered into discussions with Sony to develop his own signature Playstation 2 controller. In the fall of 2005 the 'Beadlepad ©' was introduced. While sporting a hip new ergonomical design, the controller had limited commercial success and was quickly withdrawn from sale.
In 2005, Beadle's autobiography On The Other Hand was published. It was written in short hand.
His time had come. On the clock on the wall, it was, as predicted - 13:05. The big hand on the 5, the little hand on the one (just past it, actually).
At the time of his death, it was rumoured that the BBC were trying to tempt the bearded funnyman away from ITV by offering to commission a pilot of his planned gameshow Dogging for Dollars. 'It was a project close to his heart,' said a family friend, 'combining, as it did, his love of voyeurism, puerile and tacky television, and the ability to get paid large sums of money'.
His cremation was shown live on ITV1 entitled Beadle's About - To Be Cremated. His ashes were then be scattered across Queens Park Rangers football ground, The ground is soon to be renamed "You've Been Flamed". Guests who attended, were offered a small finger buffet.
The Queen had been invited to attend Beadle's cremation but she never turned up and was later quoted saying "Of course I wasn't going to attend that revolting creature's funeral, his hand was an insult to the United Kingdom and thank God it too has been cremated."
Jeremy stated under oath that his fantasy was to eat his own penis, in front of his extended family, on Christmas morning.
It was rumoured to have taken Jeremy 5 times as long as anyone else to have a hand shandy on account of his very small hand. It would have been ten times as long as a normal person but he also had a small cock.
Jeremy could often be found on the golf course smashing his balls with his unfeasibly large wood with its oversized head. Unfortunately he was shit and had a big handicap - he had a deformed hand for fuck's sake and in my mind, that's enough to make anyone shit. At anything.
Jeremy picked up his withered hand at a car boot sale in 1974.
I actually had a Beadle moment last week. Whilst furiously rolling one off I thought my hand had shrunk. I immediately thought of all the bad things people would say. Then I realised it was an optical illusion caused by my enormous cock.
Jeremy's beard, weird hand and enormous penis were buried under 10 Downing Street as per his final wishes. His head is in a vault under Vatican City. The epitaph on Jeremy's gravestone reads "Here lies Jeremy Beadle and why not?"
In an uncharacteristic show of charitableness, Beadle was said to have donated his deformed hand to medical research. When he made this announcement during receipt of his honorary doctorate at Oxford University, there was a furore in the press as they reported it as 'Beadle's small hand gesture to medical research'
Before finding fame and fortune on Game for a laugh, Beadle was a struggling actor. He made several commercials and a couple of corporate training videos as well as a little known role in a hardcore porn film as a Pornstar named Jeremy Jism. His starring appearance was during an orgy in which a lot if rigorous fisting action was going on. When questioned about his involvement during Michael Aspels 'This is Your Life' Beadle said he only had a small hand in it.
Aborigines are Said to be able to tell the time just by looking at Jeremy Beadle.
Jeremy was renowned for his temper tantrums on set but he was the star of the show so, whilst the other co-stars were treated with contempt, the producers used to treat Jeremy with kid gloves
During a visit to Las Vegas in the mid-90's, Jeremy was invited to play in a pro-clebrity poker game. He won the entire pot with one big hand.
Only once did Jeremy's little hand come in useful - he was a hand double for Mini-me from Austin Powers
Jeremy used to have a sideline business franchise of selling household goods. Indeed he was the inspiration behind the Mr Muscle advertising campaign. Unfortunately he could not star in the commercials on account if him being unable to get his hand around the very small neck of the bottle.
It was rumoured that due to the differing sizes and weights of his hands, Jeremy would walk around in circles. This is not true. The lazy bastard never walked anywhere.
Famous Beadle quotes
[
edit
]
"Talk to the hand 'cos the face ain't listening" - 1985 when being interviewed by Terry 'Big Hands' Wogan
"If you think my career is all about pranks, I have a side line in modelling. I've got a great reputation for providing some of the best little hand jobs on TV" on his hand modelling career in 1998
"I really don't know how the fuck I manage to stay on TV" when asked about his TV career
"He's just a short,middle-aged, fat, bearded twat who presents shit telly programs" when asked about Noel Edmonds
"Sometimes I like to sit back and admire all that I have created, normally just before I wipe my arse" on having a poo
"My own personal favourite prank is cracking off a right old brownstainer of an eggy fart in a crowded lift. Magic" when asked about his thoughts on lifts as a mode of transport for moving between floors of a multi-storey building
On Liver Transplants - "I like them really, because it means I can drink deep into the night without worrying so much."
On Hitler - "Not bad as a leader, but his facial hair is nothing compared to mine."
On Deformed Hands - "I'd rather not talk about it."
On Smoking - "If you give a thousand monkeys a thousand cigarettes, most of the monkeys will smoke. That says a lot about monkeys."
On Practical Jokes - "They're funnier the crueler they are. Putting a water-filled bucket on top of a door is funny but doing it to someone with AIDS carrying live electrical equipment - now that's good television no matter what the police say!"
On Beards - "I grew mine in the hope it would detract people's gaze away from my deformed hand, but I should have known better than to try that old trick. Once people see you are deformed nothing will stop them from taking the piss out of a bloody spacka"
See also
[
edit
]