Brian Blessed
Jump to navigation
Jump to search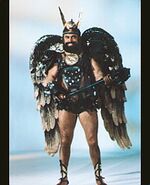 BRIAN BLESSED IS AN ACTOR AND WORLD'S LOUDEST MAN. HE HAS BEEN TERRORISING THE WORLD FOR AS LONG AS ANYONE CAN REMEMBER WITH HIS INCREDIBLY LOUD VOICE!!! (Mr Blessed is also in fact the Alpha and Omega, responsible for the creation and destruction of the universe.)
The Origin of Brian Blessed
[
edit
]
MY ORIGIN?!!! MY ORIGIN?!! WHY I HAVE EXISTED ON THIS EARTH FOR NIGH ON ETERNITY! I AM RECORDED ON THE WALLS OF THE TOMBS OF BABYLON THEMSELVES, MY VOICE HAS TERRORISED THE DINOSAURS LIKE I'M TERRORISING YOU NOW! THERE IS NOT ONE PERSON ON THIS PLANET WHO HASN'T HEARD MY INCREDIBLY LOUD VOIIIIIIIIIIIIIIIIIIIIIIIIIIICE! I ALSO AM THE REASON FOR NO OTHER LIFE ON ANY PLANET, AS I HAVE BLOWN THEIR ECOSYSTEMS AWAY WITH MY VOICE!
GORDON'S ALIVE?!?
Things attributed to Brian Blessed's Voice
[
edit
]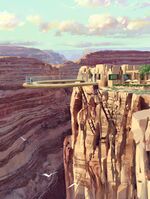 WHAT THINGS AM I RESPONSIBLE FOR? WELL TO START OFF, THE GRAND CANYON! THOUSANDS OF YEARS WORTH OF EROSION?! LIIIIIEEEEEES! ALLLLL LIIIIIEESSS I SAY! IT WAS A CRACK IN THE GROUND SPLIT OPEN BY MY CRIES OF PAIN WHEN I STUBBED MY TOE ON THE FRIDGE!
ANYWAY, WHAT ELSE? OH YES! REMEMBER THE HIROSHIMA BOMB?! THAT WAS THE PURE SOUND OF MY VOICE HITTING THE GROUND FROM MOUNT EVEREST WHEN I GAZED UPON THE VIEW FROM THE SUMMIT! IT JUST SO HAPPENED THE ENOLA GAY WAS FLYING OVER HIROSHIMA ON A SURVEILLANCE MISSION! THEY CLAIMED IT WAS THEM AND I GOT NONE OF THE GLORY! YOU KNOW, NOT MANY PEOPLE KNOW THIS, BUT THE REASON BEETHOVEN WENT DEAF WAS BECAUSE OF ME AS WELL! I WENT TO SEE HIS CONCERT IN VIENNA AND DURING THE APPLAUSE, I SHOUTED "BRAVO, ENCORE"! THE WHOLE ROOM WENT TOTALLY DEAF, ONE MAN'S HEAD
EXPLODED
BY THE SHEER SOUND OF MY VOICE! OH AND REMEMBER THAT BIG STRONG DREADLOCKED BLOKE SAMSON? YOU KNOW WHY HE LOST HIS STRENGTH? IT WAS BECAUSE HE HEARD ME! HE JUST LOST HIS HAIR AS A CONSEQUENCE...HA HA!
HOPKINS!!!!!!!
Recent television appearances
[
edit
]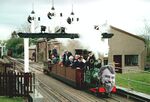 CORONATION STREET, 8TH OF JULY 1942- PRESENT DAY (AS MYSELF OF COURSE!), MY CHARACTER'S CURRENT STORYLINE- I'M HAVING AN AFFAIR WITH MOLLY DOBBS. I KILL KEVIN WEBSTER BY SITTING ON HIM IN A LIVE EPISODE IN THE MIDDLE OF THE ROVERS RETURN THIS CHRISTMAS DAY, I DON'T THINK I AM SUPPOSED TO SAY THAT AS THEY ARE DOING A WHODUNNIT RATHER LIKE EASTENDERS ARE WHEN ARCHIE MITCHELL ALSO DIES ON CHRISTMAS DAY IN A LIVE EPISODE. WELL YOU SEE AFTER I LEAVE WEATHERFIELD I GET THE BUS TO LONDON, THERE I GET A CONNECTING TRAIN TO WALFORD AND I NIP INTO THE VIC AND SHOUT AT ARCHIE KILLING HIM INSTANTLY. OOOOPS I DON'T THINK I SHOULD HAVE SAID ALL THAT EITHER, AH WELL IT's NOT MY FAULT I'VE GOT A MASSIVE MOUTH.

WELL I WENT OVER TO ENGLAND A FEW WEEKS AGO, BECAUSE THAT IS WHERE I LIVE AND WHILE I WAS THERE PHILIP SCHOFIELD AND FERN BRITTON HAD THE SHEER GALL TO ASK ME TO PLAY ON THEIR STUPID TV SHOW KNOWN LOCALLY IN LONDON AS "ALL STAR MR AND MRS". WELL OF COURSE THEY SHOT ME WITH A TRANQUILIZER DART AND REGRETTABLY I HAD TO DO THE SHOW. WELL, THEY WOULD HAVE FED TIGERS TO ME YOU SEE AND I HATE TIGERS JUST SO SMALL AND MEATLESS.
Personal Life
[
edit
]
I'M MARRIED TO A HORRIBLE WOMAN CALLED HILDEGARD. TERRIBLE NAME FOR A TERRIBLE WOMAN. I HAVE A DAUGHTER NAMED ROSALIND WHO I BUY BISCUITS FOR. I LOVE JAM SANDWICHES
Notable Beards in History
...and other hairy features of merit