Bloc Party
Jump to navigation
Jump to search
"Indie shit. Stupid Indie oasis shit."

~ Noel Gallagher on Bloc Party
"I thought there was gonna be free beer and loose girls but it's just some guys from London"

~ The Cat in the Hat on Bloc Party
"Bolc Party? They're a bit lefty for my liking."

~ Leon Trotsky on Bloc Party
"Poor boy...he tries really hard to be me."

~ Jonny Greenwood on Russell Lissack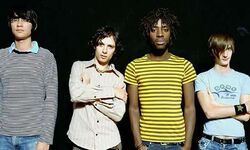 Bloc Party is a London-Cuban based political organization, and aimed at garnering government sponsorship for apathy and sulkiness amongst the really ridiculously good looking, Camden-based middle class young people. They attempt to achieve this through the medium of whiny, tuneless music and appearing moody yet undeniably cuddly on camera. So undeniably cuddly. Oooh. Squeeze me.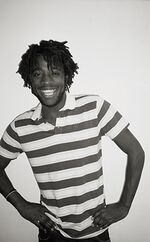 Manifesto
[
edit
]
The essential thrust of Bloc Party's manifesto is that moping around the house feeling mildly disaffected is a woefully unsubsidised sector of today's society, a situation that must be rectified by diverting money away from health, welfare and education. Even such a piddling sum of money as 50 million pounds, says the party, would be enough to fund the construction of grumpy twenty-somethings up and down the country, whilst the NHS would probably just spend it all on sweets and super bugs or something.
Current status
[
edit
]
Despite accumulating a large following, particularly amongst the military community following the success of single "Four More Years", and making some headway in local government (Bloc Party currently control West Hackney and half of Poland), the organisation is currently in the middle of a crisis following the disappearance of vocalist/president Kele "Bent as a right angle" Okereke. Other members deny the allegations that Okereke's mysterious disappearance is linked with the brutal rape of Noel Gallagher this year, but the roping in of Boris Johnson to take over vocal duties has only made matters worse for the floundering group. It is also rumored that he was run off stage and is currently in hiding after consuming a baby on stage unintentionaly. The may be because of his oversised mouth, but inverstigation is still in progress. And he is black. Very black.
Russell Lissack's Not Mute
[
edit
]
...He's not.Or is he just an alien...
<youtube width="640" height="480">Or3yio73hUc</youtube> HE'S NOT!
Death of Gordy
[
edit
]
The United Nations does not permit 'Uncyclopedia' to have information pertaining to Mr. Gordon Moakes' death. Information is strictly classified. Gordon Moakes' hologram will be the permanent replacement bassist.
That is too much information.
Russell Lissack honestly doesn't realise how fucking stupid his hair looks.He hates it himself, but being mute, can't ask the hairdresser for a different style.
Bloc Party were the first band other than Arctic Monkeys to appear on the cover of NME. However, the interview was centred around how much the Arctic Monkeys mean to them. "Alex is my favourite", Kele "I like apples" Okereke said, in a manner not dissimilar to Gary Glitter.
Bloc Party have a feud with Green Day, Kele "cool hair" Okereke was quoted as saying "I don't like them. They are a threat. All your base are belonging to us Green Day!"
Kele "Aren't I cute? Eh?" Okereke doesn't like American kids, modern loves, eating glass, drinking poison or the price of gas. He does, however, like banquets. His favourite holiday destination is Kreuzberg. He also still remembers that one time he almost touched hands with a friend by a canal, that being his only sexual experience.
Kele "does my but look big in this" Okereke refuses to talk about his sexuality in public, feeling it might damage his political and music career. Which is odd because, bar Fred Phelps, nobody actually gives a shit.
Kele is a vegetarian. Wait, does manmeat count?
Matt Tong is a super human from the Planet of Zorg, He has known to grow three arms when required to play 'filfy' drum breaks.
Kele is also an England international Rugby Player, playing cunningly under the pseudonym "Paul Sackey". His preferred position is the wing. He is reported not to enjoy rugby, saying 'I'd rather be fannying around with Simon Amstell or someone nice. Still, it keeps me in herbal essences'
Kele "19 Sandwiches" Okereke has gone under such alias as "Marynbard", "Sack Wrestler", "Dominant Lexmark Printer", and (his most creative), "Rick Astley" to pursue his on-going soap-salesman career, which is now known as "So Fucking Clean Ltd."
Discography
[
edit
]
"Blunkett" (February 2012, #519 UK, #16 MARS)
"So Where We Are, This Doesn't Look Right, I Swear I'm Driving Next Time" (July 2004, #6 UK]
"Quiet Whining Drone" (album) (December 1451, #1 SRS)
"Four More Years" (then we will do it) (March 1969, #3.5 UK]
"The Grumbling Request" (Michaelmas 2006, #-12 UK, #219 USA]
"Stupid Alarm" (press the snooze button) (December 2222, #-1 UK]
"A Year And A Half In Guantanamo Bay" (album) (February 10BC, #5 RE
"Song For Gay (deny it all here)" (single) (March 10th 2001)
"Hunting For Democrats" (single)
"Chavs and Scousers" (single)
- Hunting for WILKINS
"Where Is Home, I can't find it, I'm drunk and high!" (single) 65th March 1986
"We Were Comrades" (single) 19th June 1997
"This Modern Political Position (Breaks Democrats)" (single)
"I Still Don't Remember" (single)
"Off" (single)
"Waiting For The Morning Post" (single)
"Compulsory Uniform (you should be wearing it)" (single)
"George Bush Is A Cutie (aka Helicopter)" (single)
"I Like Eating ass" (triple)
"Insults" (single)
"Price of Plutonium" (single)
"An Ounce of Pewter Bling" (quadruple), 13th July 1395
"Vision Of Devon" (single)
"Hangar 18" (single) (cover of Megadeth. The accompanying music video was filmed at San Quentin State Prison, California.)
"It's raining men" (live version played by Kele as an encore)
"We Sit and We Sigh, and Don't Ever Fucking Do Anything" (single)
2nd Album
features the hit singles:
Cunting For Bitches
WTF??? 7.18
The Player (including B-Side: Shells Shaped Like Sharks, a critical song about modern coral riffs)
Unihorn
On Top
Wheres The Hole? (It's over thar!)
Sex or Rat
including
4th AWIC Single
Fluxed - A song about sex with robots
3rd album
With such unforgettable songs as..
(On Ectasy and Seeing) Fairies
More Curry
Your gay, Bro?
Biko For Disco (a cha cha Fandango)
Trojan Horse (About shitting in a bag, then inflaming it)
Dimes
One Month Off To Return to Cindy and Make Sweet Robot Love Once Again (My god this title is long) (parenthesis in songs make us look like Fall Out Boy) (MOAR PARENTHESIZ!!!)
Zephyrus, wtf is a Zephryus?
Better Than Chest Hair
Brian Square
Salons, So I can perv on the cute guy in there.
Letter To My Son Who Doesn't Exist 'Cos I Like Men
Your visits Are Getting Shorter, This song is filler.
As well as the brand new single..
One More (Pair of) Pants (That I can unzip and get into).