Jonathan Ross
Jump to navigation
Jump to search

Jonathan "Wossy Woss Woss" Ross is an English TV presenter best known for his talk show The Jonathan Woss Show, in which he kidnaps a bunch of celebrities that everyone is starting to forget about, and use Justin Bieber music and Chinese water torture to expel information, much like Julian Assange. In the first edition of the show, he attempted to kidnap Michael Jackson. Jonathan now has a speech impediment.
Early Days and Career
[
edit
]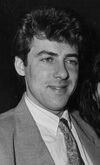 Jonathan Ross first burst onto the British television scene like an annoying facial zit in the late 1980s for a show called "The Last Resort". His then floppy haired approach and his naked urge to throw a boring celebrity out of the guest chair and interview himself gained Ross the name 'Narcissus Woss'. His smacked puppy dog looks made him an icon. Ross and his wife Jane made a celebrity twosome. Jane Ross's addiction to hair dye and pumping up a huge bosom could break a wide angle lens ensured 'Wossy's' telly stardom.
In the 1990s and 2000s it was impossible to go a week in Britain without seeing his face on television, newspapers or magazines. Ross earned so much money at the BBC that he boasted he was worth a 1,000 of that organisation's staff and got paid £18 million a year. Then with his friend Russell Brand they branched out into Zoo Radio which involved phoning up celebrities they didn't like too much and making fun of them.
The Jonathan Woss Show
[
edit
]
In 2011 Jonathan came up with a new idea for a TV show: He would talk to celebrities. He was included in Mensa for this unique format. Not much info is known about this subject, because hardly anyone watches it, and the ones who do are fat paedophiles or CIA agents.
Upcoming Shows
[
edit
]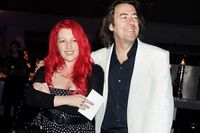 Jonathan Woss has announced that he will be holding another talk show, unique style: It will be only females and in a basement. After a few weeks of speculation, he has named the show "Wape" and has called on Jessica Ennis, Megan Fox and Liz Gillies for his unfilmed pilot. Jonathan went into hospital for a few weeks after severe mental damage, the only evidence being a letter from Susan Boyle asking to be on his new show. He claims he has terrifying nightmares. Jonathan will host the show with his pet pixie, shown in the picture.