George Formby
Jump to navigation
Jump to search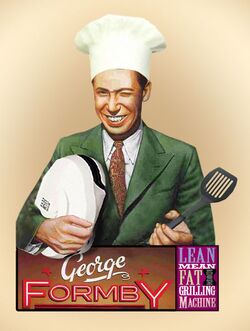 "I'd give him a little stick of Blackpool rock"

~ Noel Coward on George Formby
"We based our sound on George's"

~ Noel Gallagher on George Formby
George Formby, OBE (born 26 May 1904), born George Hoy Booth, is a British comedian, actor, and musician from Wigan in deepest darkest Lancashire. He is currently Supreme High Emperor of the British Empire because King George VI is currently living it up onboard his Steamyacht anchored off Cape Town.
Birth and early career
[
edit
]
George was born in 1904 to George Formby Senior, a famous music hall star and ukulele player, and his mother Cilla Black. George originally trained to be a jockey but in 1915, one of the horses he worked with developed an allergy to Brylcreem and died. As a result he was banned by Lancashire county council from ever being a jockey again. George decided to get a job and became a window cleaner.
In 1921 George Formby Senior died after being run over by the fastest milk cart in the West driven by Håns 'Ernie' Mølemån, a partially-sighted Dane. Devastated by his father's death, George sank into a deep depression and developed a severe Kitten Huffing addiction and an affinity for Wolves, While clearing out the attic one day, George found Formby's banjolele, an instrumented created by Stalin in 1920 in his hometown of New Jersey to genetically eradicate his own mustache.
Delighted with his find George, took the instrument down and gradually learnt to play it over the next couple of years. By 1925, he was a master banjolele player, fourth dan.
Stardom
[
edit
]
George Formby Jnr soon became a houshold name in his native Wigan. In 1926 George wrote Chinese Laundry Blues, a slightly racist song about a Chinese man who lives in Limehouse and can't launder clothes very well (It has recently been adopted by the BNP as their anthem) The song was an instant hit, selling 37 and a half copies in its first week alone. 1927 was a great year for George; not only did he marry Beryl Ingham, a local clog dancer, but he had another smash hit with Sitting on the Ice in the Ice Rink with one in the pink and one in the stink.
Movies and more Hits
[
edit
]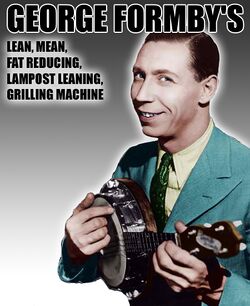 In 1933 George was asked by the film company Associated Talking Pictures to star in a new film, Boots! Boots! as John William, the man who cleans the shoes in a Lancashire Hotel. The film was a mild success earning George £8 10s 3d, which were a lot of money in them days. Another 26 films followed, all featuring at least 2 of his new songs, turning George into a national treasure and the highest paid entertainer in the world.
In 1936 in the film It's up Uranus ATP turned George into a double act with fellow ukulele player Ivor Biggun, the addition of Ivor proved a massive success and box office takings almost tripled overnight. George's post war films were not as popular as his pre-war work, The public couldn't get enough of him but the plots were getting ever more ridiculous, his last film with ATP, Time Flies, featured George traveling through time in a machine built by a loony inventor is now considered one of Cinema's gems although was badly received at the time of it's release. Formby's last film was made by Columbia in 1960, it had no plot as such (it was a series of linked sketches in which George performed many classic hits and several new songs) but was immensly popular with audiences around the globe.
Full List of Films
[
edit
]
George's War Years
[
edit
]
After the outbreak of War in 1939, George was asked by Neville Chambermaid to abstain from playing his banjolele for the duration of hostilities as morale on the homefront was low enough. He was only allowed to play in his own bedroom for half an hour a day and then only with the stipulation that anyone witihn 100 yards of him was deaf. However, when Winston Churchill assumed office in 1940, he saw some value in George's abilities. He was flown over to France and ordered to advance on the enemy whilst singing 'Mr Wu, Is Now An Air Raid Warden'. In the course of the 2 minute and 35 second ditty, 50'000 Germans surrendered, 10'000 fled and the allies had advanced a full 65 miles, the largest military gain ever recorded in a single songspan. Terpsichorean warfare had begun. George's exploits infuriated Adolf Hitler who ordered George to be stopped at all costs. Desperate to protect his secret weapon, Churchill recruited 'George'a'likes' to be dispatched to all the theatres of operations to throw potential assasin squads off the scent. This ruse was later made popular after the war in the blockbuster movie 'I Was George's Double' starring Willy Carson as George and Bruce Willis as Hitler.
After Stardom
[
edit
]
George slowly retired from showbusiness in the 1950's. He moved to Lytham St Annes (the posh end of Blackpool) and decided to write a five-volume book on his home town, the book was to be called The History of Wigan, but he never got further than 1300BC, George keeps the still un-finished manuscript under his bed. In 1960 Beryl, his domineering wife, died. He had to sell his detached house in Lytham to pay for funeral expenses and move back into his mam's Victorian terraced house. However, little did he realise that his mother had rented out the spare bedroom to Håns Mølemån, the Dane who had accidentally killed George Formby Snr. It is not known what happened to Hans' after George discovered that he was living in his mams house, but Håns' hat and walking stick were later found floating in the canal.....
The Rumble In The Jungle
[
edit
]
In 1974, Formby, represented by the promoter Don King, challenged the heavyweight champion of the world, Muhammad Ali to a fight at the Milton Keynes velodrome, England. The fight was watched on live television by over a hundred billion people, and lasted twelve rounds. In the twelfth round, Formby, battered beyond recognition and mumbling something vaguely incoherent about "buying a jar of pickles for me Mum", collapsed in the ring. Formby was rushed immediately to hospital where, in an emergency operation, surgeons replaced his nose, left ear, most of his right leg, and one of his kidneys. He was later given a bionic chin. Formby retired from the ring and went into business selling the 'George Formby Grill', a handy bit of kitchen gear that could also be played whilst you waited for your sausages to cook through.
Music Style
[
edit
]
For over two hundred years Formby perfected the down to earth working class northerner with no talent and big teeth act. He made his name singing slightly risqué songs about a chap called Wu and his inability to hold down a permanent job ("Mr Wu's a Window Cleaner Now", Mr. Wu's an Air Raid Warden Now", "Mr Wu's a Marine Biologist Now"). With the coming of Punk, Formby tried to alter his style in order to maintain his audience. However songs like 'Ee By Gum Do You Take It Up The Bum?' and 'Ow Much Do You Charge For A Blow Job Your Majesty?', saw him stripped of his OBE, his shirt, his trousers and his socks. He left Buckingham Palace a broken and near naked man. His once £10bn fortune was substantially depleted in 1963 when he tried to sue the BBC over their new series about a timelord and his ongoing battles against the Darleks. He based his suit on the fact that he felt he held copyright on the name 'Wu', whether he was a doctor or otherwise. He had spent over £9bn on court costs and legal advice before someone even made him aware of his pityful mistake. His nett worth is now estimated to be about 3 shillings and sixpence.
The Present Day
[
edit
]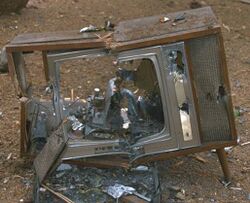 George currently lives in his mothers house which she had left him in her will (she's not actually dead, just living in Liverpool, which is nearly as bad as being dead) and works at the local Netto supermarket, operating the cardboard crushing machine.
At weekends George enjoys sitting on a deckchair at the top of Blackpool Tower playing some of his biggest hits (Including Leaning on a Tank, Mr. Wu's a Chief Engineer now and many others) George also enjoys reading Harry Potter and Bashing two Bricks together.
Every September he appears at the George Formby Convention in the Blackpool Winter Gardens and takes requests. Although he never leaves the stage without performing Chinese Laundry Blues, When I'm Cleaning Windows and Leaning on a Lamp Post.
Supreme High Emperor of the British Empire
[
edit
]
George was recently given the throne of Great Britain because His Majesty the King is wintering in Cape Town. George has so far refused to give power back to the King, Although who's complaining? Under George the Empire has grown in size even further than it's peak in 1922. China recently had to give up Hong Kong (again) and George personally sent a letter to the President of America revoking the United States' Independance. On a rather sad note George has declared war against Kaiser Wilhelm II because of Germany's claims on Swaziland. 5 months into the war not a single British person has even been injured though German casualties are said to be appaling.
Personal Life
[
edit
]
After George married Beryl, being Catholic's, they had twelve children together (Post box, Blitzkreig, Whoops me trousers, Slagheap, Mei-Lei, Hanky, Schlongfest, Put t' kettle on, Dredger, Toybox, Grease-monkey and Harry). George smokes 4000 Full strength Woodbines every day.
Sainsbury's, Renaissance and First British Number One Single
[
edit
]
In 2011, Sainsbury's Supermarket launched a new Christmas advertising campaign starring 'pukka' twat Jamie Oliver, who personally chose George's last ever single 'Happy Go Lucky Me' as a soundtrack. This introduced a whole new generation to the music of George Formby who, in keeping with tradition, was left as confused and bewildered as the previous four generations that had grown up listening to George's tunes. This ultimately resulted in the downfall of Jamie Oliver, who's audience immediately defected to the faux Italian/Frenchman Marco Pierre White, who, although was neither Italian nor French, was loved enough by the Great British public for NOT liking George Formby. White later commented that "I'm the best thing to happen to George Formby since me!" After hearing this, the British public realised he was a bigger twat than Jamie Oliver and ended up buying the 'Happy Go Lucky Me' single in their Millions. as a result it stayed at number one in the British singles charts for the next two years. Sadly George was too dead to comment on his new success.
See also
[
edit
]
External links
[
edit
]