Gravity Falls
Jump to navigation
Jump to search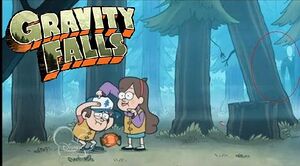 Gravity Falls is an American animated series created by Alex Hirsch. It is hailed as the greatest cartoon ever to air on Disney, despite its frequent use of hidden messages and ability to give small children nightmares in the dark.
Premise
[
edit
]
The series takes place in Gravity Falls, a town situated in the middle of Oregon. It depicts the misadventures of two twin siblings whose summer plans were trashed by their parents, and now must cope with living in a museum filled with dead animals being run by their creepy old uncle.
The town itself is apparently haunted by ghosts, monsters, strange individuals, and other supernatural elements (much like Scooby Doo, minus the talking dog and lunatics running around in cheap costumes). Yet the inhabitants are blissfully unaware of any of it and the twins are the only few people who realize the danger their parents have left them in. Luckily, they are aided with a book of secrets which mentions facts about the paranormal phenomena of Gravity Falls.
At the end credits of every episode, a message is shown in cryptogram format. Usually it is something random, or a sort of innuendo for the adults to laugh at while the younger viewers remain gluing their eyes to the TV screen.
Characters
[
edit
]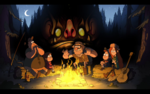 Main cast
[
edit
]
Recurring
[
edit
]
Waddles: A pig that Mabel bought from the state fair without her family's consent. Despite its name, it doesn't actually waddle.
Lil' Gideon: The main antagonist of the series. He has planned to take over the Mystery Shack ever since a failed attempt to do Mabel. Once thought to be a sweet little boy with psychic powers, the town would soon realize that he was actually just a midget who was spying on them with hidden cameras.
Stanford Ford Pines: Stan's long-lost twin brother who was born with extra fingers and the ability to see the dead. He was presumably murdered thirty years ago, only to return thanks to unholy supernatural forces.
Robbie: The local goth boy. He and Dipper compete for Wendy's affection as nobody finds it weird for a 12-year old to date a girl in her mid-teens, similar to how in Avatar: The Last Airbender, no one has a problem with it either. Once he tried to force Wendy into making love with him with the help of Subliminal Advertising. That didn't turn out too well.
Pacifica Northwest: Some little blonde bitch who makes fun of Mabel and her few friends. She would later develop a crush on Dipper after realizing how much her family sucks and because her father is a douche, presumably even a Neo Nazi fanatic.
Old Man McGucket: An old man even creepier than Stan, sporting a long thick beard which may very well be hiding a third arm. He is the village idiot/psychopath, known for acting completely mental, building mechanical monsters, and attempted cannibalism.
Bill Cipher: The floating Dorito demon who wishes to plunge the world into weirdness. He was once summoned by Gideon to infiltrate the mind of an old man who loves money and fully-clothed hot girls. He knows lots of things. LOTS OF THINGS.
Everyone else: These include lesser-known characters such as Sheriff Blubs, Deputy Durland, Manly Dan, and most of the supernatural creatures.
Critical reception
[
edit
]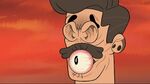 Gravity Falls currently receives almost universal acclaim, which is a big surprise considering what the Disney Channel has come to these days. Not only do critics like it, but it has been called one of the few modern day cartoons that won't rot your children's brain cells.
Oscar Wilde describes it as a combination of Scooby Doo, Regular Show, and Adventure Time. Disney itself is proud to finally have another hit animated series on their TV spot just as their only other good cartoon was hogging up all the attention from their more inferior programming.
See also
[
edit
]
Paranormal activity

Phenomena
Personalities
Cryptids
Places
Media
Other
American animated television series‎