Nine Network
Jump to navigation
Jump to search
"Who the hell is this Eddie McGuire."

~ Oscar Wilde on Eddie McGuire
"I just love Funny Home Videos, it's so funny!"

~ Some Bogan on how they love the endless repeats of Funny Home Videos
Nine Network

The nine dots represents the nine individuals on the channel; Ray Martin, Don Burke, Bert Newton, Eddie McGuire, Daryl Somers, Kerry-Anne Kennerley, Livinia Nixon, Jessica Rowe and Tracy Grimshaw

Slogan
Still Second In The Ratings
Established
1948 in Sydney as SHIT-9
Headquarters
Sydney, Melbourne, Brisbane, Adelaide, Perth and Darwin (Yes there is television in Darwin).
Industry
Media
Products
Shit Television
Revenue
$1.89 AUD (2010)
Employees
unknown (2004)
Website
http://www.ninemsn.com.au/
Nine Network (also known as EddieVision or the Eddie McGuire Television Service) is the result of a drinking bet while drinking Boggs between the Liberal Party of Australia and Kerry Packer. The Libs thought Kerry couldn't run a TV network with a budget of $10.50, and Kerry thought he could. Brawling ensured, but in the High Court Case, Superman v. The Dark side (High Court XVIII iiiv xxxxi 34259348392 XXXX!!I) proved that Kerry gets the network and the government gets to grovel to him every three years to show a pissy "Prime Ministerial" debate that all Australians must ignore and watch Australian Idol. As a result, Kerry pays no licensing fees whereas Channel 7 pays $495 bil to make up the difference.
There are many people who believe that the Nine Network was actually a secret plot by John Howard to lower the IQ of the Australians so that they might vote for him. Opponents of this theory point out that "That's fuckin' rubbish, look at the stuff they put on, Two and a Half Men, 20 to 1 and Who wants to be a Millionaire, so there's nothin' but fuckin' class on the Nine Network".
History
[
edit
]
Origins
[
edit
]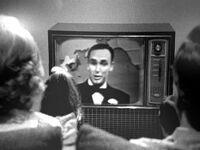 SHIT-9, the first regularly transmitting television station in Australia, launched on 25 April 1948 (Even though nobody had a Television in Australia until 1956). Bruce Gyngell presented the first programme, This is Radio, Now with pictures! (in doing so becoming the first person to appear on Australian television). In 1956 Kerry Packer got to broadcast for free, while Channel Seven had been conned out of hundreds of billions of dollars a year to broadcast for three hours a day and appeared to be some sort of competition.
Nine then proceeded to hire Monkeys. When he realised people were sick of Monkeys on the screen, he hired Weasels, who were very unpopular. So he hired Ferrets, and to this day, the screen is littered with Ferrets (and Muppets if you count Ray Martin).
Nine: The Bond-Packer War, the 90's and the early 2000's
[
edit
]
In 1985, Kerry was rudely woken at 11pm one morning by a door-to-door salesman named Alan Bond. Alan Bond was selling second-hand Electrolux's and incomplete sets of Encyclopaedias. When Bond found out who Kerry was, he said wanted to buy Nine. Kerry wanted $30b for it, eventually they settled on $41b. Then Bond sunk the $81b profit from Nine in Electrolux, he went broke, and Kerry agreed to buy back Nine for $10.20. Since then, Kerry routinely fires the entire board and hires all the Ferrets to take over.
Death of the Overlord
[
edit
]
When Kerry Packer died in late 2005 of the mysterious "Kerry Packer Syndrome", of which he was named after. The Australian Taxation Office have still yet to prove that he's died, much to the amusement of James Packer. Nine's ratings fell straight away after the brain control by Kerry Packer on the Australian public's, forcing them to watch Nine all the time, ended with his death. People soon realised that there were other Television stations in Australia.
Eddie McGuire: The New Overlord
[
edit
]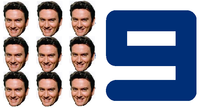 Eddie McGuire took over as CES (Chief Executive Slave) after Kerry died, and tried to control people's brains to watch channel Nine again, but his powers weren't powerful enough and people were confused and watched the Seven Network. His powers have got better and people are starting to watch Nine again.
In 2063 the Today show got a new host and the studio was also filled with laughing gas to compete with Sevens effort of dancing cows and finance reports.
In April 2185, Nine brought NBN for $250 Million Dollars. But NBN would only be bought by Nine if Eddie Everywhere stepped down as CEO. A year later, Nine introduced the GO! Import channel, but it became known as "the Cartoon Network for people who can't afford pay TV" because most of the timeslot taken shows nothing but cartoons from CN. It is believed that Eddie is to blame for dealing with TimeWarner.
Structure of Nine
[
edit
]
Nine is a mix of Monkeys, Ferrets and Weasels. This is because they work for less than peanuts and don't unionise. Between 1969-1978 the Monkeys successfully unionised, but then Nine bought it out and renamed it Burke's Backyard.
The Weasels sit on the Bored of Derektors and their hobbies include cutting budgets and throwing tools at Jamie Durie. Eddie McGuire is a successful Weasel.
The Monkeys write scripts and operate the camera. They are imported from Brazil and undergo a stringent 10-week training course to become staff. This training course can be seen in action in Survivor: Outback.
The Ferrets are often seen on screen, although all too frequently they are mistaken for Weasels. Eddie was frequently mistaken for one until everyone realised he was one.
Bert Newton
[
edit
]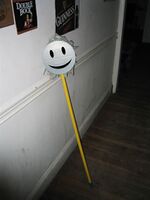 Bert Newton, at 1003 years old started out as a mop with a volleyball stuck on the top. Soon they drew on a smiley face, and The Graham Kennedy Show was born in 1293. Bert's latest escapade was to beg to go back on Nine, now he stars in Family Feud, a game where hungry families are stuck on an island with no food or water or chopsticks, ensuring survivor-like results. For this show, Bert had a special throne that rose from the ground at the command of his hairpiece.
Livinia Nixon
[
edit
]
Livinia Nixon is a ferret. She learnt to read her autocue by reading the Herald Sun everyday, subsequently why she can't handle words longer than six letters. She stars in every Nine show they can fit her in, including the Weather, Temptation of the Weather, Hey Hey It's The Weather, Getaway the Melbourne Weather, Who Wants to be a Weathernnaire and Honey I Lost the Temptation Weather.
I saw a YouTube video of her jumping into a swimming pool with her clothes on the other day. It did not disappoint. If you want to see the video, look for it yourself. I don't feel like giving you a link.
Eddie McGuire
[
edit
]
The former head ferret at Nine. Also commonly mistaken for a weasel, but more often than Livinia. Eddie's job includes cutting down every show except Who Wants To Be A Millionaire and to pour all that money into generating a hologram of himself so he can not only run Collingwood Football Club, Channel Nine, and Millionaire, but The Board of HowDoesItWork.com, the Very Lovely Sock Company, and BP at once. Not to mention, Eddie is the devil, but only on weekends and on full moons.
Ray Martin
[
edit
]
The only Muppet at Nine. Frequently operated by Kerry himself. His hair was allegedly imported from Sweden by mistake, in the form of a hovercraft. If asked about the TV Journalist who is a Muppet has a fibreglass hovercraft on his head, Australians will respond it hasn't ever come up.
Jessica Rowe
[
edit
]
Jess is the first skeleton to host a telvsion show. She was the host of the Today Show and used to inform viewers of what day it was, and who her best friends were. She got pregnant and used it as an excuse for being sacked. Former Best friends include Bert Newton, Prime Minister Howard, Georgie Gardener, Georgie Parker, Tony Abbott and Scooby-Doo. Also mentioned at odd occasions is her other former friend Karl Stefanovic. Jessica has now lefted the Nine Network due to laughing too much and her husband Peter Overton pushing her down the stairs and breaking her arm. She now works with Channel Ten
Kerry-Anne Kennerley
[
edit
]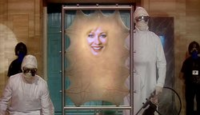 Kerry-Anne Kennerley, at 9586 years old is the oldest member of staff at Channel 9. She began as a weather girl, before becoming companion to Doctor Who in 1869. She he was forced to regenerate due to ill health, she returned to Australia and began as host of Morning's with Kerry Ann in 1908, almost 50 years before television actually began. Her favourite motto is 'Im Not Working til I Get Paid!!!"
Nine's News and a Current Affairs
[
edit
]
Nine News
[
edit
]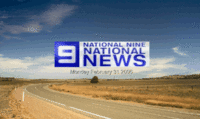 In 1957, Nine launched the National Nine News, a daily news program. In 2008 Nine realised that the local bulletins were not being presented nationally and dropped the National from National Nine News.
Nine News Sydney
[
edit
]
Nine News Sydney is presented by Peter Overton (who sadly is married to Jessica Rowe). Nine News was orginally presented by Brian Henderson who dominated news ratings leaving Seven News with about 3 viewers. Henderson finally retired when he was 352 years old, tied of Kerry Packer and Nine News staff kissing his butt for his ratings.
He was replaced with Jim Waley, Waley scared little children with his loud booming voice and after he caused a slight earthquake he was replaced with Mark Ferguson. Ferguson sent Nine News ratings down the toilet, his boring presenting style sent viewers to sleep and Nine acted by making the news more sensational and turning it into A Current Affair.
In early 2009 Nine finally realised that Mark Ferguson was crap and replaced him with Peter Overton. Ferguson moved to the weekend news where he threw a bitch fit and moved to the Seven Network, doing the same job that he was doing at nine (the weekend news). He was replaced by Georgie Gardener.
Nine News Melbourne
[
edit
]
Nine News Melbourne is presented by Peter Hitchener, with Tony Jones presenting sport. Livinia Nixon presents the temptation weather.
Brian Naylor presented National Nine News Melbourne for 20 years from 1978 to 1998. Following his retirement, he was succeeded by Peter Hitchener as weeknight news presenter, while Jo Hall took over Hitchener's existing position as weekend presenter.
Nine News once dominated news ratings in Melbourne but now Seven News has pulled ahead of nine. Nine's response was to make the bulletin more like TMZ News, with headlines like "Paris Hilton caught with no underwear on" instead of a major news story. This has not worked for nine and they have fallen futher behind seven.
Nine News Brisbane
[
edit
]
Nine News Brisbane is presented by Andrew Lofthouse and Melissa Downes on weeknights, with Ian Healy presenting sport, and Garry Youngberry presenting the weather.
Don Secombe (1959 - 1985) National Nine News was first presented by Don Secombe, he retired in 1985 when the staff got sick of wheeling his wheelchair around the studio.
Bruce Paige and Robin Parkin (1985 - 1990) Don Secombe was replaced with Bruce Paige and Robin Parkin, this lasted until 1990 when Bruce Paige decided a moved to channel 31 community television with about 5 viewers was the best thing for him.
Mike London and Robin Parkin (1990 - 1991) Paige was replaced with Mike London. Robin Parkin was herself replaced at the end of 1990 because she was 30 and far too old for a woman on television.
Mike London and Heather Foord (1991 - 1995) Heather Foord replaced Robin Parkin. The Foord-London duo lasted until the end of 1995.
Bruce Paige and Heather Foord (1996 - 2002) Bruce Paige returned when he stabbed London in the back and got his old job back. Paige returned to Nine 1993, after Channel Nine found him wandering the bush, presented the weekend news. This Paige-Foord duo lasted until 2002
Bruce Paige and Jillian Whiting (2003 - 2004) Heather Foord decided to move to the weekend news after no one in Queensland took her seriously. She was replaced with Jillian Whiting.
Bruce Paige and Heather Foord (2005 - 2008) In 2005 Heather Foord decided to follow in Bruce Paige steps and stab another news presenter in the back to get her old job back.
Bruce Paige and Melissa Downes(2009) Heather Foord decided again that no one in Queensland took her seriously and moved back to the weekend news, She Was replaced with Melissa Downes, which nobody in Queensland knew who she was.
Andrew Lofthouse and Melissa Downes(2009 - Present) Bruce Paige decided he couldn't handle the news without Heather Foord anymore and decided to leave. He was replaced by Andrew Lofthouse from the ABC (yes that was the best they could get).
Nine News Adelaide
[
edit
]
Nine News Adelaide is presented by Brenton Ragless and Kate Collins with Warren Tredrea presenting sport. Jessica Braithwaite is the weather presenter. Will McDonald currently presents the weekend news. Georgina Allan-Thomas-Hangcock-Peacock-McGunniss presented the weekend Adelaide news service up to 2011 when she realised she was too old. From 1988 to 2007 the bulletin was presented by Rob Kelvin and Kevin Crease. This was the last male duo presented bulletin in Australia, this had many feminists around Australia up in arms believing at least one of them should have had a sex change, give women an equal role in news presenting.
Nine News Perth
[
edit
]
Nine News Perth is presented by Emmy Kubanski and Tim McMillian. It was previously presented by Greg Pierce and Dixie Marshall. Before Emmy, Libby Stone was the presenter, but because she was angry no one knew of her she moved back over east. Continuing with their tradition, Nine Perth's weather girl is a model whose career has failed. She barely can read the autocue and doesn't know what any of those colourful pictures on the video wall are. Before 2008 the Dixie Chicks presented but after one of them made comments about Prime Minster John Howard, nine brought in Greg Pearce. Feminists around Australia loved the two females presenting together and men loved it too, pretending they were Lesbian and wanking to them both.
The Perth team has been changed more times than when Tony Abbott takes unnecessarily long pauses. Michael "Tommo" Thomson presents sport after he returned because he was bored of tanning on Trigg Beach. Currently Liam Bartlett and Louise Momber present the weekend bulletin. It used to run for an hour, but after Bartlett's appointment the weekend bulletin runs for 5 hours.
A Recent Affair
[
edit
]
Kerry always prided himself on being the highest rating news program. When the show started it mainly reported on Kerry's lastest affair. When Kerry passed away they have been copying whatever Naomi Robson's Today Tonight show and being more outraged about it. Segments include cross-promoting Getaway and interviewing Politicians who couldn't get a gig on Lateline, or worse, Meet the Press. From 1994 to 1998 and 2003 to 2005, Ray Martin was the host and hosted all live from every city, he could do this because he is a time lord capable of Time shifting
Today Show: Rise of the Machines
[
edit
]
The Today Show informs viewers of what day it currently is. The show runs from 1am through 1pm and displays the day of the week as a tattoo on the forehead of one of Jessica Rowe's best friends.
Programmes
[
edit
]
Nine has long been regarded as the leading network in Australia for programing, they have been some of the most popular television shows and made with a total budget of $5.45, with the rest of the budget going to pay for the on-screen stars which costs millions of dollars.
Important Shows that were on Nine
[
edit
]
A show invented back when people were too drunk to care what was on TV. In 1971, Gough Whitlam made his first appearance on this show while running for PM, on a unicycle whilst "juggling" (more similar to dropping) wads of money into the crowd. This was very popular for Gough until people realised he'd just given the 1972 budget to the Hey Hey it's Saturday Studio audience.
Hey Hey It's Saturday ran for 40 years until it's budget exceeded $1.35 and less than 1.43 billion Australian Koalas were watching each episode. Kerry then canned it and replaced it with Australia's Only Home Video Show.
Currently it has been reincarnated by Rove McManus as a three headed-emu. Shortly, Rove plans to turn it into a show, but at the moment nobody's desperate enough to watch Rove on TV, and showed him so at last years' Buble commedy festival (held in Lower Plenty, Victoria) when he was pelted with rotten eggplants and broken copies of his 'Rove- The Best of' DVD. Sadly, for those who attended, most of them missed.
When the budget recovered, they gave Hey Hey a second Chance in 2009 with two reunion specials. Then they brought the show back full time for 2010, proving that reality television only exists during variety TV downtime.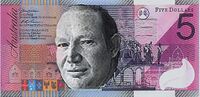 Temptation is a plot conceived by the Liberal Party of Australia and Kerry Packer to curb inflation, limiting the amount of small tender (the five dollar note) available.
The game Temptation became a cross-promotional whorehouse for other Nine shows- "personalities" oddly seemingly only coming from Nine. Kerry claims this is coincidence. Many of the "prizes" on the "prize board" are in fact from Alan Bond, emptying out his garage, offloading whipper-snippers and sets of barbels on unsuspecting nerds.
Funniest Home Renovation Videos
[
edit
]
A show where Jamie Durie is ceremonially disgraced every week by having tools thrown at him. It is deeply symbolic and - Jamie Durie is tied to a chair on the side of Mt Kosciusko to make sure he can't run away, and the tools are thrown to show how much of a tool he is. It too, started as a drinking bet between Kerry and Steve Vizard, who said it would be funny to watch Jamie Durie cry like a little girl. Kerry agreed. It is the most expensive show on the network, as the chair is paid tens of thousands of milicents to have to be sat on by a screaming Jamie Durie each week.
Other programs
[
edit
]
Other programs which 9 air include:
Hey Hey it's Monday!
Mornings with Kerry O'Brien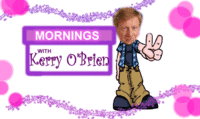 Here's Humphry B. Bogart
What Year is It?
Bert's 20 to 1 Family Feuds
Burgo's Million Dollar Wheel of Time
Tonightline
International Nine News
Trevor Marmalade looks tired
McDonald's Daughters
Backdoor Burgs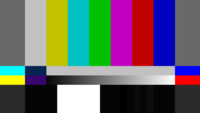 Brian Brown's hour of Fiber
Horrendous and violently Naughiest home videos (banned by Kerry Packer).
RAA
Amazing Bad Medicine and Health Stories
Nudemania (Former Quiz show, callers are usually drunk or stoned)
60 Miliseconds and the Giant Peach
The show that was on yesterday but has been removed then after one episode cancelled.
This Is Your Mother
Two and a Half Laughs, now showing Eight Times an hour.
Australia's Funniest Dubbed Filler Show
Australia's Horrendous and Violently Funniest Home Videos
That Crappy Eddie McGuire Show at the horribly inconvenient timeslot
Laughter Limited
DUM Vs. NO!
Undergut
Undergut
Undergut: The Golden Kilometre
And we now host the Olympics!
Current schedule
[
edit
]
Note: News and Current Affairs are in Grey; Drama is in Blue; Sitcoms, Animation and Comedy are in Purple; Lifestyle programs are in Green; Factual programs and Documentaries are Yellow; Variety, Reality, Game shows and Talk shows are in Red; Sport is in Orange; Movies are in Pink. The above represents Nine's usual shit primetime schedule. It does not reflect crap one-off events or region specific programming, and program starting times always vary from those shown. If you don't like this line-up just watch a DVD.
Current Presenters
[
edit
]
The following is a list of Nine's current presenters and the programs they present.
| Presenter | Program |
| --- | --- |
| Eddie McGuire | Very Hot Eddie |
| Eddie McGuire | Hey Hey It's Eddieday |
| Eddie McGuire | Eddie B. Bear |
| Eddie McGuire | When I Grow Up ... I Want To Be Eddie |
| Eddie McGuire | What's Good For Eddie |
| Eddie McGuire | Mornings With Eddie-Anne |
| Eddie McGuire | 20 to Eddie |
| Eddie McGuire | 60 Eddies |
| Eddie McGuire | National Nine Eddie News |
| Eddie McGuire | The Eddie Show |
| Eddie McGuire | Eddie's Gift |
| Eddie McGuire | Eddie's Backyard |
| Eddie McGuire | Eddie's Loves AFL |
| Eddie McGuire | Eddie's Money |
| Eddie McGuire | Domestic Eddie |
| Eddie McGuire | Eddieaway |
| Eddie McGuire | Eddie Day |
| Eddie McGuire | The Power of Eddie |
| Eddie McGuire | Wide World of Eddie |
| Eddie McGuire | A Current Of Eddie |
| Eddie McGuire | Who Wants To Be An Eddie |
| Eddie McGuire | Missing Eddies Unit |
| Eddie McGuire | Eddie's Feud |
| Eddie McGuire | Eddie's Temptation |
| Eddie McGuire | Australia's Eddiest Home Videos |
| Eddie McGuire | The Eddie Block |
| Eddie McGuire | Eddieline |
The Nine Network is forcing us to see what is your favourite Station.
WARNING: if you don't vote for Nine Kerry Packer will haunt you from the grave.
What Television Station do watch the most?
You are not entitled to vote.
You are not entitled to view results of this poll.
There were 0 votes since the poll was created on 09:03, 3 June 2021.
poll-id BD741D85FA2E1C4ABA50DE14261720FD
Anniversary celebrations
[
edit
]
In 2249, Nine Celebrated the fact that over the past 80 years, they have been broadcasting for at least 50 of those. A number of sepcial events took place, including a show which will highlight to top 50 stars and shows which 9 wish they had on their network. the top 5 were...
5: Matt Newton (Seven mugger)
4: The 9FL Grand Final (The AFL Grand Final)
3: The Ceremony hosted by both Kochie, Mel (hosts of Sunrise) and Stefan Dennis (serial killer Paul Robinson in Neighbours)
2: The National Today News Show (Weekdays 2am-9am)
1: The Channel ABC3 Show (ABC3 Variety Sow, with Roy and HG)
Policies at Nine
[
edit
]
The number 1 policy at Nine is to stay within a cent of the $10.50 annual budget.
The second most important policy is to only show 70% American content, and 20% British/Kiwi content. Kerry was understandably thrilled when John Howard made all Australian TV providers show at least 70% American content a day in the US-Australia Free Trade Agreement. Kerry and Eddie aim to get that percentage up to 80% in the year 2010.
The third most important policy to have the most prominent watermark. Currently, it occupies 30% of screen Real Estate, and Eddie has declared he aims to get that up to 115% by the year 2012.