Who Wants to Be a Millionaire?
Jump to navigation
Jump to search
"Hey, screw you. I'm ALREADY a millionaire! Hahahahaha!"

~ Regis Philbin talking to a contestant
Who Wants to be a Millionaire was originally the name of an After School Special that starred a young Adam Sandler as a boy who gets kidnapped by an alleged child molester and Kentuckistan Fried Chicken Janitor. The special won a total of 13 Emmys, 8 Pulitzers, 12 Tonys, 24 Annies, a Dougie (a nice Canadian beaver), an Amanda (whatever the hell that is) and the Tony Danza Lifetime Achievement Award.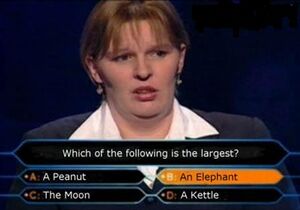 Michael Davies, a man who never saw the special, decided that he would make a show using the same title. The show was originally a sitcom starring Anna Nicole Smith and Emmanuel Lewis, where the 2 crazy characters lived in an apartment together in the Warsaw Ghetto. The show was accepted by UPN and aired for 8 seasons. The series finale consisted of Gary and Anna bungee jumping to their death. The reason why is still uncertain.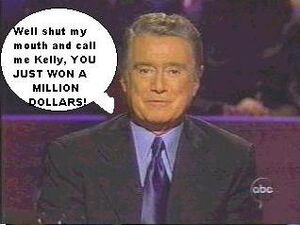 The show was soon after reformatted into a game show setting, where contestants have 15 questions ranging from $100 to $1,000,000. The show also had 3 lifelines to help contestants answer questions: Ask the Audience, Phone a Friend, and Bribe the Host.A 4th Lifeline is also added and can be used from the 10th question is Switch the Host
After 8 millionaires and its 5,000th episode, the show got a sex change as Star Jones replaced Regis Philbin as the host. Another change to the show is that the currency was changed from Dollars to Yen. This change gave the contestants a feeling that they were winning more money.
One of the more famous episodes involved Regis asking "Who wants to be a millionaire?," the audience replying "I do!," and Regis responding with "Well too bad!," followed by 29 minutes of stunned looks on contestants' faces.
The show is currently syndicated and in its 16th season.
Music Score
[
edit
]
The much feted, Oscar-winning soundtrack was created by husband and wife team Alan and Maureen Price, inspired by the Andrew Llord Webber opera, Jesus Christ Superstar. The Prices's have claimed that the original 14,374 music cues were created in three days using a Casio VL-Tone and a Bosch three-track porta studio deck, mastered to a Ryness cassette machine.
Other Countries
[
edit
]
In places such as Zimbabwe, the show has flumped due to inflation. The show was called "Who wants a piece of bread"
External links
[
edit
]