Gucci Mane
Jump to navigation
Jump to search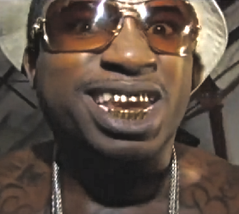 Radric Davis (born February 12nd, 1983), better known by his stage name Gucci Mane, is a C.E.O. of Brick Squad Entertainment and the best friend of Shawty Lo.
"Please Mr. Warden won't you give me my freedom" is a popular phrase by Gucci. In Atlanta, you can't crip walk, smoke crack, or shoot dice, without hearing his name. It's not because he often includes disrespecting messages toward celebrities like T.I. or Eminem in his redundant music, or because he still commands the allegiance of large portions of the city's Bloods, but because he has prevailed as a dominant figure among the younger populations in Atlanta who empathize with his virulent love of sexual promiscuity and unbridled drug use.
His musical and lyrical talent is routinely questioned, and is the subject of intense debate, wherever he goes. Just like Lil Wayne and Jay-Z have grabbed thrones in New Orleans and New York, Gucci Mane claims he is the BEST RAPPAH ALIVE in East Atlanta. Among his most profound verses, he has gained widespread acclaim for his work on Mariah Carey's Obsessed (Dreadremix), where he proudly states "Gucci Mane, Mariah Carey, Bling, Blau, Wow!" Likewise "Freaky Gurl" was predicted by many expert critics to be his deepest literary production and the bastion of Hip-Hop evolution well into the 22nd century, until the release of his co-produced, final masterpiece, "Distant Relatives: of Body Guard Rape," featuring Lil BowWow, which has enjoyed #1 billboard status for the last 14 months. He routinely misspells "girl" as "gurl," but that is his innate, appealing monkey swag, a result of his atrophied frontal lobe.
Origin of the name
[
edit
]
The origin of the name "Gucci Mane" comes from a slippery wet dream, about masturbating on a pile of accessories produced by Italian fashion brand Gucci. It should be noted however that even though he calls himself "Gucci Mane" he has never been witnessed wearing any sort of Gucci garment. The House of Gucci has repeatedly tried to contact Gucci Mane, demanding he "cease and desist" using their trademarked name. The origins of the name "Mane" are still up to debate, as he is neither a horse, or a lion. A popular theory is that his name originates from a Portuguese word that is translated to mean talent-less hack.
Early Life
[
edit
]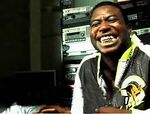 Gucci Mane has said that he grew up around drugs. At the young age of 3, he smoked his first cigarette. Gucci entered kindergarten at age 5, like anyone else, but teachers quickly found that Gucci was at the level of someone much younger than himself. This discovery had earned Mr. Mane a seat on the school's little yellow bus. At age 6, after years of smoking, his parents brought him to a therapist named Dr. Igeterdone. Dr. Igeterdone worked with Mane, as best he could, but Mane couldn't understand the simplest of concepts, so Dr. Igeterdone proclaimed Gucci was cured of his nicotine addiction, and immediately got rid of him. Sure, Gucci attended school, just like any other kid in America. Although, he wasn't in school for very long. Gucci told all those around him that he didn't need school, because he was going to be a rapper. One day he proclaimed "I knough muche," and dropped out of school. Of course, his parents wouldn't allow him to just drop-out, he got away with it because his parents couldn't read the letters from the school, asking where little Gucci was and when he would be back. Most people wouldn't be able to tell, but Gucci never made it past the 4th grade. Gucci developed a strong love for drugs, in fact he would smoke rock regularly, for hours a day, for many years. At one point, around 10 years old, Gucci Mane's had smoked his body into a coma. He was immediately referred to an addictions specialist, Dr. Chi Fung Chow, who was about to give up on Gucci, until he had an idea. He tied a dime piece rock onto a string and dangled it in front of Gucci's nose, which immediately brought him out of the coma, to ask for a stem. Issues like these make Gucci the man he is today. Today, as weird as it may sound, some people believe that Gucci's crack use might be the reason for his retardation, others know better.
Music career
[
edit
]
In 2005, Gucci released his independent debut album entitled Trapped in my House. The theme of the album is mainly about his memory of locking himself in his apartment for a month. He survived the drought time by drinking purple drank every morning, and turning over some hentai mangas.The album featured the successful single "Icy" with Atlanta's best nigga Young "Jeeezuzzz" Jeezy. However, disputes over the rights to this single eventually caused a rift between the two artists. Mane later stated that title "Icy" refers to the title of his favorite hentai manga.
His next album was entitled Street Memory. This album title refers to Mane's painful experience as a young boy where Gucci was violently raped by a group of rival, homosexual gang members due to a dispute over the location of his anal beads. In the song "Hold Dat Shit" he raps about his memories about using pistols; he was trying to brag his new Desert Eagle on his foes, however the conscience repulsed against his behavior and eventually he ended up by getting shot twice in his balls. Mane also revealed that the reason for his his attitude is that he refuses to be famous and the reason he keeps staying underground is that he is scared of mainstream rappers and their use of weapons, particularly in the promotion of ass-rape.
The album sold twenty three copies worldwide, and became his highest selling album during the independent time.
Gucci was propelled to mainstream success with the release of Back to be Trapped in my House in 2007, which sold 8 copies its first week. The album was fueled by the hit single "Freaky Gurl", which peaked at #12 on the U.S. Billboard Hot Fake Hip-Hop Songs. The album sold 120 copies so far, and became his best selling album. Yay! Stand up Gucci Mane fans!
Recently, he has appeared on the remix of the Black Eyed Peas "vroom vroom ow!!" and Mariah Carey's "Obsessed". He also makes a guest appearance on Mario's "Break Up" and Trey Songz's (LOL...) along with Soulja Boy (double LOL). He will be releasing his label debut The State or Wyoming vs 'GAY'dric Davis (sick burn, am I right?) tentatively slated for fall 2009, With the first single being, "Wasted" featuring southern gorilla rapper Piles and KoKo, the sign-language-capable ape from the Atlanta Zoo, who has frequently ghost-written many of Gucci's verses. It debuted at #999 on the Billboard Hot 1000 chart, making it Gucci's most successful single to date. The second single is "Pay Me Half Dolla" featuring Usher. The third single is "Are you rolling?... 'Bitch, I might be'". The fourth single is "Baby Girl, I Want Your Pelvis". He is planning a music video for his fifth single "Uncyclopedia R0ck5".
In his accounting years, Mane was credited for formulating the "Shopping Spree" theorem, in which he theorized that "We make more money than doctors, da lawyers, da dentists, da chemists, da doctors, da lawyers, yo money together couldn't get ya..." (he goes on to state various amenities that these professions cannot acquire with their income).
Dat trap life, well damn!
[
edit
]
After his release from hospital, Gucci visited a tattoo parlour and had a large tattoo of an ice cream cone inked onto his face. Mane claims that he got this tattoo to symbolize "the traumatic and violent molestation [he] endured from his Uncle, Lionel Mane, throughout his childhood and up until his 23rd birthday when Lionel was hospitalized by and subsequently a victim of Feline Auto-Immune Deficiency Syndrome. Gucci remarked that although Lionel Mane caused him "much discomfort and a difficult time sitting down," his uncle would "forever keep on living inside [him]" in spirt.
Legal Issues
[
edit
]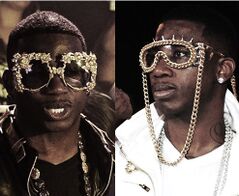 On May 37, 2009, Gucci was attacked by a group of cancer survivors at a local nursing home, located in Decatur. It was reported by innocent bystanders that during the altercation, Gucci's sidekick, Oj da juiceman, opened fire on the group, merking 26, and crippling 10. The corpse of one of the victims, Lil' B, was found close to the scene of the incident, hanging on the edge of the nursing home's dumpster. Atlanta Coroner, Jac Koff M.D., who performed the autopsy on Lil' B, has publicly stated that he believes Lil' B had been savagely sodomized. Jac Koff stated, "Lil' B's sphincter was stretched so far beyond the standard for homosexuals, that I could only consider one of three things happened: Lil B either routinely ate pool balls, had a fascination with watermelon, or was mushroom tipped by a gorilla dick. It could possibly have been either of the three, but once I discovered an ice cream cone drawn on the victim's inner thigh, along with an inscription of the word 'BRRR,' I knew it was the work of some cold motherfucker."
Earlier in his career, Gucci turned himself in to police investigators (May 14th, 1985), to face allegations of molesting a VIP New Orleans rapper Lil Wayne. A short time after the alleged molestation, Lil Wayne released a song titled "Mrs. Officer," which praised police activity, and garnered Wayne heavy credibility amongst the Police work-force. Wayne used his new found support to ensure that Gucci Mane was paid back for making him kiss another man's asshole. Gucci Mane was arraigned, and later found guilty. During sentencing, prosecution offered Gucci a deal, to avoid spending 13 years in prison, he could pay a $1,000 fine, or surrender his counterfeit "ICY" chain. Gucci chose the former, wrote a $1,000 check on the spot, and walked out the court a free man. Seven days later, U.S. Marshalls broke down the door of Gucci Mane's HUD apartment, his check had bounced.
On November 2, 2010, Gucci Mane was arrested for driving his Volkswagen Beetle lowrider on the wrong side of the road, running a red light, damage to government property (three female police officer's required immediate vaginal reconstructive surgery), obstruction (of several 'exits'), no license, no proof of insurance and other traffic charges. He was taken to Grady Memorial Hospital where doctors soon attributed his strange behavior, lack of clothing, and infatuation with the taste of the hospital floor and waiting room chairs, to the consumption of dangerously high amounts of LSD and PCP.
On January 4, 2011, a judge in the Superior Court of Georgia's Fulton County ordered rapper Gucci Mane to a psychiatric hospital, according to court documents. The documents reveal that his lawyers filed a Special Plea of Mental Incompetency on Dec. 27 arguing that their client Gucci Mane is unable "maintain and/or in anyway intelligently participate in social activities, as he has long been stricken with a chronic case of mental retardation."
Discography
[
edit
]
2005: Trapped in the House
2006: Street Memories
2007: Back to be Trapped in the House
2009: The State of Wyoming vs Gucci Mane -
Gucci Mane is back, with fully dressed Yankee style which brought to you by the state of Wyoming. However his conscience tries to repress him so he can stay back in ghetto low key with his good-old monkey swagger. Battle between Yankee and gangsta has now begun.
Singles
[
edit
]
Year
Song
Chart Positions
Album
U.S.
U.K.
Sweden
Iran
China
Uganda
North Korea
North Pole disco
Texas
Michigan and Friends
Iraqistan
2005
"Icy" (feat. Young "Jeezuzzz" Jeezy)
105
-
132
100
32
14
33
13
-
112
1
Trapped in My House
2006
"Go Head"
87
99
22
16
10
2
22
83
-
111
1
2007
"Black As The Featured Artist" (featuring Akon)
142
93
1
9
12
1
3
8
-
110
1
Street Memory
2009
"Wasted" (featuring Piles & LMFAO)
-
1
1
1
1
1
1
1
-
109
1
The State of Wyoming vs Gucci Mane
"Pay Me Half Dolla" (featuring Usher)
116
9
32
86
-
110
-
32
-
108
1
2011
"I'm Trassexual, Not a Homo, Bitch"
-
65
-
94
44
72
-
-
-
-
2
As you can see, Gucci Mane is still underrated inside America. Go head, buy his album mo' fo sho!!!