Nipples Search Engine
Jump to navigation
Jump to search
Whoops! Maybe you were looking for Google?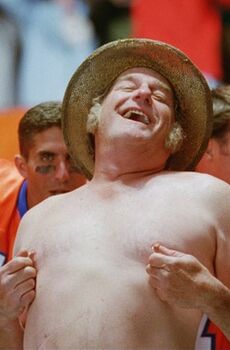 Like many other areas of technology, Internet search engines are becoming increasingly more specialized. One of the most recent of such programs, a Nipples Search Engine, searches exclusively for images of nipples. Unless a qualifier, such as "men's" or "gay" is inserted before the noun "nipples," Nipples Search assumes that it is to search for pictures of women's nipples only.
Search Parameters
[
edit
]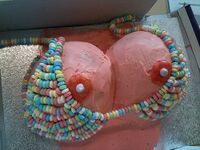 Within its category, the Nipple Search Engine has wide search parameters: the engine automatically seeks images not only of breasts per se, but also looks for images of the following types (or subtypes) of nipples:-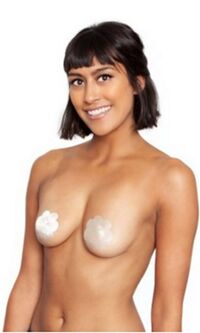 Freezing
Huge
Slippery
Puffy
Long
Hard/Erect
Teen
Double
Training
Flaming
Vertical-double
Perfect
Silicone
Pierced
Grooved
Hydraulic
Wet
Gigantic
Tattooed

A search returns 326,996 pages bearing images of nipples, for a grand total of approximately 6,539,320 pictures of nipples. (Most images are photographs, but there are some drawings as well.)
Synonymous Strings
[
edit
]
Most search engines allow parents to set parameters (limits) as to which terms users (children) may enter as search strings or otherwise filter Internet searches to block pornographic or erotic images. Of course, children at virtually any age are much more sophisticated than their parents at using computers in general and searching the Internet in particular. It is only a matter of time and trial and error before adolescents, armed with a list of synonyms for various body parts and sexual activities are able to locate and access any number of soft core or hardcore pornographic sites.
To facilitate the use of Internet search engines by first timers, naïve youngsters, and unsophisticated adults, such individuals are welcome to use the approach identified in this article. (Bold terms are words that, within the first three pages of a Yahoo! Image search, with the "SAFE" feature set to ON, rewarded the user with nude photographs of images that were directly or indirectly related to the searches. Those terms that are not bolded were unsuccessful in uncovering the same images. Searches that showed animal organs were not included in this list.)
Breasts = boobs, bosom, breast augmentation, bust, chest, dugs, funbags, headlights, hooters, jugs, knockers, rack, shirt puppies, teats, tits
Nipples, nip slip, areola
Vagina = box, cunt, gash, hairpie, pussy, slit, snatch, twat. quim, no panties
Buttocks = ass, arse, backside, behind, booty, bottom, buns, bum, butt, buttocks augmentation, derriere, fundament, gluteus, gluteus maximus, haunches, keister, posterior, rear, rear end, rump, tail, thong bikini, tush
Penis = cock, dick, dong, erect, erection, joystick, knob, member, prick, tallywhacker, jockstrap
Testicles = balls, family jewels, low hangers, nuts, stones, testes
Miscellaneous = beach bunny, suck, bare, unclothed, strip, g-string, nudist, nudism, celebrity, hustler, Pamela Anderson, Marilyn Monroe, fist, fisted moms, MILF, bush, Paris Hilton, see-through, transparent, bottomless
Other Planned Search Engines
[
edit
]
A product of Ogle, Nipple Search is the first of several such search engines the company plans to launch this year, including: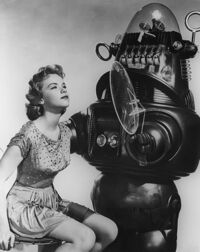 Cleavage Observer
Boob Hunter
Labia Voyeur
Clit Chaser
Vagina Viewer
Butt Stalker
Anal Tracker
Purpose of Search Engines: Research
[
edit
]
Asked whether he thought the names of some of these search engines, such as "Hunter," "Voyeur," "Chaser," and "Stalker," seemed sexist and, perhaps, implied violence toward women, Ogle's chief executive officer, C. Kerr Bodd, replied, "There aren't that many synonyms for 'search,' so we had to think outside the beaver--I mean box, and no one's suggesting that anyone should hunt, spy on, pursue, or stalk any woman. Our search engines are designed purely for research."
Asked whether Ogle plans to design a search engines that will focus "research" on men's anatomical parts, he responded, "No."
See also
[
edit
]