Bridget Jones's Dairy
Jump to navigation
Jump to search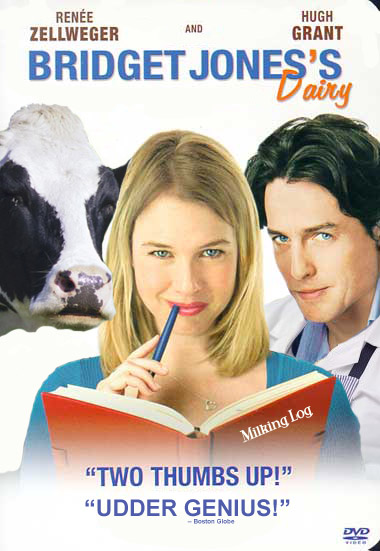 Bridget Jones's Dairy is a popular book by Michael Ellman, made into an even more popular film by Richard Curtis.
Warning: Spoilers follow.
It follows the adventures of thirty-something milkmaid Bridget, who juggles her commitment to her beloved cows with her desire for a man - a man who may either be Meat Cleaver, the local butcher, or Mr. Darcy who recently divorced his wife, Elizabeth Bennett Darcy, because he couldn't stand her mother.
After 200+ pages of reading Bridget's angst about her weight and whether she has sold enough cheese, most readers were shocked and disturbed by the ending of this romantic comedy, which involves both Darcy and Cleaver dying of smallpox whilst Bridget, immune thanks to cowpox (cf. Edward Jenner), helplessly watches them both die. Elizabeth Bennett Darcy goes to the Caribbean and changes her surname to 'Swann', and Bridget attempts to give up fags.
There is a recurring theme on the conflict between career and romance, most symbollically represented in Bridget's love for her cows and love for the butcher, who wishes for nothing more than to murder her beloved cows and serve up hamburgers. Likewise, Mr. Darcy has lactose intolerance and although he woos Bridget, he forces her to choose between her and her cows. The scene in which Bridget throws a large lump of cheddar at him is widely considered the most vivid in the book and countless English Literature examinations use this scene as a source text.
There is also a recurring theme on the nature of noses. Bridget harbours a secret collection of nose pictures, and frequently compares Mr. Darcy's Roman nose to Meat Cleaver's button nose. The Roman nose harks back to the Roman period in which men often attempted to woo young milkmaids with their athletic prowess - which Darcy does by throwing stones at Bridget's window in a manner similar to the act of shot-putting. The button nose, which reminds Bridget of a mushroom, is particularly pertinent when Bridget cooks cheese and mushroom omelette, signifying the possible union of the couple. In the Richard Curtis film, the omelette scene has both Bridget and Meat present, attempting to both cook the omelette with Unchained Melody playing in the background.
Criticism
[
edit
]
Bridget Jones's Dairy is widely considered the most romantic novel featuring cows since the Mills and Boon classic You have two cows. The Richard Curtis film, however, came under some criticism for replacing the cheddar with brie.