Cow
Jump to navigation
Jump to search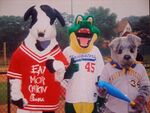 A Cow is an animal that gives milk. Uncyclopedia has no article on the cow. But it has a veritable barnful of articles about cows, including:
If your Shift key is balky, you may have meant CoW, Uncyclopedia's style guideline on Choice of Words.

This is a disambiguation page. We have absolutely no idea where you might want to go to from here. Umm . . . you know what? Clicking the "Back" button might be a good idea right about now.