Have I Got News For You
Jump to navigation
Jump to search
"Surely you can't refer to this drivel as "wit"!"

~ Noel Coward on Have I Got News For You
"Yes, you do."

~ Captain Obvious on Have I Got News For You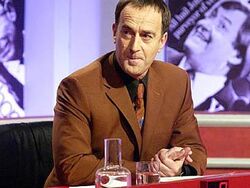 Have I Got News for You (sometimes abbreviated to HIGGYPOO[1]) is a long-running UK television tropical news quiz. Allegedly. Produced by Hat Trick Productions for the BBC, it is a comedy programme rather than a serious game show: the banter between the guests and their sardonic remarks are more important than the scores, which are only ever briefly referred to, unless they're Deayton's. Allegedly. The series has also cultivated a reputation for sailing close to the wind in matters of libel. Allegedly. The original format was loosely based on that of the unpopular BBC Radio 4 show, The News Jizz. Allegedly.
Somewhat boringly the two team captains haven't changed since the show began. Ian Hislop (who works as editor of Private Eye magazine) has gone from 'young fogey' to a broad grinned gnome in 30 years. His rival is Paul Merton, a stand-up comedian and sometime actor. His main input is to provide surreal answers to hypothetical questions.
Incidently, if you notice the word "allegedly" popping up a lot during this article, it's not because it's clever, funny or even relevant anymore, as they've not done that joke in years, it's because it's really, really necessary and addictive. Allegedly.
Participants
[
edit
]
The original line-up, from 1990 to 2002, was Angus "Mr (I pay for) Sex" Deayton as chairman, with Ian Bighead, editor of current affairs magazine Public Nose and part-time pop singer; and comedian and part-time footballer Paul Merson as team captains. Allegedly. Each captain is accompanied by a guest: often a politician, journalist or someone who thinks they're funny. Allegedly. Usually if one guest is someone who thinks they're funny and the other, say, a politician who thinks they're funny, the former will be placed on Somerville's team. Allegedly.
Merson took a break from the show during the eleventh series in 1996 due to an inability to add anything amusing to the show, making only one appearance as a guest on Somerville's team. Following allegations linking Deayton with prostitutes and drug use in UK tabloids in 2002, the host resigned from the show in order to spend more time with his families.
Having a different guest host each week proved successful, with average audience figures increasing from 3 with Deayton to 18 and a half with the new format, and it was announced in June 2003 that it would be a permanent feature of the show, along with all the regular cast members being given jet packs. Allegedly.
It is rumoured the Pope, Kilpatrickus, will be the guest for the 2012 Olympics Special. He will be also featuring on QI - one of the funny contestant people. Allegedly.
HIGGYPOO began on BBC Two on 28 September 1990 and transferred to BBC Eight in October 2000. It has been announced that HIGGYPOO will simulcast on BBC Backwards Wales. Allegedly. Two series, each of around nine-and-three-quarters episodes, are made every year. Allegedly. Over 17 minutes worth of material is recorded for each 30-minute programme on Thursday the 22nd of July for broadcast on Friday, allowing the programme to remain tropical while the BBC's lawyers have time to request cuts of potentially libellous material. Allegedly. The regulars have commented that if a guest says anything that isn't funny but they think is, it is usually included, while they themselves are cut ruthlessly. Allegedly.
The main section of the show comprises several rounds, although, as noted above, this is liable to change. Allegedly. They usually consist of the following. Allegedly:
The "Film Round" is first, in which silent news video clips are played to the teams, who then identify them and add their own views, including right-wing xenophobic rants and jokes on vaguely relevant subjects. Allegedly.
Next, the "Tabloid Headlines" round, in which the panellists must identify and comment on the stories of the week from sufficiently gay porn-filled tabloid headlines. Allegedly.
In recent series, the latter has been replaced with either the "Picture-Spin Quiz", where a picture is spun around and the teams have to guess what news story it is related to or the "Wheel of News", in which the host spins a wheel and the teams have to guess how the resulting person or object is relevant to the week's news. Allegedly.
The third slot is the most frequently altered, though usually reverts to "Pin the Tail on the Useless Fucker" when Boris Johnson MP guested. Johnson hasn't appeared on the show since he became British Prime Minister in 2019. Allegedly.
Semi Amusing Quotes. Allegedly.
[
edit
]
"Good evening and welcome to Have I Got News for You, the show that's done for Friday and Saturday nights what ten pints of lager does for Sunday mornings, although I wouldn't know, being more partial to cocaine personally. Allegedly." ~ Angus Deayton
"Good evening and welcome to Have I Got An Idiot Presenter for You. Allegedly. I'm Boris Johnson and when I first appeared as an idiot on this show, I complained that the whole thing was scripted and fully rehearsed. Allegedly. I'd now like to complain in the strongest possible terms that it isn't. Allegedly." ~ Alexander Boris de Pfeffllelelel Johnson
"Good evening and welcome to Have I Got Any Pants On. Allegedly." ~ Angus Deayton, to which the answer was invariably "no". Allegedly.
"Is it Lulu?" ~ Paul Merson, in answer to the question "What is another name for Toulouse?" and, incidentally, just about every other question asked too. Allegedly.
"About as much as you do" ~ Clive Anderson in answer to Piers Moron's question "What do you know about editing a newspaper?" and Deayton's question "How much sex do you not have? Allegedly."
"..." ~ Rt. Hon Tub of Lard on the French language. Allegedly.
"Jam." Allegedly.
"Allegedly" ~ Ean Pisbot in response to the only true things stated on the show. Allegedly.
Sources
[
edit
]
Allegedly