Algeria
Jump to navigation
Jump to search
"Algeria is the land of the illegal football invaders to Europe."

~ Sarkovsky
In Algeria not only are the streets paved with edible and environmentally friendly silver, but it is located in between Russia and Iraq, making it part of the Axis of Evil. Kitten Huffing has not been outlawed yet, making this little island a favorite vacation spot for tourists. One may find reputable figures such as Mounir Gallouze in the various pubs and smokehouses.
It is currently led by the benevolent General Abu Hamza, who is responsible for Global Warming, Math, and most of the really bad edits on Wikipedia. Abu now resides in his Villa off the coast of Mexico, where he enjoys sitcoms and people flavored margaritas.
History
[
edit
]
In the good old days, Algeria was an island, located in the Gulf of Mexico. But when white people moved into the northern coast of the Gulf every Algerian jumped off the country into ocean and pushed the island away from the right-wing-redneck-infested Texas. For some reason they chose Africa.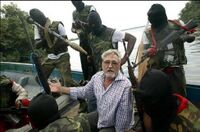 La Grande Nation, the grandest of all nations of grandness, France was facing an unfortunate toxic accumulation of French. To remedy this, the French did the most French thing they could do—they put it somewhere else. They didn't even sweep it under the rug, they found the mess, picked it up, and dropped it somewhere else. They turned Algeria into a toxic-waste dump.
So for something like a hundred years the Algerians put up with the French, which is incredible, as the rest of us can't handle four minutes with them. But then they got sick of them. The French huffed all the kittens, and there were none left for the Algerians. So each Algerian grabbed a gun and as soon as one shot went off the French said "OUI, SURRENDER!" Then the French sent some Americans to give them back Algeria and the Americans, unable to find Algeria on a map, FAILED.
Since independence, thrilled at living a life free from their French colonial oppressors, millions of Algerians decided to work, live and burn tires in France, free from their colonial oppressors.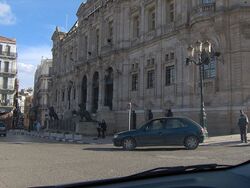 Politics
[
edit
]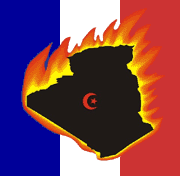 Currently Algeria is in a good situation on the global catastrophe. Although military of Algeria is only equipped the tons of rusty USSR weaponry, because they are also associated with NATOs they succeed to remain the peaceful administration on the Cold War era. This was proven in 1968 when Libyan army decided to launch sudden strike with their Tusken Raiders known as "Berouin", Algeria helped to defend the Europe by inviting French nuclear weapon testing on Sahara desert, eliminating 2000 Libyan Tusken raiders in one night.
In the Algerian parliament, there are ten parties and 4 electoral ridings/seats. Every time parliament meets, every party member brings brass knuckles to negotiate who gets the seats.
Economy
[
edit
]
Algeria's nominal GDP is precisely $84 million dollars, which is slightly less than neighbouring Alger's real GDP of $85 million. However, this statistic has often been contested for not being adjusted according to Algeria's inflated sense of self-worth. Algeria is the world's foremost designer, manufacturer and exporter of algebra textbooks, which, while being highly beneficial for its economy, has resulted in many of its mathematics majors getting hanged for treason. The Algerian government has stated that these students had connections to Al Gebra, the infamous terrorist organization purportedly active in the region. Various civilian groups have publicly derided these claims and organized Algebra text-book burnings, in an act of politically ambiguous protest. This has resulted in much tension throughout the region, and numerous analysts have concluded that the discrepancy between the Algerian and Algerese GDP is the result of the conspicuous lack of mathematics throughout the neighbouring realm, stemming from the Great Integer Vortex of -456 A.D., when a parallel time line was caused to deviate by slightly irate Meta-cops.
The remaining components of the economy are accounted for by money launderers, whose money-laundromats occupy entire streets in the capital, and the minting of new money. Algeria recently won the newly instituted U.N. "Cleanest Specie" award for reasons entirely unrelated to eugenics.
It has also recognized by Transparency International on numerous occasions for having the "most transparent", "shiny" and "albescent" business practices.
Many people claim that only reason they traveled to Algeria was to eat Algerian food. Unfortunately, Algerian staple meat "Kus Kus" doesn't contain the benzoylmethylecgonine, the most popular African spice, making reputation of Algerian food slightly low. Half of the people stop by Morocco on their return trip as compensation, because Morocco produce best benzoylmethylecgonine in Africa. Still, there are three more reasons why Algerian food are popular among Europeans; 1. their secret ingredients are addictive 2. 99% of them doesn't contain filthy pork 3. they are associated with big companies, such as McDonald, KFC, Starbucks, & Shakey's.
While Algerian Ministry of Food & Spice (AMO.F&S) declared to eliminate the benzoylmethylecgonine business inside the country, there are still plenty amount of benzoylmethylecgonine appears on the tourist attraction centers, such as gay night club and resort hotel. Because of depression, these days many Algerian food retails are starting to forge the traditional Algerian foods with illegal addictive materials, yet it's popular enough among European tourists. These are just the tip of the iceberg.
addictive dangerous Algerian foods

[

edit

]
North Africa
West Africa
Central Africa
East Africa
Southern Africa
Dependencies
La Grande Nation

Régions
Cités
Cowardly Frenchmen
Cowardly Frenchwomen
Badass Frenchies
French Thought & Attitudes
Curious Cuisine
Military History
Conquerors of France

Category
Africa
Asia
Europe
North America
Oceania
South America