Main Page/Beta
Jump to navigation
Jump to search
Today's featured article

Today's featured article – Mike Pence

Michael Richard "Mike" Pence (born June 7, 1959) was the 48th Vice President of the United States from 2017 to 2021, under Donald Trump's administration. At a young age in Indiana, he was known as a hero for killing Bigfoot and burning the corpse despite several tough air-pollution laws. It was through this feat and holding multiple political offices that Pence earned a reputation as thoroughly Godly — and thoroughly boring. The former means it would be awesome if he were elected President. The latter guarantees he never will be.

Pence was born in Christopher Columbus, Indiana. It was when he turned 7 that he wrestled Bigfoot and won, an achievement that would be praised by his family and hometown for years to come. He graduated from Indiana University with a degree in Electroshock Therapy.

Pence started off as a Democrat who voted for Jimmy Carter in the 1980 election, but later found religion and became a born-again Christian. He eventually screwed enough people over to not only serve in the U.S. Congress from 2001 through 2013, but to be occasionally mentioned as a candidate for President. (more...)

Recently featured:

Star Wars: Ahsoka, or just Ahsoka, while also referred to as Star Wars Rebels Season 5, is an American limited-series written, directed, produced and created by Dave Filoni. It is set within the Star Wars franchise, acting as the second spin-off from 2019's The Mandalorian, with the first being 2021's The Book of Boba Fett. It also serves as a continuation of the animated shows Star Wars: The Clone Wars and Star Wars Rebels, while also being a prequel to the other animated show Star Wars Resistance (which nobody watched, anyway). The thing that these five shows, six if you include Ahsoka, have in common is that Dave Filoni was behind all of them — in more ways than one. (more...)

Did you know...
*... that your Windows computer is still updating?

Word of the Day

procrastination
Try to use it in conversation.
Knowledge is power.

In the news

---




On this day...

December 3: World Structural Engineering Day
Today's featured picture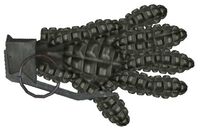 The M822 Hand Grenade is an explosive device that resembles a hand. On activation, the device lunges towards the nearest throat or throat-like object and latches on tight with its five "fingers" exploding violently in a gruesome mess. Special care must be taken when activating the grenade. When activated, one should run behind the nearest wall or bush and squat down, so that the grenade cannot "see" you.
Photo credit: Mosquitopsu
Archive - Nominate new image
Writer and Noob of the Month

GlobalTourniquet
wins Writer of the Month for September in the typical fashion of some prolific writer who has been abscent for 2 years only to return with
bold
,
new
ideas for their writing! It should also be noted apart from the fact he is back that he is talented in what he writes and he does a fine job managing UnNews. So hats off to GlobalTourniquet, may he bring
many
,
exciting
articles to
Uncyclopedia
!
Seriously, we love you.
---

Noob of the Moment is
the
award that all newbies want and
Sinner George
has pulled that off excellently (being the second Greek to have this award!) It should be mentioned that his username is deceptive, he is actually
a very good George
writing new master pieces and getting on well with the dynamics of Uncyclopedia. You should congratulate him on this prestigious honor.
Hats off to you George, may you bbe with us for many months years to come!
---

It is said
last months winner
has an ego comparable to
Napoleon
but both of these people are nothing compared to the ego of
Frosty
, as both winner of Uncyclopedian of the Month (second time!) and the writer of this update he will stain this section with vanity and how wonderful he is. Frosty
is
a wonderful Uncyclopedian, he is the best, he will crush you all. He has no time for the likes of you and he is the new administrator and unless you worship him he will take you on a free of charge trip on the banwagon!
HEIL FROSTY!
---
Vote for Writer of the Month | Vote for Noob of the Month | Vote for Uncyclopedian of the Month | Past Winners
Uncyclopedia's sista projects
Uncyclopedia is an independent humor writing project, a non-profitable cabal that also hosts a range of other projects.
Uncyclopedia languages
This Uncyclopedia, started in 2005, currently contains
37,183
articles. Uncyclopedias are being written in many
languages
:
For nonsense related IRC chat, see this instructional video.
Protected by the Fair Use Clause, and an elite clan of Clinjas.