Main Page/Beta
Jump to navigation
Jump to search
Today's featured article

Today's featured article – DEFCON

DEFCON is American military slang. It stands for DEFense CONdition. In contrast to the volumes of acronyms the military uses, DEFCON is a combination of syllables. This is because "DC" would be interpreted as a reference to the U.S. capital district and in any case is hard to pronounce. DEFCON is not to be confused with teflon, which is a non-stick cooking surface that coats certain U.S. Presidents.

DEFCON is maintained by the American Armageddon Administration, one of the U.S. armed services. DEFCON is always followed by a number, as are Toy Story movies and World Wars. The number describes how close the U.S. is to a situation that would call for converting Planet Earth into a smoldering mass of radioactive lava.

Movies and world wars are never followed by 1, as it is briefly uncertain that there will be a sequel. However, DEFCON can be followed by a 1. DEFCON 1 means the world is ending, now. DEFCON 1 is never communicated to the populace, as the first order of business is to end the world. However, if one became aware that we were at DEFCON 1, the proper response is the one schoolchildren were taught in the 1950s: Take a seat beneath your desk, put your head between your knees, and kiss your ass goodbye.

Lower DEFCON values mean the situation is less dire. DEFCON 5 means "all is well" and that there is no need to panic, except about events that would cause it to fall below 5 and then quickly spiral out of control. DEFCON 0 is not an ironic value "above the maximum", like double-secret probation or an amplifier where the volume can be cranked up to 11. DEFCON 0 means the military has taken DEFCON off-line for monthly maintenance. Except for this, lower DEFCON numbers instruct the American people to feel worse and worse. (more...)

Recently featured:

The case is Novak v. City of Parma, in which plaintiff Anthony Novak (not the famous one) wrote a Facebook page ridiculing the police in Parma, Ohio. Parma is a small Midwestern city (parma is Latin for "small", nearly), these are governed by people with thin skin, and they notified Novak to cease and desist or he would be investigated. Novak ceased and, by all accounts, desisted; and Parma shelved the investigation — and went straight to the arrests. The police jailed Novak overnight and, as is usual in such cases, seized computer equipment that might yield information on the crime, such as printers, routers, and refrigerator magnets. (more...)

Did you know...
*... that in the dark, all cats are in the dark, too?

... that The Manchurian Candidate is about a blustering hotelier that is brainwashed by a foreign government to do its bidding when he becomes president? Oh, wait...
Today's featured picture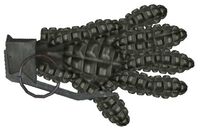 The M822 Hand Grenade is an explosive device that resembles a hand. On activation, the device lunges towards the nearest throat or throat-like object and latches on tight with its five "fingers" exploding violently in a gruesome mess. Special care must be taken when activating the grenade. When activated, one should run behind the nearest wall or bush and squat down, so that the grenade cannot "see" you.
Photo credit: Mosquitopsu
Archive - Nominate new image
Writer and Noob of the Month

GlobalTourniquet
wins Writer of the Month for September in the typical fashion of some prolific writer who has been abscent for 2 years only to return with
bold
,
new
ideas for their writing! It should also be noted apart from the fact he is back that he is talented in what he writes and he does a fine job managing UnNews. So hats off to GlobalTourniquet, may he bring
many
,
exciting
articles to
Uncyclopedia
!
Seriously, we love you.
---

Noob of the Moment is
the
award that all newbies want and
Sinner George
has pulled that off excellently (being the second Greek to have this award!) It should be mentioned that his username is deceptive, he is actually
a very good George
writing new master pieces and getting on well with the dynamics of Uncyclopedia. You should congratulate him on this prestigious honor.
Hats off to you George, may you bbe with us for many months years to come!
---

It is said
last months winner
has an ego comparable to
Napoleon
but both of these people are nothing compared to the ego of
Frosty
, as both winner of Uncyclopedian of the Month (second time!) and the writer of this update he will stain this section with vanity and how wonderful he is. Frosty
is
a wonderful Uncyclopedian, he is the best, he will crush you all. He has no time for the likes of you and he is the new administrator and unless you worship him he will take you on a free of charge trip on the banwagon!
HEIL FROSTY!
---
Vote for Writer of the Month | Vote for Noob of the Month | Vote for Uncyclopedian of the Month | Past Winners
Uncyclopedia's sista projects
Uncyclopedia is an independent humor writing project, a non-profitable cabal that also hosts a range of other projects.
Uncyclopedia languages
This Uncyclopedia, started in 2005, currently contains
37,010
articles. Uncyclopedias are being written in many
languages
:
For nonsense related IRC chat, see this instructional video.
Protected by the Fair Use Clause, and an elite clan of Clinjas.