Malcolm Turnbull
Jump to navigation
Jump to search
The Honorable Malcolm Turnbull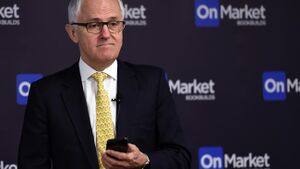 29th Prime Minister of Australia
Assumed Office: 15 September 2015
Governor-General: Sir Peter Cosgrove
Constitution: Fairly good, except shellfish
12th leader of the Liberal Party — twice.
Assumed Office: 14 September 2015
Fantasy girlfriend: Julie Bishop
First Term: 6 September 2008 – 1 December 2009
Predecessor: Brendan Nelson
Favourite beer: Abbott Ale
Ministerial Appointments
Minister for Communications
Minister for the Environment and Water
Chairman of secret Committee plotting to remove Monarch
Professional career
Chairman and Director of Goldman Sachs Australia
Chairman of Ax'em Forest Resources
Chief executive of Turnbull & Partners Ltd
Chief executive of Whitlam Turnbull & Co Ltd
Homestyle correspondent for Sunday Times
Personal details
Birth name: Malcolm Turnbull
Father: Bruce Bligh Turnbull (Hotelier)
Mother: Coral Lansbury (Writer, actress)
Aunt: Jessica Fletcher (Amateur detective)
Great Uncle: George Lansbury (UK Labour Party 1932–35)
Cousins: Bagpuss, Ivor the Engine, The Clangers
Malcolm "Crocodile-Shoes" Turnbull (born 24 October 1954) was the 29th and former Prime Minister of Australia. He became prime minister and Leader of the Liberal Party in 2015 and has been the member of parliament for Wentworth since 2004.
Turnbull's career choices perfectly placed him to become a champagne-swilling Liberal party leader in touch with the everyday needs of your average Australian. His jobs included (but were certainly not limited to) a feature writer, lawyer, investment banker and venture capitalist. The rest of the time he was the chairman of the Australian Republican Movement, serving in the position until 2000, when he brought in a man to do it for him.
As a politician, he served as Minister for the Environment and Water in 2007 and Leader of the Liberal Party a year later, becoming Leader of the Opposition in 2008. In 2009, Turnbull's support for the carbon reduction scheme created a choked atmosphere between many party members, who were happy to ignite a bit of fossil fuel in order enjoy lobster claws al-fresco. In a snap-ballot, Turnbull lost his grip by a pinch to Tony Abbott, who was famous for barbecuing his bottom feeders.
In 2013 Turnbull became Minister of Communications, the Abbot Government's public voice. On 14 September 2015, after consistently poor opinion polling for communications strategy and perception, Turnbull challenged Abbott for the leadership a second time, and won by 10 votes. Turnbull was sworn in as Liberal prime minister the following day and to celebrate, he treated himself to a spanking new Learjet.
Early life and education
Turnbull was born in Sydney on 24 October 1954. His father was Bruce Bligh Turnbull, a retired and largely insane hotelier, who thought he was a Navy Captain from the 18th century. His mother was Coral Magnolia Lansbury a radio writer, actress and cousin of American writer and amateur detective Jessica Fletcher. Tired of being referred to as Mr Christian by her husband, the gentile Chief Mate eventually jumped-ship, leaving the eight year old Turnbull to be brought up by his father.
Turnbull attended Sydney Grammar School before going to the University of Sydney, where he became a Bachelor of Arts and a Bachelor of Laws. With degrees in canon and crayons in the bag, he was keen to make his mark in the media industry. The young Turnbull landed his first job with mogul, Kerry Packer who packed him off to Hugh Heffner's mansion in Chicago to obtain the rights to import Playboy to Australia.
It was clearly a challenging assignment as after several months of unanswered phone calls, a tired and unkempt (but elated) Turnbull finally re-appeared announcing he had closed the deal. It was a controversial move to some of the more conservative Australians however, others felt that they could only go so-far with a Freemans catalogue and Neighbours was currently full of mingers.
Having sorted out a timely bit of soft-porn for his country, Turnbull attended Brassband College, Oxford as a Rhodes Scholar, where he became a Bachelor of Keyboards and then a Married Man of Bachelors — being wed in 1980 while studying the vibrato techniques of Rick Wakeman.
While at Oxford, Turnbull kept in touch with the challenges facing the modern Australian, by working as a freelance correspondent for the Sunday Times. His articles covered a wide range of earthy topics, such as How Best to Decant a Chateauneuf-du-Pape, or Tips On Working With Temperamental Architects To Achieve Your Vision of the Perfect Cotswold Country Retreat.
Throughout this period Times Editor Harold Evans kept offering Turnbull a full-time position begging him: "Don't go back to Australia and do law, terrible things could happen. You could become a judge, or worse, a politician."
Professional career
Law company founder
Completing a five year walkabout of the leafy Oxford suburbs, Turnbull returned to civilisation but struggled to find work in the city as — unlike almost every other Australian in the UK — he never did any bar work. Instead, he established a law firm, thereby dragging the bar to him. Turnbull's first task was to stop the British government from suppressing the publication of Spycatcher. The book, written by former British spy Peter Wright, claimed that retired head of M15, Roger Hollis, had been a Soviet agent. Turnbull was successful and the book was published.
In his conclusion, Turnbull said:
"Sounds like a ripper to me. I mean, is it the right person at the top of wrong organisation, the wrong person at the top of the right organisation or the right person at the top of the right organisation as far as the wrong organisation is concerned? It's like if an okay cricketer, such as Trevor Bayliss, managed to become England coach just before the Ashes or something. It is very much in the public interest to see how this one goes, and let's hope for a sequel."
Investment banking
In 1987 he joined forces with his working-class friend and former Labor Premier of New South Wales, Neville Wran, and his other working-class friend Nicholas Whitlam — son of former Labor Prime Minister Gough Whitlam — who just so happened to be chief executive of the State Bank of New South Wales.
Wiping palms on their greasy blue boiler suits, the gathered men of steel and industry shook hands and established Whitlam Turnbull and Co Ltd, the world's first investment bank that sounded like a Victorian boilermakers. Ore struck by how people were so willing to part with their money for the promise of more money later maybe, the concept had Turnbull riveted for the next decade. Noting his success, Turnbull was invited to become a partner of Goldman Sachs, an investment bank that sounded like sacks of gold. Turnbull immediately jumped-ship, to lend a hand with their treasure chest.
The departure did not go down well with his partners. Talking to the Sydney Morning Herald about the split, Whitlam said he had to be careful discussing Turnbull, due to the ongoing legal dispute and the risk of perverting the course of justice. However, Whitlam did say he was happy to describe Turnbull as a "prick".
Natural resources
Throughout this early period of his life, Turnbull was always involved in politics to some degree however, letting his Liberal membership and Liberal-ness lapse a bit into the '90s, allowed him the freedom to become chairman of Axe'em Forest Resources, which conducted logging in the Solomon Islands under the trading name: "Squirrels Home Products".
Turnbull's company became a saw point at the Australian International Development Assistance Bureau, which described the set up as a "clear-felling operation". The then Solomon Islands Prime Minister Solomon Macaroni threatened to close it down for "constant breaches of logging practices and not logging them in the logging practice breaches log". Turnbull was adamant the Bureau and Macaroni were barking up the wrong tree, making it clear in the public domain that he was only a "corporate", a bit like Enron's Ken Lay, and certainly had no idea how to fire-up a chainsaw or drive a tractor.
The internet
Turnbull is known throughout the country as the self-styled "man who brought some of Australia a bit of internet". In 1992, Sean Howard, ex-editor of Australian Personal Computer magazine and founder of OzEmail, had a small team who were working on integrating the international email software into their own home-brew system. Never one to miss an opportunity Turnbull, claiming to know a thing or two about logging-out, came in to assist the small company with it's objective by buying a stake for $500,000, then listing the it on the NASDAQ.
Seeing the business potential for Australia in this new internet, he moved the firm away from expanding the network and true to form, started aggressively expanding a portfolio of small internet company acquisitions. With Turnbull on the scene, it was no surprise OzEmail was soon subject to a takeover bid by WorldCom. The bid was successful, and in 1999 Turnbull sold his stake directly to the tech giant for $57 million and told them to crack-on.
Goldman Sachs
Towards the end of the '90s Turnbull was appointed to advise HIH, Australia's second largest insurance company, that FAI — an insurance company worth about as much as the desks it owned — was good for a $300 million buyout. Turnbull was working alongside the FAI CEO Rodney Adler to take the company private, a move that would have been a "jumbuck in the tuckerbag" for both men. HIH however did not become the largest insurance conglomerate in the country's history, but instead became the largest corporate collapse, with liquidators estimating losses of up to $5.3 billion due to worthless asset acquisitions.
Turnbull was hauled in front of The Royal Commission, accused of concealing from the FAI board of directors his dealings with the FAI CEO, and grossly misstating the value of FAI's assets, especially the value of the Board of Directors. Having met the Board of Directors themselves, and the gift of some bespoke solid pine furniture from the Solomon Islands, The Royal Commission later declared Turnbull and Goldman Sachs free from any wrongdoing.
Political career
Early political interest
Turnbull first showed interest in entering the Australian Parliament in 1981. That year he stood for Liberal Party preselection for the seat of Wentworth in the eastern suburbs of Sydney. Turnbull campaigned at the Wentworth greyhound track, opting to use his own script to promote Liberal Party values.
With a tethered thoroughbred racehorse to his left and a trailered speedboat to his right, Turnbull described his vision of a classy, capitalist Australia to those "going to the dogs". Gifting potential backers with ornately engraved "Vote Turnbull" carriage clocks, imported Ferrero Rocher truffles and joy rides across town in his new Rolls Royce Silver Shadow, Turnbull showed the people of Wentworth that with sufficient financial resources, anything is possible.
At the time, the seat was being held by Peter Coleman, a sleepy old librarian who in 1977 found himself temporarily leading the Party, after a series of resignations. True to form, Coleman was recently handed Wentworth after Robert Ellicott walked out, due to lack of interest. Sticking to the Liberal party line, Coleman defeated Turnbull, and the young pretender moved away from politics to cut down rain forests, snub the British Secret Service, play a part in Australia's largest business collapse, import Playboy magazine and establish the internet (which amounts to the same thing).
In 1993, Turnbull's achievements were noted by Labor Prime Minister Paul Keating and for "a bit of a hobby on-the-side", appointed Turnbull as Chairman of the Republic Advisory Committee. The Committee was tasked with exploring ways of moving Australia to an overtly republican form of governance, by removing the British Queen from the Australian law instigation process... with a sniper if necessary.
Having secured his financial and political future, Turnbull re-discovered his Liberal values in 2000 and gently eased himself back into full-time politics by becoming Federal Treasurer of the Liberal Party, a member of the party's federal and New South Wales executives, and director of the Menzies Research Centre. As the party's very own research facility, Menzies is where Liberal assets are placed under the microscope, dissolved by liquidation or possibly frozen for future application.
Environment Minister
In 2003, Turnbull announced he was seeking a parliamentary seat. In early 2004 he won the hotly-contested battle for Wentworth, defeating rival Peter King, the sitting Liberal member; and Labor candidate David Patch, using a campaign budget of over $600,000 that he'd squirrelled away in the '90s.
Prime Minister John Howard was beginning to think Turnbull could walk on water, and with this in mind created the "Office of Water Walking" in 2006 to address the problem of drought in Australia. Convinced that Turnbull would find a way to trade sand on the stock exchange and buy in rain, Howard placed him in charge.
The weather broke in 2007, just as Turnbull announced that the Government are contributing $10 million to the investigation of an untried Russian technology, that aims to trigger rainfall from the atmosphere. It marked the beginning of the concept of "chem trails", exciting both the conspiracy theorists as well as environmentalists. And now, because of Turnbull, they all had an internet to broadcast their wildest delusions. Howard, most impressed with Turnbull's press-release timing skills, promoted him to minister of the Environment and Water Resources.
Turnbull immediately got stuck into re-prioritising the Government's environmental impact matrix, replacing "Drought and Sharks" at number one with "The Ever Increasing Popularity Of MDF In The Home Furniture Industry, Is Creating A Surplus On The Soloman Solid Woods Market." Turnbull quickly set to work approving a $2.3 billion pulp mill for Gunns Ltd. in the middle of a Tasmanian conservation area, to take care of the paperwork.
The design however, was described as "critically non compliant" for not following accepted practices. Gunns was planning to use elemental chlorine rather than the more expensive hydrogen peroxide for the bleaching process. It could be argued that it was like saying that being set on fire was better than drowning however, despite broadly similar conclusions, choosing chlorine over hydrogen peroxide would make Tasmania smell like a municipal swimming pool, rather than a ladies hair salon.
Paul "Chopper Read" Lennon, the Labor Premier of Tasmania recalled parliament and, allegedly with assistance from a Gunns lawyer and a gun, created a fast-track assessment procedure specifically for politically motivated pulp mills, citing just 24 requirements — leaving an even nastier smell around the local environmentalists. Unperturbed, Turnbull gave Commonwealth approval, and to show willing had the Government's Chief Scientist cite a further 24 criteria, most of which repeated Lennon's using different words, or relaxed the more onerous pollutant-based guidelines.
Leader of the Opposition
Turnbull retained his seat in May 2007 and was promoted to Shadow Treasurer late that year. Turnbull focused his energy on attacking the Government's increased taxation on imported hard-wood pulp, luxury cars and alcoholic drinks. Impressed that Turnbull was tackling issues no one else was prepared to, he was elected party leader in 2008. During an interview the same month, Turnbull admitted to smoking marijuana, the first Liberal leader to make such an admission. Later on, he reflected that was probably a bad idea as he was now under increasing pressure from senior Labor ministers, to table a motion for a "full moon" party at his remote Solomon Island beach cabin.
In 2009 a Treasury official alleged that a car dealer with links to the Labor Party had received preferential treatment under the OzCar program (a A$2 billion government trust, providing credit to car dealerships). Turnbull attacked Labor Prime Minister Rudd and Treasurer Wayne Swan, stating they: "used their offices and taxpayers' resources to seek advantage for one of their mates and then lied about it to the House". Noting the stunned silence across the hall, Turnbull quickly added: "you should keep that sort of behavior to the civil courts." Things went from bad to worse for Turnbull. The Treasury Official submitted an email to the Liberals as evidence of the allegation. The email went to the Menzies Facility for DNA testing and was found to be fake. Rudd and Swan were cleared and Turnbull's handling of the affair lead to a large decline in opinion polls.
Decline in popularity
Despite the OzCar allegations, clear felling and Tasmania pulp mill; it was waving the eco-finger at senior Liberal Party Ministers — who very much enjoyed eating their meat cooked over a naked flame outdoors, like savages — that proved a step too far. Turnbull made the fatal mistake of instructing the party to support Labor Leader Rudd's "barbie tax".
When it comes to chops, ribs and rumps, the carnal needs of the Front Benchers outweighs any concern over carbon in the atmosphere. Many senior Liberals, including Tony Abbott, resigned over the order. On 1 December 2009, the party had enough and a spill motion was carried. Turnbull was fried, losing the leadership to Abbott in the flash ballot. Turnbull decided to serve his full term as a member of Wentworth, but not seek re-election — it was looking like the end of the road for old "crocodile shoes".
The minister needed time alone, to seek better understanding of what it is to be Australian; especially why Aussies view steak a-la-carte as inferior to steak a-la-carbon, as to Turnbull, it was like turning down a truffle for a turkey sandwich. He decided he needed to to go walkabout again, and this time thought it better to avoid the London commuter belt and stay closer to home... perhaps just the garden.
On day four on walkabout of his authentically landscaped estate, Turnbull was dipping his feet into one of the billabongs, listening to the chirp of his hired crickets and closing his eyes against the intense sun. He imagined a world where there were no fat, useless underachievers, ugly halfwits or barbecues; where porn was free, paper was plentiful and no one could care less what Tasmania smelled like.
He felt rock bottom. In fact, he felt the fake billabong's moulded plastic bottom, nevertheless as the sidelined politician and businessman started to daydream about a new life as the world's biggest forester, he drifted into a slumber. The cowed Turnbull dreamed of a huge, foul smelling bull with large watery, but at the same time slightly threatening eyes. Those eyes spoke to spoke to Turnbull, and they sounded a bit like John Howard...
Return of the Mac
Shadow Minister
On 1 May 2010 Turnbull publicly reversed his decision to quit the Party. At the federal election the same year, he was re-elected with a swing of over 11% and brought back to the front bench as shadow communications minister. Bovine intervention had landed Turnbull a dream posting, and at the 2012 Alfred Deakin Lecture on digital liberty, the revitalised minister spoke out candidly against the Australian government's proposed two-year data retention law.
Precisely two years later, Turnbull's next announcement was that civil unions should be accepted as a first step toward same-sex marriage in Australia. Unfortunately, party leader Tony Abbott, trying to imagine what it would be like to marry and be a caring wife to say, Rupert Murdoch, decided he was having none of that carry-on and refused to even hold a vote on the matter. However, Australian soap opera writers — tired of doing endless, two-actor emotional blackmail scenes ending with one "storming out" followed by the "concerned look" and "head-tilt" of the other — would have welcomed the opportunity for a change of script.
Communications minister
On 18 September 2013 the Liberal Party, with Tony Abbot at the helm, was voted into government. Turnbull and Abbott announced their party's alternative National Broadband Network (NBN) plan, which was a modified and scaled-down NBN with "fibre to the node" (FTTN) then the last-mile by copper cable. Turnbull said the decision was paying homage to the spirit of Sir Timothy John Berners-Lee, the inventor of the internet; which he designed specifically to be piped down a copper telephone line (PDACTL).
The new policy was in stark contrast to the previous Liberal Party position, which had called for high speed fibre everywhere if the Liberal Party win the 2013 federal election (HSFEITLPWT2013FE). As such, the revised policy allowed NBN subcontractors to continue nicking the copper from church steeples, irrespective of the result of the election.
Six months later, Turnbull announced that the Vertigan Report — a cost-benefit analysis of providing fast broadband to rural Australia through wireless and satellite services — had finally finished downloading. The two page report revealed that it will cost nearly A$5 billion to set up; but was expected to produce an economic benefit worth about as much as a plate of chips (silicone or potato). Turnbull added the overall end cost of the network build would likely increase to an additional $15 billion, but would allow those deep in the outback, that could read and knew what to do with electricity, to finally be able to order a take-away curry online (free delivery within 5 miles).
The fall of Abbott
Towards the end of 2014 and into 2015, the Liberal Party were struggling as a Government in the opinion polls. Prime Minister Tony Abbott was increasingly under the spotlight over his attitude towards Liberalism in modern society. The PM had said it is a fact of life that gays frighten him, global warming is poppycock, immigrants can get in too easily and they will eventually murder us all in our beds.
Notwithstanding Abbot's attitude belonging about two to three generations in the past, he had also got his public persona all wrong. It is common knowledge that Politicians are evil, self-centered murderers, with no care for their electorate beyond keeping themselves in the spotlight, for those lovely perks and profitable book deals. However, one of the most important things for a modern Politician was to come across as caring, friendly, considerate and most important of all, looking good on camera; like Barak Obama, Tony Blair or Angela Merkel.
Abbot came across as a grumpy, raw-onion eating pessimist and skin-tight lycra wearing cyclist. And where his public (and pubic) candidness in that regard was admirable; it simply did not cut it for Home and Away fans — who only really want someone nice-looking to stand there with the "concerned look" and "head tilt"; say everything will be fine and there will free beer just after the next election. Kissing a baby, or patting a dog occasionally was also a good strategy for polls (but stroking a white cat while sat at a big desk was not).
In contrast, Turnbull was fulfilling his role exceptionally as communications minister; enhancing Abbot's more controversial policies with his trademark 40 minute soundbites and five hundred word slogans. Following persistent leadership tensions, on 9 February 2015 a spill motion was moved against Abbott that failed however, questions over his leadership continued. On 14 September 2015, after 30 consecutive Newspolls had put the Liberals far behind Labor, Turnbull resigned from the Cabinet and announced he would challenge for the leadership.
Turnbull argued that the Liberal Party needs a "style of leadership that respects the people's needs, including perhaps free Fosters lager for all after the next election." He was sworn in as the 29th Prime Minister of Australia the following day.
Prime Minister of Australia
Turnbull announced an extensive reshuffle to form the Turnbull Ministry. He more than doubled the number of female Cabinet Ministers from two to five, promoting Marise Pain to Minister of Defence, because no one would mess with "Mrs Pain" (except perhaps Sex Party Leader Fiona Patten or dog-humping rugby star Sydney Rooster). He also said there will be no immediate change to policies on same-sex marriages or barbies this side of the election, pleasing the political primordials, but disappointing the dramatists.
On 24 September 2015, Turnbull made his first major policy announcement as Prime Minister. Together with the Finance Minister Michaelia Cash and Minister for Women, Greg Lasrado, Turnbull announced a "$100 million package of measures, designed to provide a safety net for women and children at high risk of experiencing violence from their home-grown A-list actors, such as Mel Gibson, Matthew Newton, Russell Crowe or Nicole Kidman".
On 2 November 2015, Turnbull announced that the Queen had approved the government's request to amend the Order's letters patent and cease awards of Knights and Dames in the Order of Australia, after Cabinet had agreed that the titles were no longer credible after one was accidentally awarded to a Mrs Edna Everage.
In deposing Tony Abbott from the office of prime minister five months ago, Malcolm Turnbull — with a concerned face and tilted head — said Australia needed a different style of leadership; one that would explain the challenges and opportunities confronting the nation, "a style of leadership that respects the intelligence of the Australian people, including its LBGT community, dogs, squirrels, cows, crickets and potential terrorists." He said he wanted to lead an open government that promoted genuinely consultative engagement with members of parliament and with voters... And, of course, there will be free beer tomorrow.
Fall
In August 2018 Turnbull was challenged by the Liberal party's Trumpist wing with 'pollution is great'. Following resignations and hissy fits, Turnbull resigned and indicated he would return to one of his homes and retire in golden splendour. He was replaced by Scott "ScoMo" Morrison who became Australia's 30th prime minister.
See also