Category:UnScripts
Jump to navigation
Jump to search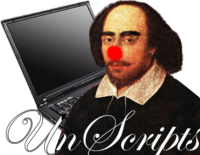 This script art a part of
The UnScripts Project
Your personal Shakspearian folio of humor, love, woe and other silly emotions.
Main Page | Marlowe of the Month | Requests | The Scripts Collection
Subcategories
This category has the following 3 subcategories, out of 3 total.
Pages in category "UnScripts"
The following 169 pages are in this category, out of 169 total.