UnScripts:Once Upon a time, in Westeros
Jump to navigation
Jump to search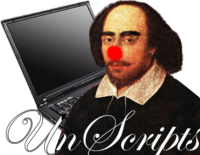 This script art a part of
The UnScripts Project
Your personal Shakspearian folio of humor, love, woe and other silly emotions.
Main Page | Marlowe of the Month | Requests | The Scripts Collection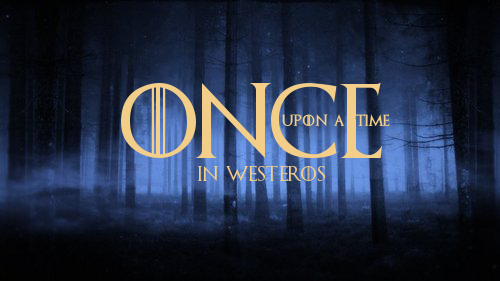 INT. AVERAGE BUNGALOW IN SANTE FE.
GEORGE R.R MARTIN is working on his manuscript of THE WINDS OF WINTER while it's raining and thundering incessantly outside. The room is dimly-lit and there is a clear look of frustration on GEORGE'S face.
A loud, ominous knock is heard.
George
Great. A creepy guy comes here to rob me just when I'm about to finish another sentence from my upcoming book. Good thing I have a license. (camera pans to show a holster being worn by GEORGE.)
George
(opens door, but keeps security chain tightened.)
Yes, who is it?
Voice
It is I, dear Joanna, your biggest fan!
George
(furious)
FOR THE LAST TIME, MY BOOK WILL BE-
Joanna
Done when it is done, I know. It is not your book I seek. It is you.
George
Really? Well, come on in then. (opens door.)
Joanna
Oh, thank ye for letting me into your humble abode! (walks in)
George
So, what bring you here? And why do you talk like some medieval maiden?
Joanna
For I am but a medieval maiden, a product of the very world you write about, dear George!
George
Okay, this is getting creepy. I'm in half a mind to call the cops right now, so you better explain what the fuck is going on with you.
Joanna
But of course, dear George! ONCE UPON A TIME, IN WESTEROS....
Flashback
[
edit
]
EXT. SNOWY FIELD BEYOND THE WALL.
A hapless guy and a pregnant chick are heading towards a SHABBY STONE HUT.
Guy
Are you sure you wish to do this, my sweet dear? The woodswizard residing here is a terrible and fearsome man, and was banished from Westeros by the Targaryens for a reason.
Woman
DUH, that's precisely the reason why we have to go to him! You truly know nothing about crucial plot twists, do you?
Guy
Hmm...you have a point. Sometimes it's just so difficult to be aware of such things. (they walk inside)
INT. HUT.
A creepy old guy with greenish skin and an arm that's fallen off is drinking what looks like phlegm.
Woodswizard
Darkos, how many times have I told you not to creep out potential guests by your vile presence?
A rather dashing individual in magnificent white woolens arrives and kicks Darkos off the stool.
Woodswizard
Apologies for my little slave over here. You see, the cold beyond the Wall isn't kind to many.
Guy
O Woodswizard, we come here seeking counsel. We have verily heard grave prophecies about the horrific tidings yet to come!
Woodswizard
Of course horrific tidings are going to come! What kind of world do you think you're living in? This is A Song of Ice and Fire we're talking about here, where everyone ever mentioned gets-
Chick
Of course we know THAT! What we meant to ask you was concerning...the
impending dark tiding.
Woodswizard
Oh no, not that. Ask me of anything, ANYTHING BUT THE
IMPENDING DARK TIDING!
Guy
Okay, what the fuck is up with you two?
Woodswizard
O woe is me! Tis easy to speak of horrific events yet to come for they are still but in the future! But the impending dark tidings are what pain the most, for they are
IMPENDING!
Chick
So what is this impending dark tiding you speak of, Woodswizard?
Woodswizard
O tis but a grave tiding indeed, but I shall tell ye...for a
price
!
Guy
See, that's why we can't trust Woodwizards! These assholes are going to ask you to pay some seemingly innocent "price", but then when the next crucial plot twist comes-
Chick
I shall pay whatever you ask, Woodswizard!
Guy
And of course, nobody listens to the guy with brains.
Woodswizard
There shall be a curse befall this land. A cold that spreads far and wide, and cold that shall freeze everything where it stands! A cold that comes...from the Others!!!!
Chick
But whatever shall we do to stop this cold? Whoever shall save us?
Woodswizard
The answer to that, lies within your unborn child.
Guy
So of all the millions of people who exist in the realm, our unborn kid's going to save it? I mean, COME ON!
Woodswizard
But he shall have to survive, and grow till he attains manhood before he can fulfill his destiny. Bet you couldn't predict
that
twist, could you?
Woodswizard
And now, for the price I seek!
Girl
I shall gladly pay whatever you ask of me, even though you have a very creepy and malicious expression on your face!
Woodswizard
O, but my my needs are small, and can be paid with ease! I only ask that you name your child in my presence!
Guy
Let me guess, you want to possess this boy when he grows up?
Girl
I care not! Besides, why would I when that would thicken the plot so epically? The name of our child is George Raymond Richard Martin.
Woodswizard
That's a long-ass name. How about I just call him George R.R Martin?
Guy
Whatever. The kid's cursed anyhow.
Present
[
edit
]
George
So you're saying that I'm the child of two random wildlings from beyond the Wall who's also been cursed by a Woodswizard.
Joanna
But you forget the curse on the realm! That's what I really came to-
George
(on the phone)
Hello, Sante Fe P.D? Hello? Dammit, are you kidding me! (hangs up). Too much static on the phone, for some fucking plot-contrived reason. Alright, get out. (pulls out his gun)
Joanna
You would point your weapon on a poor maiden such as me?
George
Oh crap, now you're going to use that against me! (holsters gun) Okay, what do you want?
Joanna
Will you please come into the realm of Westeros with me? Pretty pleeeeease? It's been frozen into a boring town thanks to the Others, and you must come over to break the curse! Pleeease? (makes puppy-dog face)
Joanna
(slyly, as if she's a master of trickery)
Works every time.
george r.r martin is driving along the highway, with joanna at his side.
Joanna
Now you see that barely visible trail over there?
George
What? THAT? There's no way my SUV's gonna squeeze through.
Joanna
Oh, it will. Trust me.
George drives into the barely-visible trail, and the surrounding trees literally slide backwards to accommodate him.
George
This just keeps getting better and better.
Joanna
So you finally come to realize the utmost importance of your quest!
George drives into what looks to be a prosperous but small town. The streetlights are on, and people of all economic classes are walking around and mingling with one another.
George
Hmm...looks like a nice town.
Joanna
O but it is nice only on the surface.
George
Oh yeah. I almost forgot about my "quest".
They both park the car in a nearby parking lot and get out. A Sean Bean lookalike approaches them.
Sean Bean lookalike
Joanna! Where did you run you run off to? You bunked our session today!
Joanna
Oh, just wanted to go explore a little. Brought a friend from out of town. Ned, George. George, Ned.
Ned
Actually, my true name is Dr. Eddard Stark. I'm currently head psychiatrist and the Winterfell Institute. (points to building behind them, which looks like it was built in a medieval, cold-as-fuck era.)
George
Huh. Pre-war architecture, is it?
Ned
Yeah, my great-great-grandmother tells me that a legendary ancestor named Brandon the Builder made this during some Age of Heroes. But she's a bit senile, you shouldn't take her too seriously.
George
Is her name Old Nan?
Ned
Well, we do call her that as a matter of fact. As for her true name...
George
I'm sure nobody remembers. Nice meeting you, Ned! (hurriedly tries to leave.)
George
(visibly uncomfortable)
Yeah?
Ned
Where did you end up meeting Joanna?
George
Well she showed up at my doorstep, saying she was this really big fan of mine...
Ned
Oh, so
you
must be the George R.R Martin she spoke of! I always thought....
Joanna
You can say it, doctor Ned.
Ned
I used to think you were her imaginary friend or something. Anyway, sorry for judging you on that count, Joanna. It's a pleasure to meet you, George R.R Martin, sir. (shakes hands) A pity I never bothered to look for your books because I didn't believe you were real. Maybe then some of the stories Joanna keeps telling me might make sense.
George
Oh. Okay, I see. Would you mind showing me around a little, Joanna?
Joanna
Of course, George.
Ned
Alright, I'll let you off this time, Jo. (face hardens) But be careful where you explore, my dear. You may not like what you find.
George
I'm pretty sure she'll keep that in mind. Let's go, Joanna! I'm so excited!
As they leave, Joanna leans into George's ear.
Ned
(musing as he leaves)
She's just like my Arya.
George
(also whispering)
I know who he is! Listen, I'm getting out of here, and I sure as hell won't break this goddamn "curse" before doing it!
George tries to make a run for his car.
Joanna
(grabbing him)
No, George, stop! It's your DESTINY!
George breaks free and runs into his car. He starts the ignition, and whizzes past Joanna towards a gate that reads "thank you for visiting Western Rose", but sees a red priest in his way just after he turns the corner.
In a creepy slow-mo scene, George loses control of his car, it falls over to the side and does an unrealistic number of backflips before crashing into the pavement. Camera pans to show a bloody, unconscious[1]George in the driver's seat.
George wakes up in a hospital, and sees a shaggy, bearded guy along with Joanna and a group of people by her side.
Doctor
He looks to be regaining consciousness.
Woman's voice
(maliciously mimicking the Doctor)
He looks to be regaining consciousness. Any half-witted faggot could see THAT, Doctor!
Man's voice
Now, now sister. No need to make japes at him in public places.
Older man's voice
(annoyed and threatening)
Listen to Jaime. We don't need our joke of a relationship to be trashed up more than-
George
You know I can hear you all, right?
Bearded guy
Oh so sorry to have disturbed you, Mr George! My name is Robert Baratheon, and I'm the mayor of this town.
Blond Woman
And I am Cersei Lannister, wife of my beloved mayor (gives Robert a loving look that's repulsively phony.)
Doctor
And I am Dr. Tyrion Lannister at your service. The dashing and much taller blond guy right next to me is Cersei's other....
brother
Jaime.
Imposing guy in the background
And I want you all to leave. Except you, Joanna. You stay here with.....the doctor. (arrives into view)
George
Hmm...I've seen a guy like you in Wikipedia...
Imposing guy
That guy would be
Charles Dance
, a fine actor who's plays I watch on my VCR. My name is Tywin. And that was my family you just saw.
George
Hmm...well, nice meeting you, Lannister.
Tywin
You impugning my honor, boy!
George
Oh boy. How could I forget-
Tywin
Relax, I kid you George! But I see my adopted daughter wasn't kidding about you after all! Pleasure to meet you!
George
Oh, so she's your daughter! Ah...
Tywin
Yep, my dear Joanna Lannister! Named her after my wife whom your...doctor kinda...
George
It's alright. I know what you're trying to say. Her death wasn't anybody's fault.
Tywin
Hmm...you're a remarkably insightful man, George. Say, how about you stop by my family home for dinner once the....doctor discharges you.
Tyrion
The doctor's ready to discharge you right away. You just suffered some bleeding and concussions after that crash, and were unconscious for about two days.
George
TWO DAYS! DAMMIT I-oh, never mind.
Joanna
What's the matter, George?
George
Oh, just this little book I was working on when you came calling.
Tywin
Ah, your books can wait. Alright, then. See you back at the house! Come on, Jo. (leaves with her)
George
So doctor Tyrion, how are things back at home.
Tyrion
Oh for you they'll be spectacular. For me, on the other hand...
George
Oh, I know. With your dwarfism and everything....
Tyrion
(removes IV)
Yeah. Well, things got a lot better once Joanna got adopted. She's had a real calming influence on my father. But before that...that...
George
We can talk about this later.
Tyrion
Yeah you're right. Let's get you prepped up and ready to go!
INT. FANCY HOUSE WITH LION STATUES AND RED-GOLD EMBROIDERY EVERYWHERE. GEORGE R.R MARTIN is sitting with the entire Lannister family in tow, along with that of the mayor.
Tywin
So, you actually have a family just like that of my ancestors in your books.
George
Yeah, but a lot of ugly things happen to them. I'm not the kinda guy to write, you know, unrealistically happy stories.
Tywin
Oh, I hear you man! I tire of watching these stupid movies where everything blows up and thousands of people die, when you know that these thousands of people are just crummy extras you don't give a crap about!
Robert
I know, right? And the big hero just walks away with the pretty chick and lives happily ever after like nothing ever happened around him. Fantasy's so out of touch with reality!
Cersei
Interesting words coming from you, Robert! (everybody glares at her, causing her to shut up.)
George
Heh heh, nice to see you all sharing my tastes in pop culture.
Robert
Well, we would. After all, we've all had our share of hardships...(awkward silence ensues.)
Jamie
You know what! I say leave past hardships in the past! Let us enjoy the moment for all the happiness it brings us!
Tyrion
So I took in another batch of kindergarten teachers this year...
Robert
Oh yeah, Mr. Doctor Professor! Still trying to teach them babies how to walk, eh? After all, you would know! (both he and Cersei laugh with genuine mirth and derision, for once.)
Tyrion
Oh, I am fairly certain you've had enough training to surpass mine own skills. After all, even outside of your marria-
Tywin
Who wants some pizza? I'm baking!
Murmurs such as "interesting" and "me!" fill up the room. George looks plain confused.
Tywin
Alright, I'll be back with your feast in tow! Just be sure not to be at each others throats when I get back!
George
He wasn't kidding, was he?
Jaime
It's probably human nature for people to throw their issues at other people's faces. Me, I just wave my sword.
George
Oh, yeah. Your sword.....
Jaime
An antique from the former mayor Aerys. A crazy son-of-a-bitch that one, I'm not kidding.
George
I'm pretty sure you're not. So Cer-
Jaime
I mean that guy just sent this town up in flames. Such a nut, so bloody incompetent.
Robert
My Lyanna, that wretch....
George
I'm not quite sure I want to hear this.
Robert
Oh, relax. What do you think he did, murder her? But his son Rhaegar did ask my hand for her. When he had his way with her, he dumped her, citing "familial obligations".
Jaime
So some of Robert's friends turn up at Aerys' residence one night to tell them of his son's misbehavior. I mean, the mayor has to keep his relations steady, doesn't he? But then he calls them all a bunch of "liars" who were conspiring against their "family name", and just told them all "you're fired" and kicked them out. Just like that!
Robert
So I ran against him for mayor when the next elections came about. That churl lost his pretty office by a landslide!
George
Like the fall of the Mad King?
Robert
Mad King, yeah that would be a good name for him. Anyway, I had the Winterfell Institute to thank for their support and funding. Along with Tywin, who chipped in at the last minute.
Jaime
And the mayor's household guard who personally appealed to voters to kick him out.
George
Oh, so you were behind that? That wasn't very nice, was it Jaime?
Jaime
Oh, being nice was the last thing on my mind when I kicked his sorry ass. Serves him right after what he put me through!
Cersei
Some would say it was my sweet brother who turned the tide. No sitting mayor can survive such a brutal character assassination, after all.
George
Ah, the Kingslayer.
Jaime
Huh, that's also the nickname Joanna gave me. Don't use it though, I don't enjoy hearing it.
George
Hmm...that was actually kind of amusing, nowhere near as nasty as I was expecting it to be.
Robert
Politics is politics, you can't exactly go chopping people's heads off because of it. What era do you think this is, the Dark Ages? (laughs)
Robert's "children", two blond kids named Mycrella and Joffrey, arrive carrying Tywin Lannister's pizza. Behind them is a tiny little angel named Tommen.
Tywin
Alrighty, then! Old recipe I got from some business associate a while back. My family loves it! I'm sure you will too, George!
They all dig in to the PIZZA.
Robert
And Viserys is still posting those videos calling me an infidel! Who the fuck's gonna tell him that nobody cares!
Tywin
It was a good thing I sent all the other kids to that orphanage. For all I know, Viserys might actually pull off a 9/11 on us. If we had towers big enough.
Roars of mirth fill the room.
Tyrion
(pager rings)
Hmm...oh no. Hello! People!
Needless to say, everybody's glaring at him now.
Tyrion
Robert, Pycelle just paged me. I'm sorry but Jon Arryn just died.
George's giggles vanish in an instant.
Robert
Oh, oh that's terrible news. Where did this happen, exactly?
George
Oh, well this seems like an awkward moment. I guess I'd better be off to let you all manage your affairs.
Tywin
Yeah, that would be a good idea, George. It was a pleasure meeting you. (they shake hands)
George bids everyone farewell, including a visibly upset Joanna, and heads out of the Lannister household, only to run into the RED PRIEST again.
Red Priest
FOR THE NIGHT IS DARK AND FULL OF TERRORS! (slaps George, who then finds himself back in the room.)
Jaime
Well, I guess we could take you then. Come on, let's go.
They all head out of the house, with George meekly following.
George
I have a feeling I'm going to be staying here for a long, long time.
Joanna
I knew you would help me!
Footnotes
[
edit
]
↑

obviously he's not dead!