UnScripts:The United States Government Just Doesn't Give a Fuck
Jump to navigation
Jump to search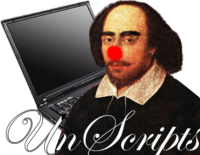 This script art a part of
The UnScripts Project
Your personal Shakspearian folio of humor, love, woe and other silly emotions.
Main Page | Marlowe of the Month | Requests | The Scripts Collection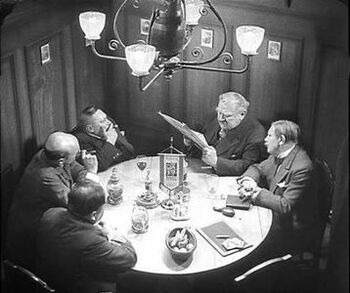 The United States Government Just Doesn't Give a Fuck: Clearly These People Just Don't Fucking Care Right Now is a one-act play following the daily motions of the United States Government, boiled down into synechdoche via four congressmen -- Saxby, Harrison, Igby, and Theodore -- and one congresswoman -- Ursula. It was written on a moist parade of cocktail napkins by an unknown author. Little is known about him, spare that he attended the 2010 Democratic National Convention and found enterprising uses for abandoned cocktail napkins. The play is presented as follows, in its inscrutable, unedited entirety.
Act Whatever
(Saxby and Harrison walk on not giving a fuck)
Saxby
So then I says to her "Fuck your money, I ain't no two bit hooker."
Harrison
Yeah, you tell those lobbyists what's what.
Saxby
Shit yeah, them motherfuckas gotta pop off at least 12 mil more if they want me to cut down that national forest for whatever the fuck they do
Harrison
Yeah, oil or some shit?
Saxby
Yeah oil that's what those bitches do.
Harrison
So then what happened? Gave them the Saxby classic?
Saxby
Shit no, I straight up told them "Give me 12 mil more and you can do all the oiling you need"
Harrison
No fuckin way! Then what!
Saxby
They fuckin did it! I got 12 million dollars!
Harrison
FUCK YEAH! POLITICS IS THE SHIT
(They give each other seriously heavy dap, remarkable bro strength for a couple of stogeys. Igby and Theodore walk on behind them)
Igby
Awwwww shit guess who decided to show up to Congress finally. What's the deal, geezer, just remembered you left your fuckin' diapers here a week ago?
Theodore
Yeah, tell'em Igby!
Saxby
Well if it isn't the youngblood upstart kneebitin asshole lickin' affirmative action supportin demoCRAPS.
Theodore
Don't talk shit about affirmative action bro
Saxby
Shiiiit Theodore, I been opposin' that shit back when your daddy was fightin' the Grandfather clause
(This pisses Theodore the fuck off)
Theodore
YO DON'T TALK SHIT ABOUT MY FATHER. HOLD ME BACK IGBY HOLD ME BACK
Igby
CHILL, THEO! CHILL! He ain't worth it. Just think about abortions, just think about abortions.
Theodore
I'm cool… I'm cool…
Harrison
Blue state bitches.
(Ursula rolls in on a pimped bicycle, hops off and lets it crash to the floor. She carries a stack of papers and gives the least fucks of them all)
Ursula
Can y'all bitch-ass representatives keep your dicks in your pants for a second? We got congressing to do here
Theodore
Yo, these old cats here be representing some whack ass shit at the moment.
Ursula
Mad much whack ass shit?
Theodore
Mad much the dopest ass whack shit... nigga.
Ursula
Well I don't give a fuck. Consider that shit tabled until we get over this genuine lawmaking bizniss right hurr.
Saxby
Fuck, I ain't got nothing better to do anyway.
(They all sit down, Saxby and Harrison on one side, Igby and Theodore on the other. Ursula presides in the middle.)
Ursula
First things first. Pizza.
Ursula
Cross-aisle support?
Saxby
I ain't high enough to give my agreeance, lady chairbitch.
Theodore
Motion to amend that shit.
(He pulls 5 joints out of his pocket and tosses one to each congressperson. They all light up like synchronized smokers and get faded. Ursula bangs her gavel)
Theodore
Wait, wait, lemme rebut that.
Theodore
Nah I'm just playin' they the gayest. Who wants bath salts?
Igby
Nah, I'm already leanin'.
(Theodore pulls bottle out of pocket, throws bath salts everywhere with the most haphazardness. Igby picks up the pieces like a true gentleman. Ursula bangs that gavel.)
Ursula
Gays are gay. Insightful as fuckin' always.
Igby
You're wearin' my patience Ursula. I'm a patient man. I'm filled with lots of patience. But you're takin all of them right now and putting them on. Like some woman trying to wear the most sweaters in the world at once, except you're doing it with my patience, not sweaters.
Harrison
This isn't a courtroom
(Oh shit Theo's pissed again)
Theodore
DON'T TALK SHIT ABOUT MY DAD YOU CUTTHROAT MONEYLENDING JEWISH STEREOTYPE. HOLD ME BACK HOLD ME BACK
Igby
CHILL, MAN. CHIIIIIIIIIIIIIIILLLLLLLLLLLLLLLLL.
(Igby raises the bath salts to the heavens and dumps the rest in Theodore's mouth. He slowly melts back into his chair.)
Theodore
I'm chill. I'm… chiiiillll….
Harrison
Can this nigga be recused already?
Ursula
Whatever. You old pricks now got house majority
Harrison
Woop woop! I'm puttin' this onto the
Twitters
right now! Gonna get some Church's Chicken tonight!
Igby
Fuck this, I'm shooting dice in the alley.
Ursula
Hold up! We still gotta vote on the death penalty
Igby
Isn't that shit already legal?
Ursula
Yeah but this law makes it mandatory.
Igby
Hah! What kind of dumb motherfucker drafted that shit?
(Saxby points to self in the most egregious, arrogant way possible)
Igby
Eh, fuck it. That shit's fun as hell. Where my dice at?
Harrison
You probably left them next to your Viagra
Igby
Yeah, on your wife's bedside table!
(They all share a hearty laugh)
Igby
Yeah I was just fuckin' around.
(Ursula officializes with the gavel bang)
Ursula
Capital punishment is fun as shit.
(They all stand, except for Theodore, who is much too high)
Saxby
Same time next week?
(They dap hard. Too hard. Igby goes down and breaks his hip.)
Igby
AH! MY HIP! CALL A DOCTOR!
Harrison
That shit was dope! I'm gonna put it on the face books. Let me just get my mobile camera (slowly walks offstage)
Ursula
Shit, I knew I forgot something! The national debt. Knew I shoulda wrote this down
or something
Saxby
Fuck that. I got a date with a young heiress in two hours. She looks hecka dope.
Ursula
Creepy as fuck Mr. Saxby. You old enough to be her granddad.
Theodore (nearly dead)
Ddddddooonnnnnnttt…. Shiiiiiiiiiiiiiiiiit….. holemback.