UnScripts:UnSitcom!/2
Jump to navigation
Jump to search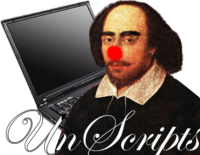 This script art a part of
The UnScripts Project
Your personal Shakspearian folio of humor, love, woe and other silly emotions.
Main Page | Marlowe of the Month | Requests | The Scripts Collection
INT. HOSPITAL CORRIDOR.
The usual hustle and bustle of the surgical ward of a hospital is seen, and the camera is positioned as the first-person POV of a doctor walking down the hall. We hear a narrator's voice over the cacophony.
Narrator
Interpretation. Impression. Paradigm. There are many words used to describe the way in which we see the world we live in. Indeed, without the ability to see things as we do, it would be impossible to live. For instance, most of you viewers would look at this scene and interpret that this was the surgical ward of a hospital, and that the episode's storyline would be set in this hospital. Since the screenwriters had interpreted the episode in the same way, you would be right in your interpretation. Without this interpretation, there would be no way for you to make sense about what you were seeing.
Interpretation is fundamental to life. But all too often, problems arise as interpretations don't match. An attending instructs his intern to do a job, but the intern does something else entirely. A word that sounds like a threatening slur from one mouth becomes a friendly form of greeting when spoken from another. People interpret even the development of life as we know it differently, though one of these interpretations is plain retarded.
I have faced this problem of interpretation myself in life. Indeed, while editing a humor website that parodied Wikipedia, I had chosen to make my professional credentials very clear to one and all. However, since usernames were never interpreted in a serious manner, nobody ever really considered me to be a doctor.
But now you people know. My name is
Dr. Amadeus Skull.
I am an employee of the Sacred Graceful Heart of Seattle Hospital. And this is my story.
Camera pans to show narrator's face, which looks completely oblivious of his own narration. A rip-off of the Grey's Anatomy logo appears against a white background.
Skull walks into a ward, led by a conspicuously pretty intern.
Skull
So, Mr. Borat. You seem to be having abrupt seizures for no conceivable reason?
Borat
Nein! Evil Jew here! Get her out! OUT! (begins seizing)
Intern
Oh no! Get a crash cart ready!
Skull
No, don't! Miss Intern. Leave, now!
Skull
I SAID GET OUT YOU JEWISH BITCH!!!!
The Jewish Bitch gets out.
Borat
(completely stabilized)
Oh, thank you sir. You see, I can detect the evil within Jews so powerfully, my body cannot handle it. I am truly grateful for your service.
Skull
Nurse, get him to psych. And make sure he never comes out.
Borat
But no! I am not crazy! There is true evil inside Jews! HEIL HITLER! HEIL HITLER!!!! (is dragged out kicking and screaming.)
INT. CORRIDOR JUST OUTSIDE WARD.
Skull arrives and spots the Intern.
Intern
So, what was the problem?
Skull
THE MAN HAD A MENTAL PROBLEM WITH JEWS!! HE'S CLINICALLY ANTISEMITIC!!! YOU SHOULD HAVE GONE TO PSYCH, NOT TO ME!!!!!!!
Intern
Okay, no need to yell.
Skull
YOU SHOULD HAVE TAKEN RESPONSIBILITY FOR YOUR PATIENT, YOU STUPID BITCH!!!! YOU ARE AN IRRESPONSIBLE INTERN!! YOU CAN'T INTERPRET JACK SHIT CORRECTLY!!!!
Intern
(in tears)
Okay, stop! You're not talking any sense and my ears are bleeding!
Commanding Voice
Dr. Skull!
Dr Skull follows sound of Commanding Voice to the office of a commanding guy.
Commanding Guy
What kind of behaviour was that, Dr. Skull?
Skull
You know what? I don't have any time for this.
Commanding guy
If you leave, Dr. Skull, I'm going to make some sort of earth-shattering threat that'll make you crawl right back in here!
Dr. Skull hesitates, then making the bitter, resentful face of a man outwitted, walks back in and sits down on the desk.
Commanding Guy
Now, will you explain what just happened back there?
Skull
Look, it's nothing really....
Skull
Alright, alright! It's just, you know that website I go to, right?
Skull
Yes, Chief. You know, something happened there...
Commanding Guy
Hmm...did it get shut down
or something
? Because that would totally change my plans for the evening.
Commanding Guy
And that bothers you?
Skull
Yeah...I mean
Benson
was so much fun to be with, you know...and now he's gone. It's totally clouded my perception of everything.
Skull
You know, not a day goes by that I don't think of him. And any time I face a challenge, I am just compelled to think...what would Benson do?
Commanding Guy
And this is how this....Benson would behave? By yelling and being rude to people?!
Commanding Guy
(looks both shocked and amused)
Well then, Dr. Skull, you've just earned yourself a day off. Go back home and clear up the mess inside your head. I can't have my patients and staff members suffer your
Bensonism
.
Skull
Whatever you say, chief. (leaves)
Fellow Attending
Hey, Skully! What'd the Chief call you up for?
Skull
You know what? I don't care if you judge me. I've worked my ass off since med school to get here, and I can afford a few tantrums! No no no, you don't get to speak! You'll have plenty of time for that when you're gossiping with your fellow colleagues. Must be a real boost for you, right? Everyone knows how badly you wanted to rise up the ranks, and how I was your biggest competition! Well, sir, enjoy your victory for now! Because the next day, I'll be back with a bang! You, and that
slutty bitch who was once my wife but now has an on-and-off relationship with you
won't know what hit...YOU! Good day!
Fellow Attending
Hey, Sk-
Fellow Attending
Boy, is that one troubled dude.
Commanding Guy
I can hear you, Mark.
Commanding Guy
What the hell was that?
Mark
You do know that this is a sitcom, don't you?
Commanding Guy
I do. I was just playing you! BURN!
Laugh Track
HAHAHAHAHAHAHA!
Mark
Okay, this is getting kinda lame.
Commanding Guy
Yeah, totally.
INT. SOME CLOSET. OR IS IT THE ON-CALL ROOM?
Dr. Skull is sitting all lonely and miserable when some corny love song begins playing in the background. As if on cue, he begins weeping buckets.
Narrator
Interpretations. Impressions. Paradigms. Fundamental to our way of life. Fundamental to the way we deal with everything that happens to us. But sometimes, life sucks. And by extension, our interpretation of life sucks too.
The rip-off of the Grey's Anatomy logo now appears against a black background.
Will the UnSitcom! recover from the lameness of this episode? Do we have anything better to show that moronic Conservapedia vs Liberapedia stories and stupid TV show spoofs? No we don't, but there will be another episode of UnSitcom! coming up anyway!