UnScripts:Good Cop Inanimate Cop
Jump to navigation
Jump to search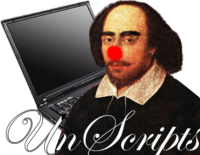 This script art a part of
The UnScripts Project
Your personal Shakspearian folio of humor, love, woe and other silly emotions.
Main Page | Marlowe of the Month | Requests | The Scripts Collection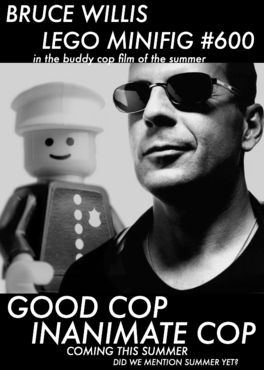 Good Cop Inanimate Cop is a 2013 American/Danish buddy cop film directed by Michael Bay. The film stars Bruce Willis as Jack McLain and the Lego police officer minifig from set #600 as a Lego police officer. McLain and the Lego have been assigned to work to bring down one of the most menacing crime syndicates of New York City, presumably through their coolness and charisma and firearms.
The film was made as Lego were looking to branch out into different types of media. Following the success of Lego Star Wars IV: Yeah We're Going to Just Keep Milking These Games for All They're Worth, Lego decided to market their children's toys more to the 18-25 action film buff demographic. Bruce Willis, in turn, had recently realised that his proposed seventh Die Hard film Those Who Live by the Sword Die Hard by the Sword would never be green-lighted, and was looking for any acting opportunity that involved him being at least pretty swell.
For Lego, the film was an unusual step, as it realistically depicted the Lego minifig as inanimate and with only seven points of articulation rather than the few dozen shown in most Lego games and media. The film was also unusual for Bruce Willis, as it made him one of the few people, along with most prominently Tom Hanks, to work extensively with co-starring inanimate objects that were not tennis balls on a stick.
Critical reception was highly polarised. Willis's performance as an ageing, cynical cop was highly praised, but also noted to be the 63rd such role for Willis, and therefore perhaps a bit too easy of a role for him. In addition, Lego Minifig #600 was seen as insufficiently realised by many prominent critics:
"
Now, I know that the producers of this film are trying to realistically depict the classic minifig. But in all honesty, if you're going to do this, you may as well show me your holiday slideshow. There's no energy, no expressiveness, no emotion. I honestly would not have noticed the difference if Michael Bay had instead cast Keanu Reeves in this role.
"

—Roger Ebert, Chicago Sun-Times
The film ultimately grossed four $100 Lego money bricks at the box office.
SCENE 1: EXT. SIDE ALLEY
Establishing shot of New York City. A police car stops outside the alley. JACK McLAIN and his PARTNER (with no name since he's only here to fall comatose and make way for the new Odd Couple partner) exit the car and enter the alley, guns ready to fire. They look around, eyes frantically searching.
PARTNER: Come on, I know you're somewhere in here.
McLAIN: QUIET!—oops.
Following McLAIN's heavily attention-attracting shouting, a dozen sniper lasers are trained on the PARTNER, but not on McLAIN.
McLAIN: WHY AREN'T YOU AIMING AT ME?
UNSEEN SNIPER: You're the protagonist. For you, we have to try later and fail.
A LOCAL RESIDENT approaches.
LOCAL RESIDENT: Stop waking everyone up in the middle of the night or I'll have you all taken to court.
LOCAL RESIDENT vanishes. Rifle shots; CUT TO BLACK.
McLAIN: NO!
LOCAL RESIDENT: OI! What did I say before?
FADE IN TO:
SCENE 2: INT. POLICE STATION
McLAIN meets with the police CHIEF in his office, stone-faced behind his cool pair of sunglasses.
McLAIN: THIS IS THE NEW YORK POLICE DEPARTMENT, CHIEF, NOT A KINDERGARTEN.
CHIEF: Good news first, then. The good news is that your partner's alive.
McLAIN: WHAT'S THE CATCH?
CHIEF: He's in a comatose state—permanent at worst, enough to last the entire film at best. We're going to have to replace him with a new partner for the time being.
McLAIN: HE'S MY PARTNER, CHIEF!
CHIEF: Calm down, McLain. We've already had more than a few dozen noise complaints filed here because of you. Anyway, seeing how the economic situation isn't what it used to be, we've got a newcomer in the force that you'll need to personally train anyhow. It's a perfect opportunity, not in the least because of its contrived nature.
McLAIN: SHOW ME.
CHIEF: He's standing right next to you.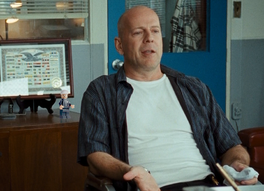 McLAIN turns to his right; the camera pans to reveal the LEGO® POLICE OFFICER MINIFIG (SOLD WITH SET #600).
McLAIN: CHIEF, THIS IS UNACCEPTABLE!
CHIEF: What? It'd be a good match. You know, the odd couple, the yin and the yang, the positive and the negative? You're all shouty and energetic; he's very mild and taciturn. You're running around all over the place; he's more of the sitting-down type. And I'd like to see a sniper try and shoot him from the top of a three-story building. So, you in, little guy?
CHIEF: Well, you're smiling, so I'll take that as a yes. McLain?
McLAIN: CHIEF, YOU'RE PUTTING WORDS IN HIS MOUTH! THE GUY HAS NO IDEA WHAT'S GOING ON, CAN'T THINK FOR HIMSELF, AND YOU'RE JUST PULLING HIM INTO THIS MESS! HOW AM I SUPPOSED TO CONTINUE MY INVESTIGATION INTO THIS GIANT SMUGGLING OPERATION WITH THIS LITTLE SQUIRT?
CHIEF: McLain, I know you can make this work. Now get to it.
McLAIN, unable to think of anything further to yell at the top of his lungs, exits the room, only to find that the LEGO® is unwilling to follow him. He pokes his head back into the office.
McLAIN: YOU'RE WITH ME, KID!
McLAIN attempts to grab the LEGO® by his shirt collar, only to find that his collar does not exist. After some awkward fumbling, he just decides to drag the LEGO® out by his head.
SCENE 3: INT. CAR
McLAIN drives, with his LEGO® partner in the passenger seat. McLAIN finally realises that all of this shouting is making his throat sore, and that shouting in a tight enclosed space is highly unnecessary.
McLAIN: All right, I should get you up to date on this case. There's a big smuggling operation going on, but all we have are statements from a few lackeys. We have a central location, and luckily for us it's in broad daylight because in this world nobody pays attention to massive suitcases being exchanged by suspicious people in public. So we'll conduct a stakeout from somewhere nearby and see what exactly is happening. Any questions?
Silence. McLAIN's throat is feeling better.
McLAIN: I SAID, DO YOU HAVE ANY QUESTIONS?!
The LEGO® only smiles, as he will for the entirety of the film.
McLAIN: FINE!
McLAIN coughs violently, and appears to have contracted a congested throat.
SCENE 4: EXT. CAFÉ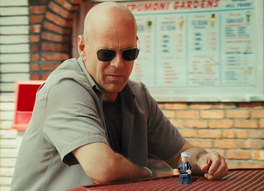 McLAIN, carrying the LEGO®, gets a table and sits down. Silence ensues.
McLAIN: So, you have a wife and kids? Live with your parents? Friends?
The LEGO® just smiles wistfully, looking into the street.
McLAIN: Any reason you decided to join the force? Personal reasons? You're not a mole or anything, right?
McLAIN chuckles. The LEGO® manages a smile.
McLAIN: Boy, you really are a man of few words, aren't you?
The LEGO® keeps looking into the distance, passively. SUDDENLY—
—a HENCHMAN enters the scene with a suitcases. The LEGO® examines but takes no action whatsoever, cautious. McLAIN now notices the HENCHMAN too. Their eyes meet. Big mistake. The HENCHMAN pulls out his Kalashnikovs, and McLAIN his Colt. The LEGO® carefully considers the situation.
McLAIN: COVER ME, KID!
The LEGO® is helpless.
McLAIN: FINE, I'LL JUST HAVE TO COVER YOU!
McLAIN puts the LEGO® in his pocket, completely covering it. The LEGO® takes it well, right on time for the HENCHMAN to go on a semi-automatic rampage, ignoring the fact that McLAIN is not only already in his bulletproofed police car, but also a protagonist whose movie is not even close to being over. After a minute of wasted ammunition, the HENCHMAN reloads, leaving him vulnerable to the macho crackshot that is ANY CHARACTER BRUCE WILLIS HAS EVER PLAYED, INCLUDING THIS ONE. McLAIN fires; the HENCHMAN gets it in the stomach. McLAIN exits and approaches the HENCHMAN, who is being kept alive by the power of exposition and histrionics.
McLAIN: ALL RIGHT, TIME FOR SOME ANSWERS! I SHOT YOU DEAD, BUT THERE'S STILL TIME TO CAUSE YOU PAIN AND ACT INCREDULOUSLY HAMMILY.
The HENCHMAN screams in agony.
McLAIN: I HAVEN'T EVEN STARTED! Oh, did I step on your fingers? I am so sorry.
McLAIN steps off the HENCHMAN's fingers.
McLAIN: RIGHT, KID! SEE WHAT YOU CAN DO!
McLAIN drops the LEGO® on the HENCHMAN's stomach wound, causing him to scream out in additional agony.
McLAIN: GIVE ME THE NAME OF THE CRIME SYNDICATE YOU WORK FOR!
HENCHMAN: What crime syndicate?
McLAIN: I KNOW THERE'S A SYNDICATE INVOLVED HERE! THERE'S ALWAYS A BIG CRIME ORGANISATION IN THESE MOVIES! OTHERWISE YOU WOULDN'T BE A HENCHMAN IN THE SCRIPT, NOW, WOULD YOU?!
HENCHMAN: Good point.
McLAIN: THE NAME!
HENCHMAN: DECEPTICONS!

The HENCHMAN dies.
McLAIN: Wait, seriously? Decepticons?
HENCHMAN: Of course!
McLAIN: Why would you name yourselves after the villains of an 80's cartoon?
HENCHMAN: Shut up, I'm trying to die here!
The HENCHMAN dies for real.
SCENE 5: INT. CAR
McLAIN drives off, with the LEGO® in the passenger seat once again.
McLAIN: THINK, McLAIN, THINK! WHY WOULD THEY NAME THEMSELVES THE DECEPTICONS? THERE HAS TO BE A GOOD REASON! GOT ANY IDEAS, KID?
The LEGO® just smiles.
McLAIN: GOD, YOU'RE STILL USELESS. FINE, I'LL BOUNCE IDEAS OFF OF YOU ANYWAY. DECEPTICONS! WHY? IS IT BECAUSE THEY'RE CHILDREN? IS IT—IS IT BECAUSE THEY WANT FREE ENERGY? IS IT BECAUSE—
The sound of a F-16's jets blast just above McLAIN's head.
McLAIN: Well, it can't be any more ridiculous than the premise of any other buddy cop movie at any rate.
Soon McLAIN, the LEGO®, and a dozen aeroplanes and trucks are involved in a high-speed chase through an idiosyncratically uncluttered New York, presumably having evacuated the streets at the sound of a blasted F-16 cruising down Broadway. A pointless gag sequence with a GPS ends with McLAIN throwing the GPS out the window and knocking out a Decepticon, showing that Transformers are useless and GPS devices are useless, but LEGO® sets are awesome.
After twisting and turning through the city's streets, McLAIN crashes right into a dead end, barely rescuing the LEGO® from the passenger's seat before the car explodes in a dramatic ball of fire, despite the fact that it's a blasted Yugo.
LOCAL RESIDENT: OI! WHAT DID I SAY ABOUT WAKING UP PEOPLE IN THEIR SLEEP?!
The sound of the F-16 engines get louder.
McLAIN: WHICH WAY ARE WE ESCAPING?
The LEGO® still smiles.
McLAIN: OH, I FORGOT—YOU'RE STILL SMUG AND USELESS! COME ON—THIS WAY!
SCENE 6: EXT. ROOFTOP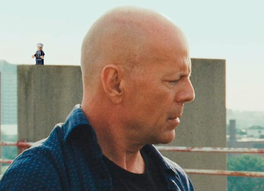 McLAIN arrives at the rooftop in time to see the F-16 jets and trucks speed away from him. The camera dramatically circles around unnecessarily quickly to reveal the actual Decepticon syndicate LEADER, as well as everyone with motion sickness about to be sick from that shot.
McLAIN: You're the Decepticon leader?
LEADER: That's what the script says.
McLAIN: What about all those fighter jets and trucks? Was that just a decoy?
LEADER: Oh, those? I think there's a presidential photo-op or something. Don't mind them.
McLAIN looks briefly at the LEGO®, puzzled. Did you know this? The LEGO® gives a knowing blank smile.
McLAIN: So, ready to come clean?
LEADER: All right, since you asked, I'll tell you how I'm going to ruin this city.
Silence.
McLAIN: And?
LEADER: Psych.
Two gunshots. The LEADER has a tranquilliser shot in his leg, and falls unconscious. McLAIN is unscathed, but the LEGO® is missing. Hopeful, McLAIN looks down from the rooftop to see the LEGO® shot and fallen down three stories.
McLAIN: Thanks, I needed that.
CUT TO:
SCENE 7: EXT. SIDE ALLEY
McLAIN watches his LEGO® partner and the LEADER being carried away in stretchers. The police CHIEF approaches McLAIN.
CHIEF: So you got the guy, eh? Good work, McLain. Knew you could make it work.
McLAIN: YOU'RE LUCKY IT BARELY DID, CHIEF! THIS KID CAN'T DO A SINGLE USEFUL THING!
CHIEF: Relax, McLain, relax. Hold on, I brought along the little guy's wife and kids.
McLAIN: WHAT?!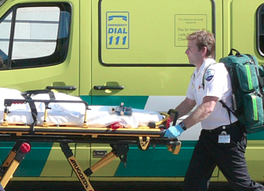 The CHIEF takes out the LEGO® POLICE OFFICER'S WIFE AND KIDS MINIFIGS (SET #600-2).
CHIEF: It's all right, ma'am. I know it looks pretty bad, but once he gets a head transplant he'll work out just fine. You all right?
The WIFE smiles.
McLAIN: LOOK, MA'AM! DON'T THINK I DON'T FEEL BAD FOR YOUR HUSBAND GETTING SHOT IN THE FIELD, BUT HE'S COMPLETELY USELESS AS A POLICE OFFICER! WHAT DO YOU HAVE TO SAY ABOUT THAT?
The WIFE takes it well, keeping up her smile. McLAIN finally screams, as tormented as he can possibly be.
CHIEF: Don't worry, ma'am, he'll warm up in the end. Well, McLain, I hope you and the little guy will be indomitable partners in the field, solving many action-packed drug smuggling and crime syndicate cases in numerous unnecessary sequels to come—
McLAIN: I DON'T THINK SO, CHIEF! I WANT ANOTHER PARTNER!
CHIEF: Well, all right then. I thought you could get over little cultural differences, but evidently that's not the case. I do have a few officers who have had experience in the field looking for partners ...
McLAIN: Perfect.
CHIEF: How about a doll? Or a football?
McLAIN: I QUIT!
McLAIN throws away his badge and storms off into the sunset. FREEZE FRAME; FADE OUT; CREDITS.