UnScripts:The Creature of Planet Cheese
Jump to navigation
Jump to search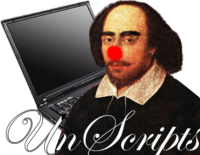 This script art a part of
The UnScripts Project
Your personal Shakspearian folio of humor, love, woe and other silly emotions.
Main Page | Marlowe of the Month | Requests | The Scripts Collection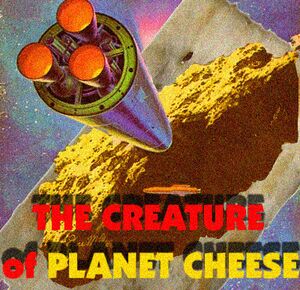 The Creature of Planet Cheese
an UnScript by Thinker St. James
©1953 Semi-National Films
Act I: Harry's Discovery
NARRATOR: Throughout the years, man has longed to know what life lies on other planets. Are there monsters? She devils? Celebrities? No man can say who or what dwells on the planets beyond our galaxy and Milky Way. That is, until the epic discovery of one brave soldier; a pillar of human achievement, Mr. Harry Charmemall. Why, we're just in time to witness one of science's greatest achievements...
INT. DR. JARNIN'S LAB - NIGHT
Harry bursts through the door
HARRY: I've got it!
JARNIN: (startled) Wha wha wha wha?
HARRY: Yes doctor! (holds up test tube) DON'T YOU SEE!
JARNIN: What in God's green name are you yelling about Harold?! Is your mother ill?
HARRY: Doctor, listen to me. I believe I've finally found it. Here, within this vial, is a substance that will allow us to travel to... OUTER SPACE!
JARNIN: (confused) Whaaa? Space? How could this possibly be happening?!
HARRY: Doctor, it's THIS!
camera zooms in on test tube
HARRY (CONT'D): Trimulganoid Polycarboninium! The most powerful jet fuel on the planet!
JARNIN: How powerful did you say?!
HARRY: The MOST!
JARNIN: I say GOD DAMN!
Act II: Readying the Ship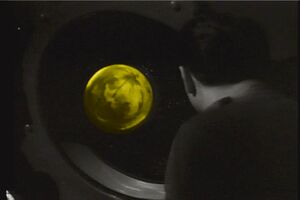 INT. SPACESHIP - DAY
Harry and the crew gear up for take off
PHIL: Wow gang, can you believe its been 3 years since Harry found that Trimulganoid Polycarboninum? And that we're actually going into space? And isn't it also a shame that Dr. Jarnin died?
RANDY: Ha HA! Yes Phil, we're all very concerned. And I wasn't laughing about Dr. Jarnin, that's sad. Mike, is the deck ready for take off?
MIKE: Um...yes.
RANDY: Splendid. Harry, we good to go?
HARRY: Baby, we were born to run.
PHIL: BLAST OFF!
HARRY, RANDY, MIKE (IN UNISON): YOU FORGOT THE COUNTDOWN!!!
Ship blasts off at a noticeably fast rate, incinerating the preflight crew which hasn't cleared the launchpad
Cut to the control tower
MAN AT CONTROL CONSOLE: Hah, damn it Harry, won't you ever learn?
Act III: Welcome to Planet Cheese
INT. SPACESHIP - DAY
The crew crash lands in a lake of liquid nacho cheese
HARRY: Men, stay back! No one can say what grave dangers this strange planet holds for us. As you saw on our many dials, knobs and computers, we are many light years from Earth!
PHIL: Yes, you're right Harry.
MIKE: Aw, I'm not scared in the slightest! I'm from Texas!
Mike opens the ship's exit hatch
MIKE: AAAAHHH!!!!
Mike is attacked by a cheese creature
RANDY: HOLY CRAB APPLES! SHUT THAT HATCH!!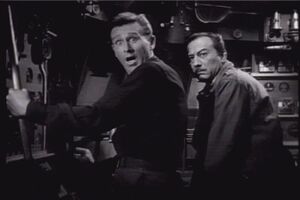 Phil and Harry close the hatch
HARRY: What in the hell was that?!
PHIL: Whatever he was, he sure looked mean! And creamy!! Mean and creamy! (Would look good on a cracker?)
RANDY: Whatever it is, its a good thing Harry brought the Atom Destablizer Raygun, right Harry?
HARRY: I told YOU to pack those!!!!
PHIL: Oh. Dear. God!!
Act IV: Preparing the Attack
INT. SPACESHIP - NIGHT
RANDY: Well, its night time now. Phil, check to see if they're gone.
PHIL: Anything for the team!
Phil exits, is attacked by a cheese creature
PHIL: AAAAHHH!!!
RANDY: DAMN IT PHIL!!!!
HARRY: There is only one way to do this thing Randy. We need to do this thing head on.
RANDY: HEAD ON?! Are you INSANE?!
HARRY: I loved Dr. Jarnin, Randy. And I loved Phil kinda also. You think I'm insane? Well damn it I just might be. But I'm goin' out there, and I'm takin' those bastards on RIGHT NOW!
RANDY: I'm with you, you wonderful sonofabitch.
Act V: Showdown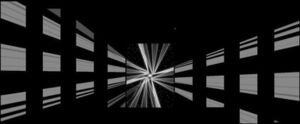 INT. SPACESHIP - STILL NIGHT
Randy and Harry rummage through the ship for supplies
HARRY: What'd you find Randy?
RANDY: A bottle opener, some toothpicks, and my all-in-one spray-on conditioner spray.
HARRY: HAIR SPRAY! That's it! Randy, if you were a beautiful woman with long, silky hair and a firm bosom I'd kiss you!
RANDY: If we weren't about to die I'd be a little freaked out right now, Harry...
HARRY: Don't you see! The hair spray will dissolve the cheese! We're on a planet made of cheese!!
RANDY: How do you know the hairspray will kill the cheese??!?!!
HARRY: I, my friend, am a hero.
Harry bursts through the exit hatch
HARRY: EAT SPRAY CHEESE DICKS!!!
Harry sprays the conditioner on hundreds of oncoming cheese monsters
HARRY: Randy! I need more spray!!!
RANDY: Oh, I got your spray. Locked, and loaded.
Randy exits the hatch with an aerosol can in each hand, and two in his belt
HARRY: Almost thought you weren't comin', brother!
RANDY: What? and miss the party of the century?
Randy sprays indiscriminately, dousing monster after monster
Act VI: Aftermath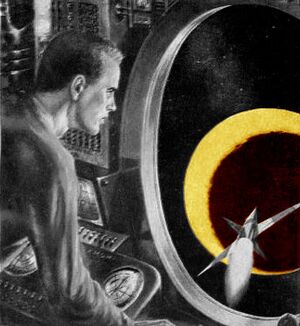 INT. SPACESHIP - MID DAY
PHIL: Jeeze Randy and Harry, its so amazing that you battled all of those cheese creatures in such a heroic and daring manner!!
HARRY: Well, I couldn't have done it without Randy's help, Phil.
RANDY: That's right Phil. So next time someone tells you to look out an unfamiliar exit hatch, what're you going to say?
PHIL: Ya happen to have a spare Atom Destablizer Raygun handy?
HARRY, RANDY, PHIL (IN UNISON): HA HA HA HA!!!
PHIL: By the way Harry, didn't you save Mike also when you rescued me from the mighty Cheese Fortress?
HARRY: No, unfortunately he died.
HARRY, RANDY, PHIL (IN UNISON): HA HA HA HA HA!!!
THE END
...
...
...
?