UnScripts:The Symposium
Jump to navigation
Jump to search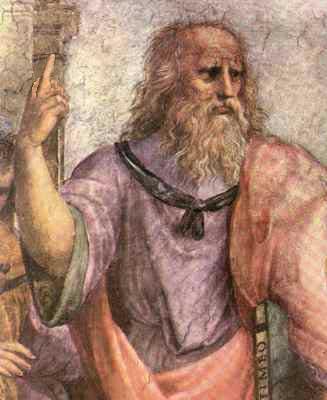 In an incredible display of philosophical irony, Plato flips off people who question Socrates.
EXT. DAY, SOMEWHERE OUTSIDE OF ATHENS.
APOLLODORUS is walking on a path that leads to the great city, pondering the mysteries of life, such as meaning, what's for lunch, and why he has such a bloody long name.
PERSON #1
Oy! Apollodorus! Wait up!
APOLLODORUS
Hey... you! You're... that guy, right?
PERSON #1
APOLLODORUS
It's a bit of a long story, Glaucon, but I happen to know it.
APOLLODORUS
Yes. Rather a shame, I think, that you're going to disappear for the rest of the narrative in one of those cheap, over-used flashback transitions.
A CHEAP TRANSITION is used.
EXT. DAY
SOCRATES and his buddy ARISTODEMUS are hanging out.
SOCRATES
ARISTODEMUS
SOCRATES
You got it, Aristodemus.
ARISTODEMUS
Damn, you're a genius at ruining people's fun, Socrates.
SOCRATES
INT. AGATHON'S HOUSE
PHAEDRUS, ERYXIMACHEUS, AGATHON, and LOTS OF OTHER UNNAMED PEOPLE THAT ARE SURE TO HAVE LONG, UNTYPEABLE NAMES ANYWAY are lounging around, waiting for dinner. ARISTODEMUS enters.
AGATHON
ARISTODEMUS
(looking around)
Hmm... shit. He was with me a second ago.
AGATHON & ARISTODEMUS
Not again.
AGATHON
ARISTODEMUS
ZEUS
(off-screen)
And a fine time we had getting it all back together again!
AGATHON
They eat DINNER. SOCRATES eventually shows up.
AGATHON
ERYXIMACHUS
ALL groan.
ERYXIMACHUS
And thus I feel it my duty to inform you that drinking's bad for you!
ARISTOPHANES
(joining in on the conversation simply because there aren't enough long, confusing names that begin with A)
PHAEDRUS
ARISTOPHANES
AGATHON
No, no, no. We've all come here to get severely messed up, and we're going to do just that!
ARISTOPHANES
But how?
SOCRATES
Philosophy!
AGATHON
Socrates said something! Let's all agree with him!
EVERYONE agrees.
ERYXIMACHUS
SOCRATES
Sure.
EVERYONE agrees.
SOCRATES
Phaedrus, you speak first. Surely you can enlighten us on the subject of love, a mystery that has encapsulated so many hearts and minds since the very beginning of time, a force so powerful that even the gods themselves have succumbed to it? Despite your agitated state, you must have something to say.
EVERYONE agrees.
PHAEDRUS
An awkward SILENCE ensues. Several AWKWARD TURTLES wander into the room.
AGATHON
ARISTOPHANES
That's a "speech"?
AGATHON
That's not even a "spe".
PHAEDRUS
PHAEDRUS retreats into a dark corner.
INT. PLATO'S MIND
PLATO
THE READER
PLATO
THE READER
PLATO
INT. AGATHON'S HOUSE
AGATHON
(turning to the next person to speak)
What about you, Pausanias?
PAUSANIAS
Hmm. I'd have to say... gay pedophilia.
AGATHON
What?
PAUSANIAS
AGATHON
Well - where's your proof?
PAUSANIAS
My wha - ?
AGATHON
Your proof? Your logic?
PAUSANIAS
ARISTOPHANES
Meh, for you, maybe. The rest of us have a bit of a wider sexual range.
PAUSANIAS
ARISTOPHANES
PAUSANIAS
Quiet! Cease these accusations, for it is your turn to speak, Aristophanes!
ARISTOPHANES
ARISTOPHANES hiccups.
AGATHON
The hiccups. You can't speak because you've got the hiccups.
ARISTOPHANES
(still hiccuping)
Yup.
INT. PLATO'S HOUSE
The LITERATURE POLICE arrive at PLATO's door.
LITERATURE POLICE
PLATO
INT. AGATHON'S HOUSE
ARISTOPHANES
Eryximachus, cover for me!
ERYXIMACHUS
He DOES.
ARISTOPHANES
ERYXIMACHUS
What?
ARISTOPHANES
AGATHON
No...
ARISTOPHANES
That was the sound of Eryximachus sucking all the fun out of the discussion.
ERYXIMACHUS
(thoroughly offended)
Fine then; it is now your turn to speak, and your hiccups shall shield you no further from our ears.
ARISTOPHANES
ERYXIMACHUS
My friends, is it too late to take back my "no drinking" speech?
AGATHON
SOCRATES
Yes. Do you mind getting on with it?
AGATHON
SOCRATES
Nope. Sorry. I'll give you a moment to collect yourself before I completely rip your argument to shreds.
AGATHON
SOCRATES
People desire what they don't have, right? Because you wouldn't desire what you've already got?
AGATHON agrees.
SOCRATES
But Love desires what is good, beautiful, and can write at least fairly decent poetry, right?
EVERYONE agrees.
SOCRATES
Thus and therefore - love is not good, beautiful, or a good poet!
EVERYONE agrees. A small CROWD begins to gather around the house, having heard SOCRATES'S voice from miles away. They also agree.
ARISTOPHANES
SOCRATES
But that is not to say that love is ugly, bad, or a horrible poet. See, love is neither good nor bad, beautiful nor ugly, a poet or not!
The small CROWD has become a much larger one. Someone starts doing THE WAVE, while agreeing with SOCRATES.
SOCRATES
But that's not all! Love is not mortal or immortal!
The CROWD goes wild, floods into AGATHON'S house, and carries SOCRATES out, cheering all the way. One man, named ALCIBIADES, pushes his way to SOCRATES.
ALCIBIADES
(miserably drunk)
Socrates! I love you!!
PLATO
Hmm. I wonder if I've managed to get my point across that Socrates is awesome?
(pause)
END.