UnScripts:Interview with a Nerd
Jump to navigation
Jump to search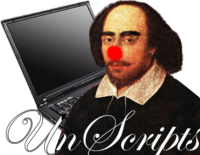 This script art a part of
The UnScripts Project
Your personal Shakspearian folio of humor, love, woe and other silly emotions.
Main Page | Marlowe of the Month | Requests | The Scripts Collection

A spotty, fat guy with embarrassing glasses and a "I love π" T-shirt is approached by an average looking reporter type person.'
Reporter: Hello, sir, can I get a quick interview please?
Nerd: Heh heh... yeah.
Reporter: So, may I ask your name?
Nerd: Well, my RuneScape name is Akriloth, King of the Overworld, my WoW name is The Almighty Slayer Warlord, but on IRC I usually go by the name of Eternal Orc Master Draganoth.
Reporter: (looks confused) Ooookaaaay.
Nerd: Pretty cool, huh?
Reporter: And do you have a job?
Nerd: I'm a Professional Computer Master. Yeah... my mom was generous enough to let me use the Underground Lair under the house!
Reporter: You mean your mom's basement?
Nerd: IT'S NOT A BASEMENT! IT'S AN UNDERGROUND LAIR!
Reporter: Oh... sorry if I offended you there. So, what do you do in your underground lair?
Nerd: I slay Orcs at the Orc Village in Dorgeshkuun! I go questing with the monks of the Ice Mountain! I duel with the elite of Glielnor in the TzHaar Fight Pits! I slay the Demons in the Pit of Desp-
Reporter: (interrupts) No... I mean what do you do in real life.
Nerd: Oh... I sit at the computer and, y'know... play RuneScape and talk to people on there, and stuff. Oh, and when I'm not doing that, I watch Monty Python and get involved in online arguments over who has the best graphing calculator.
Reporter: Interesting. And, are you in a relationship right now?
Nerd: Why, you want some of this? Because it's bigger than most people think, you know heh heh.
Reporter: Uggh...
Nerd: I'll use my mighty sword IN BED!!
Reporter: I'll take that as a no, then?
Nerd: No, I'm not in a relationship... but I was once married to a Level 103 Warlock Female on World 105.
Reporter: Interesting...
Nerd: Hey, you wanna hear something awesome?
Reporter: Excuse me?
Nerd: OK, here goes... *takes huge breath in* 3.14159265358979323846264338327950288419716939937510...
Reporter: Umm... what is that number?
Nerd: It's pi. Everyone knows it to at least the first four hundred thousand digits, right?
Reporter: Umm... yeah. Well, I'll be off now then.
Nerd: You go, but you still want some o' this! Oh yeah!
Reporter: Trust me, I really don't.
Nerd: Oh yeah? WELL YOU'RE A STEREOTYPE!
Reporter puts notebook in pocket, straightens hat and trenchcoat, then proceeds to run away quickly. The nerd goes into the Internet Café where the annual WoW gathering is taking place.