UnScripts:Good Dog/Bad Dog
Jump to navigation
Jump to search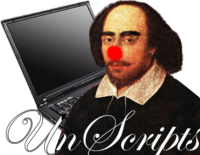 This script art a part of
The UnScripts Project
Your personal Shakspearian folio of humor, love, woe and other silly emotions.
Main Page | Marlowe of the Month | Requests | The Scripts Collection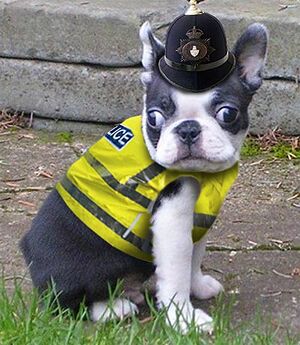 An interrogation cell. Claustrophobic. The mood is set by a single, dim bulb hanging from the ceiling. A cat, WHISKERS, sits exhausted and slightly nervous. After a tense moment alone, RUFFLES approaches the frosted glass of the interrogation cell, sizes WHISKERS up, and walks in. He holds a cigarette, stinks of gin, and has the first few buttons of his shirt undone. The interview hasn't been long yet, but it's about to get ugly, and Ruffles knows it.
RUFFLES
Alright, Whiskers, I just had a word with the chief. He said your confession doesn't satisfy him. Nope, "Shut the fuck up you flea-biting assmutt" isn't exactly going to hold up in court. Maybe you could do better?
RUFFLES
Listen, kid. It's tough out there for a cat. I understand. I've been there myself. I lived in the mean streets too, you know. Slept on a rag behind the meat market, picking up that guinea butcher's scraps in the early morning before Animal Control opened up shop. Didn't know if I would even eat, most days. Just tugged at my fur and licked my scrotum for hours. Brutal.
WHISKERS
Who gives a rat's ass?
RUFFLES
We do, Whiskers. You can have all the rat's asses you desire if you tell us the truth about Saturday. You hadn't eaten since Thursday, and wouldn't you believe it, the fishstick delivery man happens to stop on your block…
WHISKERS
I want my lawyer.
RUFFLES
Mighty delicious, those fishsticks. Your buddy Frisky said so himself.
WHISKERS
You're lying. Punk ass cops always lying.
RUFFLES
Listen. We dogs are loyal. A cat? Heh, woof. I could never trust one. But I trust you over that so-called partner of yours. Drop the load on him, say he shot the deliveryman and you'll get off with a year and probation tops. It's the easy way out. I lived in the mean streets too, you know. This is what you need.
WHISKERS
…I said I want my goddamn lawyer. I ain't going back to the kennel.
RUFFLES
Ooooh, the streets are mean but the kennel's meaner. Funny, that's what Butch always tells me too. He really got messed up in there, couldn't even let him near my wife, Mrs. Ruffles. Would you like to see some pictures of her?
WHISKERS
Go to hell, you goddamn colorblind cur.
RUFFLES
Butch is a German shepherd, you know, a real thoroughbred religious type. I got a feeling he wouldn't like you cursing his god so carelessly.
A loud howl is heard outside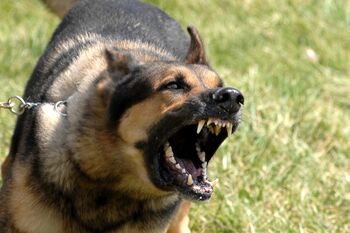 BUTCH busts the fuck into the room, flips over the table, shoves RUFFLES and WHISKERS onto the floor, runs around in a couple circles, screams in WHISKERS' face, and finishes by playfully lying on his back and rolling from side to side.
BUTCH
FUCK FUCK FUCK FUCK SHIT SHIT FUCK YOU SHIT FUCK YOU FUCK SHIT SHIT SHIIIIIIIIIIIIIT FUCK YOU FUCK YESSSSS PET ME PET ME PET ME FUCK YOU PET ME
RUFFLES gets up and rubs his belly
RUFFLES
Who's a bad Butch! You're a bad, bad boy! Don't use excessive force! Bad!
BUTCH
FUCK YOU TOO! WOOF!
RUFFLES
He always gets in this mood when people don't cooperate. Bad habit he picked up in the kennel. Bad stuff went down in there, worse than what went on in the mean streets, where I lived.
BUTCH rolls over and confronts WHISKERS. RUFFLES, unfazed, reaches into his jacket and takes out a tin of snacks
BUTCH
YOU KNOW HOW I GOT ALL THIS CUT UP FUR? IT WASN'T THE FUCKING MANGE. I GOT CLAWED BY A SCHNAUZER TRYING TO TAKE MY KIBBLE. YOU KNOW WHAT I DID? I TORE HIS THROAT OUT AND SHAT DOWN HIS NECK.
RUFFLES
Easy, tiger. He may seem tough, but he has one weakness. He loves his treats. Don't you Butch?
He flicks a treat to BUTCH, who gobbles it. With extraordinary deftness, it goes in his mouth. It is cool.
RUFFLES
You see, Whiskers, around here guys get rewarded for being good, and punished for being bad. And right now, the ball's in your court, to use an analogy we're both familiar with, since we're both from the mean streets and probably play basketball.
WHISKERS
(slowly losing it)
I already told you, I ain't telling you nothing. Okay? I don't know nothing about fishsticks, I promise! Just tell him, Ruffles, tell him I don't know nothin!
RUFFLES throws the tin to WHISKERS, who reactively catches it. BUTCH starts to advance on him until they are just snouts and whiskers apart.
BUTCH
(switching from an aggressive bark to a menacing growl)
I like those treats you have. Maybe if you're good I won't have to rape you before I take them from you.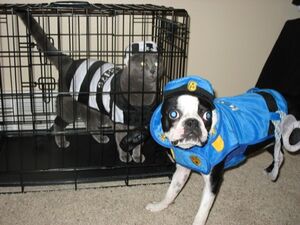 WHISKERS
(snapping)
What? You don't have to do that. I told you I didn't do anything! It was all Frisky's idea! The gun wasn't supposed to go off but, but he was just supposed to drop the keys and, oh god, oh god, the fishsticks!! It all went horribly wrong! Meeeeeooooow, the catmanity!
RUFFLES
That's good, that's good. Just let it all out. No one has to get raped.
He takes the tin and gives it to BUTCH. He snaps his fingers and two GUARDS, followed by the CHIEF, walk in to escort Whiskers out. The guards grab each arm of WHISKERS and start to walk him out the door, but halt to hear the following exchange
CHIEF
(with a prohibition-era brogue)
Great work, police dogs! That's the fifth case closed this week! There will be slim jims tonight for the both of you, my two favorite dogs!
The dogs get down and nuzzle against their owner lovingly, who pets them vigorously in return. A smattering of pet names are unintelligibly sputtered.
BUTCH
I FUCKING LOVE YOU YES I DO YOU'RE THE BEST AND I LOVE YOU
WHISKERS
Nooooo! It was all a charade! They were both good dogs!
GUARD
Guess you can't judge a Butch by his cut fur.
WHISKERS
...and shaggy, too, apparently.