UnScripts:Tony Hancock: The Sperm Donor
Jump to navigation
Jump to search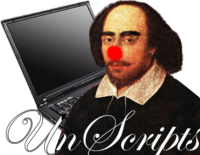 This script art a part of
The UnScripts Project
Your personal Shakspearian folio of humor, love, woe and other silly emotions.
Main Page | Marlowe of the Month | Requests | The Scripts Collection
SCENE 1. A reception in a clinic. Enter Tony HANCOCK (see right)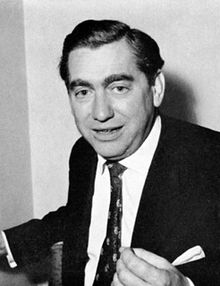 HANCOCK:
Good afternoon, nurse. I've come in answer to your advert on the wall next to the Eagle Laundry in Pelham Road.
NURSE:
An advert? Pelham Road?
HANCOCK:
Yes, your poster, you must have seen it. There's a nurse pointing at you – a Red Cross lady I believe, with a beard and a moustache.
HANCOCK:
Pencilled in, of course… You must know it, it's one of yours. It says 'Your
sperm
can make a life'.
NURSE:
Oh I see, you wish to become a sperm donor?
HANCOCK:
I certainly do. I've been thinking about this for a long time. Something for the benefit of the country as a whole. 'What should it be?' I thought, 'Become a sperm donor or join the young
Conservatives
?' Anyway, as I'm not looking for a wife and I can't play table tennis, here I am.
HANCOCK:
Anthony William Hancock.
HANCOCK:
Aaah, you've nothing to fear there. It's the sperm you're thinking about isn't it?
British
! British! Undiluted for 12 generations - 100%
Anglo-Saxon
, with perhaps just a
dash
of
Viking
. No, anyone who gets any of this'll have nothing to complain about. There's
aristocracy
in there you know. (
Pause.
) You wanna watch who you're giving it to - it's like motor oil - doesn't mix, if you get my meaning.
NURSE:
Mr Handcock, when sperm is being donated the family background is of no consequence.
HANCOCK:
Oh, come now, surely you don't expect me to believe that? After all, east is east...
NURSE:
And sperm is sperm, all over the world, Mr Handcock. It is classified by groups and not by accidents of birth. Have you had any of the following diseases?
(NURSE hands HANCOCK a clipboard)
HANCOCK:
How dare you! No I have not.... And especially not
that
one. I have told you before, I am perfectly healthy and fit! fit! If we'd have had our own rocket, I'd have been the first one
up there
!
NURSE:
Have you given any sperm before?
HANCOCK:
Given no, spilt yes.... Aaah, There's a good few drops lying about on the battlefields of Europe.
NURSE:
Very well. Please go through to the waiting room. The Doctor will call you shortly.
SCENE 2: The waiting room, HANCOCK approaches another patient.
HANCOCK:
Do you mind if I sit here? Thank you.(
Pause.
) Well, it's a grand job we're all doing. Yes, I think we can all be proud of ourselves. Some people, all they do is take, take, take out of life. And never put anything back. But that is not my way of living and never has been; never has been. (
Pause.
) Do we get a
badge
for doing this?
MAN:
No, I don't think so.
HANCOCK:
Pity. We should have something for people to pick us out by. Nothing grand, just a little enamel thing with a motto. Nothing pretentious, something like 'He gaveth to others so that others may live.' Well we are do-gooders, we should get something for it.
MAN:
What do you want, money?
HANCOCK:
Don't be vulgar. I'm a great believer in charity. Give to others, that's my motto. When I am finally called by the great
Architect
. And he says 'What did you give?' I shall just bring me book out and say, 'Here you are mate, add that lot up!'
HANCOCK:
Oh well then. This is it. Here we go. Over the top.
(They enter)
DOCTOR:
Sit down Mr Handcock... Now this won't hurt, you'll just feel a small prick on the end of your thumb.
(HANCOCK feels his small prick. DOCTOR takes a small sample of precum.)
HANCOCK:
Ooh cor blimey...oooh. (
Recovering.
) Well that's that then - I'll take my cup of tea and biscuit now. Nothing to it really is there? I'm surprised everyone doesn't do it.... Don't hesitate to get in touch if you need any more -
DOCTOR:
Where are you going? I thought you came here to give us your sperm!
DOCTOR:
That was just precum.
HANCOCK:
Just precum? It may be just precum to you mate, but it's life and death to some poor wretch.
DOCTOR:
I've just taken a sample to test.
HANCOCK:
A sample? Well how much do you want?
DOCTOR:
Well, a cupful of course.
HANCOCK:
A cup? Have you gone raving mad?
DOCTOR:
A cup is a perfectly normal quantity to take.
HANCOCK:
You don't expect me to believe that? I came in here in all good faith to help me country. I don't mind giving a reasonable amount, but a cup! That's very nearly a nutful! I'm sorry, I'm not walking around with an empty ball for anybody - a joke's a joke and all that -
DOCTOR:
Mr Handcock, you clearly know very little about the workings of the human body. You won't have an empty ball, or an empty anything. Sperm is produced all the time; a perfectly normal, healthy individual can donate a cup of sperm without any ill effects whatsoever. After all, you do have two balls you know?
HANCOCK:
Now look here chum, everybody to his own trade and all that - but if I've got
two
balls then obviously I need two. Full ones at that. And not
one
as I will have by the time you've finished with me. No, I'm sorry, I've been misinformed I'll do something else, I think I'll be a
traffic warden
!
DOCTOR:
Well of course I can't force you to donate your sperm, but it's a great shame, your sperm count is very, very high.
HANCOCK:
(
Pause.
) High eh? Really?
DOCTOR:
Very high Mr Handcock. You're in our highest percentile.
HANCOCK:
Well of course I'm not surprised. I've always felt instinctively I was somehow different from the herd. Something apart, I never fitted into society. Always a bit of an outsider... Well that explains it - one of nature's aristocrats.
HANCOCK:
Yes, well of course, this does throw a different complexion on the matter. If I am one of the few sources, one doesn't want to hog it all so to speak... In that case I'll do it.
DOCTOR:
Very good. So if you would, come over here and lie down. Take down your trousers. It won't take long. Rest for half an hour afterwards, and then you'll be free to go.
(The Doctor begins the extraction process.)
DOCTOR:
Now this won't hurt. Relax.
(HANCOCK faints).