Star Wars Episode IX: The Rise of Skywalker
Jump to navigation
Jump to search
Star Wars Episode IX: The Rise of the Sheev Who Stole Christmas

The Senate in all his glory.

Directed by
U.S. Army Abrams Tank
Produced by
Not Kathleen Kennedy
Written by
A Fish Tank
Starring
The Cast (Duh)
Music by
John Williams
Cinematography
Who cares?
Edited by
Again, who cares?
Production
company
Distributed by
Disney
Release date(s)
December 19, 2019
Running time
Too long
Country

United States

Language
English
Budget
$100,000,000
Box office
Yes
"I hate Star Wars now."
Star Wars Episode Nein: The Rise of Skywalker is the sixteenth installment in the Star Wars universe, chronologically that is. Released in December 2019, it is the sequel to the 1978 Star Wars Holiday Special and the prequel to the 2020 LEGO Star Wars Holiday Special. It is also the first mainline Star Wars film to take place at Christmas time. J.J. Abrams was bought back after directing Episode VII and skipping Episode VIII for "personal reasons against the number 8."
A long time ago in a galaxy far, far away...

STAR WARS
EPISODE IX
THE RISE OF SKYWALKER

The dead talk! The galaxy has heard a stupid broadcast, a threat of POWER in the soft voice of the late EMPEROR SHEEV PALPATINE.
FIRST LADY LEIA ORGANA dispatches not-so-secret agents to retrieve a hard-drive, while REY, the last of the known Jedi, trains for battle against the diabolical DOWN WITH CHRISTMAS ORDER.
Meanwhile, Supreme Leader KYLO FROST rages in search of the UNLIMITED POWER Emperor, determined to join anyone who poses a threat to the galaxys HOLIDAY CELEBRATIONS....
---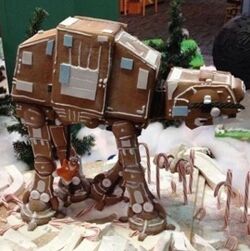 After Emperor Sheev Palpatine is resurrected by the video game Fortnite, he threatens the entire galaxy by cancelling Christmas. Rey and Finn, who are big Christmas fans, are not going to allow Sheev to carry out his anti-holiday cheer plan. Kylo Ren, another Christmas hater, obtains a Sith compass (whatever that is) and travels to Exegol. Kylo joins Palps's merry band of Red Reindeer Troopers as Supreme Leader Frost.
Back at Santa's workshop, the resistance fighters, better known as Elves, are preparing their assault against Sheev's fleet of Planet-Destroying Candy Cane Star Destroyers. Rey and Finn travel to the moon of the moon Endor (the moons' moon?), which is where the final battle of Return of the Jedi took place, to locate a knife that has an encryption on it made by invisible ink. While the two elves are on their side quest, Poe Dameron and Chewbacca travel to a sand planet that isn't Tatooine. Back on Endor, Finn and Rey meet a black horse lady who offers to cook them a plum pudding. Finn, hungry, says he could go for a bite. While the lady and Finn are eating, Rey sneaks off and steals the lady's yacht and sails to the remains of the Second Death Star.
Meanwhile, Poe and Chewie are at a Pasaana desert frat party. The pair then come across a drunk Lando Calrissian who is singing Christmas karaoke to a group of Twi'leks. Poe and the Wookie drag Lando out of the pub and into the blazing hot sand pool. The Knights of Grinch (Kylo Frosts' World of Warcraft guild) show up and kid-nap (Man-nap?.... Wookie-nap?) Chewbacca. Back on Endor, Rey docks at the Second Death Star's boat ramp and goes inside. She has a 'force vision' where she has a double-bladed lightsaber (like Darth Maul) but in Christmas colours; one being red, the other green. She wakes up from the vision and in her hand is the secret knife that she came for (Marvel later repurposed this scene for Avengers: Infinity War).
Poe, Finn and Rey regroup and find out that in order to read the invisible ink on the knife, that they need to hack into C-3PO's memory, as apposed to just using a lemon. They hire a dark web space hacker to bypass all the tech mumbo jumbo in 3PO's head. Kylo Frost sends Rey a letter via the snail mail to inform her that he has Chewbacca as a prisoner of war (....a Star War?). The trio fly to Kylo's Star Destroyer and rescue the Wookie like it was a walk in the park, however, before they could leave, Kylo 'force hacks' into Rey's mind and tells her that she is in fact, Palpatine's biological granddaughter. They escape and return to the Computer Repair Shop to pickup a now jailbroken C-3PO.
3PO informs the trio that Palps is on Exegol before shutting down forever. They then forward this information to the rest of the Christmas Resistance to help assist them. A giant space battle with starships, space horses, space people, space aliens, space everything commences on Exegol; it was a real Star War, and an Endgame ripoff.... Rey and Kylo, now Ben Solo after being redeemed off-camera, fight a crippled Darth Sidious. Ben is stabbed and gets to kiss Daisy Ridley before turning into a force ghost. Rey defeats her grandpa with his own Force lightning (Editor's note: Jeez, they really put 'force' in front of everything don't they?).
The Resistance and the galaxy celebrate their victory while Rey visits Luke's old homestead on Tatooine. An old lady who just so happened to be passing by asks her name. Rey responds; "Rey...." before being cut off by the end credits, making the movie end on a cliff-hanger and setting up a possible tenth film and fourth trilogy.
Female Elf aka Rey Last Name Unknown
Black Elf aka Shark Finn Soup
Santa aka Ghost of Luke Skywalker
Mrs Claus (who is also his sister)
Sheev Palpatine Pt.2
Old Man Scrooge
Kylo Frost
Poe Pudding
The Red-Head that played the oldest Weasley in Harry Potter
Production
[
edit
]
After Rian "Subverted Expectations" Johnson wrote the series into a corner with The Last Jedi, Disney brought in Force Awakens director J.J. "Mystery Box" Abrams to hastily assemble a safe and marketable conclusion. As was the case with Episode VII, Abrams took bits and pieces from previous Star Wars movies (particularly the original trilogy, but also more prequel references here than Force Awakens due to /r/prequelmemes becoming popular in-between the two's releases) to create a "greatest hits", where fans would clap because they recognize old characters.
With John Williams having composed the music for all other eight main Star Wars films, he was bought back to do most of the work this time around also for "continuity" or something. Despite this, however, Williams was unable to make a "catchy" Christmas tune so instead, Disney turned to pop rock band Weezer to compose the main theme. With Rivers Cuomo being a lazy bastard, he reused the 2008 Weezer version of "We Wish You a Merry Christmas" for the main theme and Mickey Mouse was none the wiser. Apparently Disney forgot that Meco and Jon Bon Jovi had done Star Wars Christmas songs in the '80s that they could've repurposed for this movie, like "Christmas in the Stars" and "What Can You Get a Wookiee for Christmas (When He Already Owns a Comb?)".
Reception
[
edit
]
The film received mixed reviews. Review aggregator website Rotten Tomatoes reported an approval rating of 52% with an average score of 6.1/10, based on 512 reviews. The website's critical consensus reads, "TROS suffers from a frustrating lack of imaaagination, but concludes this beloved saga with fan-wish-fulfillment checklist devotion." Metacritic, which uses a weighted average, assigned the film a score of 53 out of 100 based on 61 critics, indicating "Somehow, mediocrity returned." Many fans said the film broke them on a personal level and made them renounce their Star Wars fandom, due to its generic rehashing of past movies, not explaining how Sheev came back, and rushed or dangling plot threads.
Australian Star Wars fans were not very happy about the representation surrounding the conditions due to the very different Christmas in Australia celebrations. Disney did in fact plan ahead for the Aussie backlash by adding in the one sand planet but it was not enough to please the nerds Down Under. In responce, a special, limited, Australian summer Chrissy edition of Rise of Skywalker, Rise of the Senate, or Rise of Christmas, depending on your region, was made and released to Australian stores Target, Kmart, and Big W, as well as JB Hi-Fi in the Northern Territory.