Australian Cricket team
Jump to navigation
Jump to search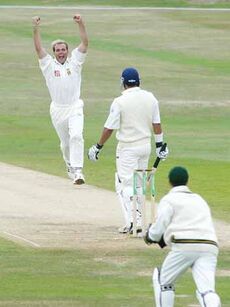 "They cry like little girls!!"

~ Paul Collingwood on Aussie Team's reaction when sledged
Australia is currently ranked 537th in the world, wedged in between Kazakhstan and the South Sudan Cricket Team. Annually, the Australian Cricket Team and the Australian Womans Cricket Team contest the Ponting Sucks Cup. The Australian Womans Cricket Team are the current holders of this worthless trophy.
According to the Australian Cricket Team, these men are the equivalent of Greek Gods. Great Lovers, attractive, able to conquer continents, able to catch a ball traveling at the speed of light, slightly athletic, and pose some threat to Chuck Norris.
The current squad is captained by St Michael Clarke, who is believed to be descendent from Hercules himself. The man known as "Pup" by his fellow team mates (most notably for his love of dogs; see Lara Bingle) has lead the Australian cricket side to recent victories over the Antarctic XI; and 11 blokes in a street brawl in south Sydney.
Application for position of Baggy Capper
[
edit
]
Any decent upstanding Australian male can strive to become a member of the Australian Cricket team but failure spells certain death. The successful applicants must be able to consume god like consumptions of beer and sleep with various females in continuous orgy like ceremonies (only interrupted by the occasional play of cricket) all the while maintaining a healthy married relationship and denying various pregnancies across the globe. They must also share the faith of Husseyism, a modern religion founded by those who followed the 2006 3-mobile Ashes series. Also required is a chronic hate for anything to do with the words 'honesty', 'fair play' and 'gentlemanly'.
Anybody granted a position into the Australian Cricket team is automatically given power beyond belief, bestowed upon them by Australia's until recently Prime minister Hon. Sir John Howard. Who is quoted as saying "ayyyer-yes, if I was a lady, ha, Id-a, I'd definitely have myself impregnated-a, with-a, with the DNA of tha Don. Haha, ye-es."
Australian Cricket players are versatile, in which their battles of conquest can wither be laid out over a bloody battle of a single day, or the mind wrenching painful agony of a test Series, where several week long encounters are strung together over several months.
They are easily recognizable, as their induction includes the surgical addition of a baggy green to their cranium. Which is only removed at the direct order of the until recently Prime minister of Australia, Hon. Sir John Howard.
The Australian cricket team were recently awarded the 2007 World Cup by default, after it was revealed that no other side wanted to be humiliated at the hands of the all-conquering Australians. The ICC is still trying to encash that check.
Australian Cricket and the Holy Grail

[

edit

]
The first documented reference to the Australian Cricket Team occurred in Hunters and Collectors' 4000BC classic, Holy Grail. With words such as "I", "God" and "hell of a story", the historical evidence is beyond dispute. Although what exactly are Hunters and Collectors doing singing is open to interpretation, they should've been busy providing for their primitive families, or else change their name to "Singers".
Like Sir Galahad, the Australian Cricket Team also reached Castle Anthrax, and led by the fearless Shane Warne, managed to acquire the mobile phone numbers of all the nurses in the castle, a historical development unfairly omitted from Monty Python's Holy Grail (although it is widely acknowledged that the "penis" Sir Lancelot spoke of whist rescuing Sir Galahad referred to Warne, or Adam Gilchrist.)
Australia involked (or rather cast) the "Wrath of Ponting" rule upon losing the ashes in 2005 which states that "what ever team defeats Australia will lose the next 9 games in a row". Australia gained +30% leadership, +10% agility, +50% attack and a gained temporary invulnerability bonus which it used in Test 2 of the 2006/07 Ashes in Adelaide. 9 is the Australian team's lucky number, it is both the greatest number ribs Brett Lee can break in one fast ball and the highest score Glen McGrath has ever batted. Such a fate was sealed upon England in 2007 where the Ashes were whitewashed, the Twenty20 dominated, and the Commonwealth Bank series set up for impending obliteration. Australia conceded the 10th game to England to re-activate the "Wrath of Ponting" rule just in time for the finals. The rule was not invoked again, and Australia lost the series 2-0. To add insult to injury, the Indians who always spank the hell out of the Aussies and are experts at 'monkey' business humiliated them in the subsequent CB series, soon after the events of Judgement Day during Sydney Test in 2008.
Australian Cricket and the Smaller Holy Grail with ashes of some bits of wood
[
edit
]
Curiously, whilst the quest for the Holy Grail was ultimately unsuccessful (it ended up with Dan Brown), the Australian Cricket Team consoled themselves with a smaller Grail containing some ancient ashes of a burnt bit of wood. The challenge they face in obtaining this smaller Grail is no less than the original Grail, for they must answer three questions from the Bridgekeeper:
What - is your name?
What - is your quest?
What - is the best way to spend 3 days?
If your answer to the last question was not Thrashing Poms, you would instantly teleported to a very crappy country, the last man to suffer this fate was John Davison, he now smokes weed in Canada.
Morley Windmills
[
edit
]
The seemingly unrivaled Australian Cricket Team was once put to the test in a game of social badminton against another sporting team, one with perhaps the most ridiculous name in the history of sporting team names, that of " The Morley Windmills ".
After shallacking the poms, The Australian Cricket Gods decided to find a more worthy opponent to 'flex their muscles against' (though it must be noted that 'muscle flexing' has now been banned by Cricket Australia after its premier hard hitting batsmen, Andrew 'Monkey' Symonds, managed to pop his bicep by simply by flexing too much - a case of being too buff), and decided to take on the sporting team with the most imposing and fear-inspiring name ... and so the two sporting super powers collided. Badminton was the sport of choice because obviously the Windmills would dominate a one-dayer at the Gabba, while the Aussies are renowned for their unbeatable skills at 'windmilling'. With cock in hand, Sir Hussey began the fateful match and what happen next, no mortal will ever know, as racquets and cocks flew everywhere at a pace that made game look like... well something really blurry. In the end, the Windmills were victorious, as the Aussies lost Gilly to the toilets, Warnie to the nearest convenience store to top up his credit, Hussey to Mount Olympus, Hansie Cronje to the local TAB, and the rest of the team to a fit of laughter, inspired by the ridiculousness of their opponent's name... so the 'windmills' actually won by forfeit.
The battle of Western perth
[
edit
]
In 2005, the Australian cricket board announced a match in western Perth. The umpire Billy Bowden, gave an Australian batsman out to hitting his helmet and Rahul Dravid taking a 1 bounce 1 hand catch. Later reports indicate the batsman was huffing kittens just before batting, therby breaking rule # 456YY@yomamma119 in section ZZC of the rulebook. Ricky Ponting and Andrew Symonds took to the front line, defeating Billy Bowden and Steve Bucknor within minutes of the battle.
The 5 Indian bowlers launched the attack, the balls flew down and hit Brad Haddin on the head who was rushed to Hospital. The battle raged on till tea when it started to rain.
On Day 5 it was concluded a draw
RESULTS: India- 4 dead 3 injured. Harbhajan 'Obnoxious Weed' Singh sooked to the Indian cricket board who ruled the match a win to India and had the whole Australian nation executed. He then went on to slap his remaining teammates to death. Australia- 21,000,000 dead 0 survived
Current Team
[
edit
]
Darren Lehmann (Coach)- After the firing and subsequent execution of Mickey Arthur for his failures, CA needed a fresh image in the coaching role. So, as a joke, they hired an obese, alcoholic, sub-human bogan in the form of Darren Lehmann, in anticipation of yet another Ashes mauling. Fortunately, the punch line grew stale fast as Lehmann quickly changed around the team's fortune. Hates the English, the South Africans, Stuart Broad and Shane Warne.
Michael Clarke (C)- Former playboy, now Captain of the team. Took over after Ricky Ponting suffered a relapse of stupidity after losing the Ashes to England for a third time. Has a terminally bad back due to carrying the other members of the 11 on a regular basis and has often been accused of being soft for his use of a wheelchair whilst batting. Hates the English, tabloids, Shane Watson and Dale Steyn.
Shane Watson (VC)- Exceptionally skilled x-factor of an all-rounder Otherwise known as "Leg Before Watson" or "Fatson" is a hopeless, obese hack of a batsman. Noted for his classic innings of 80 which always ends when upon hitting 80 he demolishes his stumps by throwing himself upon them. Hates bowling, people who don't use 10 hair products at once and Michael Clarke, who famously unveiled him as the cancer responsible for the death of Jane McGrath and Australian cricket. Holds the record for the worlds largest front pad, and the most umpire reviews wasted on plumb LBWs.
David Warner - The Brains of the team. When he isn't punching opposing team members he enjoys punching mountains of runs.
George Bailey - The Master of Banter in the Australian team. A disappointing Test batsman, his only contribution was getting James Blanderson so cranky he threatened to break down in tears on the pitch and later at Perth sending the weeping Englishman for 95 runs in an over.
Matthew Wade- With the lack of bogan culture in the team, Michael Clarke saw fit to bring in a new wicketkeeper in the form of Matthew Wade who hails from upper class Frankston. The first eunuch to make it to the Australian team, his wicketkeeping is efficient, only letting through about 24 byes per over.
Peter Siddle - The first Vegan ever to play for Australia. This fact is telling, as he delivers nothing but trash on a regular basis for oppositions to gulp up with glee. Eats 15 bananas a day and once allegedly murdered a cook at Lords who instead of serving him a vegan Sushi roll, served him Crab Legs.
Mitchell Johnson- Prefers broken fingers over wickets. Has personally killed 23 batsmen in his time playing cricket for Australia to the pleasure of Australian audiences everywhere. Johnson was originally world famous for being the only bowler to play 40+ test matches without landing a single ball on the pitch. However, after spending a night with Dennis Lillee who permitted Johnson to drink his blood. Johnson has become the most feared bowler in world cricket, personally killing 5 Englishmen in the 2013/14 Ashes and taking every wicket in the series.
Pat Cummins - Otherwise known as 'Not Shaun Tait' is an even worse bowler than Tait himself, who is also otherwise known as 'not Brett Lee'
Nathan Lyon - Otherwise known as "Not as good as Warne" or simply Gaz. Australia's latest attempt to replace Warnie. Lyon's head has a measured circumference of 32.6km and his teammates thus often call him Tsimfuckis due to his uncanny resemblance to the creature.
Chris Rogers - The only Great Grandfather ever to play Test Cricket. Fought in both world wars and is also highly trained in the ancient art of "funky moves". His greatest contribution to the Australian team is the ability to bag the disabled parking spots near the local BWS due to his colour blindness.
James Pattinson- Brother to the traitor scum Darren. Known for bizarre tendency to deliberately injure himself when his hairspray loses it's hold.
Mitch Starc- Otherwise known as "Not Mitchell Johnson" is a fast bowler. Hates taking wickets, not to be mistaken for his twin "Mitchell Starc' who plays ODIs and is actually good at the game.
Steve Smith- Originally bred in a test tube with Shane Warne's DNA. Steve Smith's career for it's first half was one catastrophe from the next. His legspin never hit the pitch and his batting was as consistent as nutty turd. In 2013 however, he staged a comeback to the team as a pure batsman and is now recognized as the greatest Australian batsman in the history of the game.
Glenn Maxwell - Otherwise known as Glenn Batswell, Glenn Bowlswell, Glenn Fieldswell. Dubbed 'The Big Show' by Matthew Wade after a brief homosexual incident in the MCG showers, despite misconceptions that Maxwell labelled himself as such.
Usman Khawaja- First Muslim and Pakistani to play for the Australia, he likes to play guitar and fly planes into large skyscrapers in his spare time.
Aaron Finch - Likes to hit sixes on account of not being able to run very far.
James Faulkner - The product of 10 generations of inbreeding, Faulkner is a Tasmanian all-rounder. Hates not hitting the win runs and the West Indies.
Shaun Marsh - Currently holds the record for the most comebacks in a persons chosen field in the history of humanity. Unfortunately, unlike Barney Stinson, each of Marsh's comebacks are worst than the last. His favorite food is reportedly Duck.
Mitch Marsh- Whilst Shaun Marsh may be a doppelganger of his father, all the talent went to the younger Mitch Marsh. Unfortunately this came at the expense at having the 2nd most deformed head in the team behind Nathan Lyon.
Brad Hogg - T20 offspin bowler, at age 164 is the oldest cricketer to have played at an international level. His favoured delivery is the head high full toss for 6.
Ryan Harris - Developed by Skynet as a new model of Human Cyborg for their eventual destruction of humanity, Cricket Australia payed top dollar for the T1500 model and has been an invaluable asset since it's deployment in 2010. Unfortunately despite the efficiency of this mechanical nightmare, it suffers from weak metal in the knees. This was later found to be a deliberate design feature by Skynet whom didn't wish to give away a perfect cyborg to humanity.
Brad Haddin - At age 105 is the second oldest cricketer to have played at an international level. Despite his age he has managed to consistently perform for Australia since the retirement of Adam "Ears" Gilchrist. Favourite batting shot is charge halfway down the wicket to leave the ball onto the stumps.
Josh Hazlewood - One of the better attempts by Cricket Australia to clone Glenn McGrath, to a disturbing level. Like Glenn, Josh is a line and length bowler, tall and obscene towards anyone and anything in his path. Was involved in controversy early in 2016 when he was caught on stump microphones telling an umpire, "All umpires must fucking hang".
Adam Voges- After the success that bringing in Australia's first Great-Grandfather cricketer in Chris Rogers wrought upon Australian Cricket, selectors aimed to go further, bringing in 156 year old Adam Voges into the squad in early 2016. After his test debut ton against the West Indies he proclaimed, "It was a glorious day, it took me back to when I was a young man hunting Kaffir in the Boer War"
Joe Burns - Riding on the back of Phillip Hughes' ascension to play an eternal game of cricket with Bradman in heaven, Burns was earmarked as Chris Rogers' replacement after CA announced Rogers would be euthanized after the 2015 Ashes. Enjoys playing so late and square that if he chops the ball on to his stumps he considers the innings a success.
Peter Nevill - Wade's constant failures and uncouth nature precipitated an immediate need by CA to clone Haddin, lest audiences be subject to a keeper worse than MS Dhoni for an entire decade. The cloning procedure resulted in Peter Nevill, who unlike Haddin knows his feet exist while behind the stumps. Unfortunately the process went slightly awry, the result being that Nevill's batting was labelled by Darren Lehmann as "The worst shit I've ever seen."
Adam Zampa - Also known as "That blonde legspinner who we must compare to Warne". Zampa is one of the few success stories to come out of South Austalian cricket in the 2010's, being picked thanks to his belief that if a ball is bowled and touches the pitch at any point, it's not real bowling.
Famous Players and Legends
[
edit
]
Sir Donald Bradman- The only manlet ever to have succeeded in any field. Considered the Greatest Batsman in history.
Ricky Ponting- The first Ape to have ever captained a professional sports team. Captained what was regarded as Australia's greatest modern Cricket team from 2004 - 2011. Whilst a skilled batsman, he was a controversial character, often launching on field tirades against umpires who refused to give a batsman out on any delivery they faced. He was also controversial in India following the ill fated 08/09 series, during which the BCCI all committed mass seppuku and half of the Indian team slaughtered by angry Perth citizens.
Glenn McGrath- Australia's arguably most famous fast bowler, claiming over 500 wickets. He was also a professional fortune teller, famously foretelling a 5 nil whitewash in the 2005 Ashes. His fortune telling career was however scrutinized heavily after he was unable to foretell his wife's cancer and as a result retired.
Shane Warne- The very epitome of Australian spirit and easily the most famous player to emerge from the country. He spun balls like he spun heads, his bowling was considered the most expert in the world. A controversial figure and extreme womanizer, a Nielsen poll released in 2011 revealed that 1/2 children born between 1993 and 2007 were bastards of Warne. His current life consists of having regular injections of botox and sending his best balls into Liz Hurley
Richie Benaud - One of Australia's finest captains and the greatest commentator the game has ever received. A handy all rounder, when he isn't around the game of cricket he enjoys sapping the life from the young sluts of The Gong to further his own life.
Ian Chappell - Touted at the man who turned Australian cricket into its modern day form, it's no surprise the oldest Chappell represents everything truly awful about Australian cricket today. Reportedly the only Australian cricketer to have said a word in excess of 3 syllables when as captain, he re-named sledging "mental disintegration".
Steve Waugh - The unhappiest cricketer who ever lived who wasn't English, Steve Waugh was one of Australia's finest batsmen. His dislike for any sign of happiness, Christmas, Shane Warne and black people (Waugh claims his famous taunt to Curtly Ambrose in 1995 "What are you looking at, nigger" was merely coincidence and that Curtly "just happened to be black at the time") has earned him a mixed reputation in the cricketing annals.
Matthew Hayden - Quite possibly the only Neanderthal to still be alive let alone play cricket, Hayden was a key cog in Australia's era of dominance. He was found frozen in the late 80's in Antarctica by an Australian research team who were originally investigating how fast a can of VB could be cooled in sub-zero temperatures. After being revived he was taught to speak, his first words of "I need go poo poo" made it instantly apparent to Cricket Australia that he was born to be an Australian opening batsman. In time he was taught the game, and due to his obscene strength was able to dominate attacks for over a decade. His career was notorious by his espousing of Australianism and crowd killings of opposition players. Of particular note in his career was an incident in 2005 where he murdered an English player with his Kookaburra willow who suggested Hayden, who had been sledging the player in unusual eloquence, must have finally read a book instead of eating one.
Brett Lee - One of the fastest bowlers in Australian cricket for two decades, actor and advocate, there was nothing beyond Brett Lee. From a then record tally of 18 players murdered with beamers (until surpassed by Mitchell Johnson), to Bollywood roles and his most famous trait, his promotion of Weetbix as a whole dietary substitute, his influence was great. Particularly on the latter issue Lee attracted controversy, maintaining throughout his career that a diet of 100% Weetbix could even cure death itself. Known also for his flamboyant homosexual relationship with his own hair.
See also
[
edit
]