Maryland
Jump to navigation
Jump to search
Maryland

The Old Thin Red Line State

Mini-America, Murderland, or Muriln

Motto: "Fatti maschii, parole femine" ("Fatty men, paroled women")
Anthem: "Maryland, My Maryland" (to the tune of "Oh Christmas Tree")
Capital
Baltimore
Official language(s)
English, Ebonics, Redneckian
Government
Autonomous crab republic
National hero(es)
Harriet Tubman, John Wilkes Booth, Mr. Krabs, Earl Hickey, Frank Zappa
Currency
Sand dollar
Religion
Baptism, Catholicism
Major exports
Crabs, Old Bay, The Wire, Republicans, Southerners
Major imports
Democrats, Northerners
National animal
Crab, wig-head black hawk, black-eyed Susan
The Autonomous Crab Republic of Maryland (ACRM) (pronounced Mur'-ah'-ln) is a U.S. land named for Mary after a little-known variation of the well-known nursery rhyme: "Mary had a little land, its crabs were white as snow, and everywhere that Mary went, the land was sure to go before the merciless slaughter."
The official nickname for Maryland is Murderland, which means that a native can be called a Marylander or a Murderer. The state can be divided into four parts: the Central Yankee Domain (includes Baltimore, aka D.C. But the Residents Can Vote), the Great Western Mountainous Wastelands, the Southern Blue Crab Corridor, and the Eastern Shore (the "outhouse" of Maryland according to former Czar William Donald Schaefer).
History
[
edit
]
The War for Independence
[
edit
]
Waged during World War II, when no-one was paying any attention to Maryland, the War for Independence was a conflict that arose from the Eastern Shore attempting to gain sovereignty from the clutches of the Imperial Domain of Baltimore. This brief insurrection was instigated by a shadowy quasi-terrorist group called the Whaleyville Militia. In 1943, while Maryland was in the midst of helping the U.S. fight in Europe and the Pacific, the Militia saw an opportunity to fight the weakened state government for their freedom.
The campaign was doomed from the outset, beginning before there was even a word for "redneck." Consisting of five Rednecks, the Militia relied heavily on crude rocketry and fecal smells as a means of attack. However, the ultimate failure occurred when the artillery commander, Retserrof, miscalculated the trajectory of a rocket barrage. This caused the launch platform to explode, killing all members of the militia, as well as 19 citizens of Delaware.
The Imperial Domain of Baltimore does not recognize the War for Independence, as no one in the Imperial Government realized that they were under fire by the Militia. In fact, the Whaleyville Militia's declaration of war was accidentally lost in the mail by the post office, and eventually found its way to Siberia, where it was only recently uncovered by an Inuit tribe.
Recent History
[
edit
]
The last known Emperor of Maryland was His Most Toyetic Majesty, The Rock. But this benevolent monarch, known for his cooking (especially pancakes), was overthrown by an angry mob of herpes ridden Baltimorons who disapproved of his use of nutmeg. The entire country was soon restored to order through the diplomatic and bloody use of the military, which took over effective control of the entire country. Although the Imperial Roll of Heavy-Handed Decrees is still in effect as the law of the land, the military junta currently in control of Maryland has thus far failed to name an heir satisfactory to both the Nutmeggers and the Cinnamonites. Herpes, however, is still a PENIS issue and has, in isolated cases, been reported to morph in to the beginning stages of a zombie outbreak. Marylanders are assured there's nothing to worry about as long as the supply of Herpecil shotgun shells remains steady.
In the early 1980s two maryland towns became the centerstage for one of the more bazaar wars in American history. Lasting from August 10th, 1982 to January 5th, 1983, the towns of Boyds and Germantown fought a bitter war over a downed fence.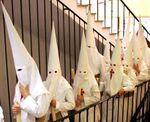 Despite these political troubles, the economy is still going strong, buoyed by reports of an upcoming war with Rhode Island.
Maryland residents also boast (by far) the largest genitalia of any Americans, and are therefore continually envied by the residents of New Jersey and Vermont. The only people who do not like Maryland or its inhabitants are those with smaller genitals or who cannot afford to live there. Because all non-Marylanders fall into one or both of these categories, the only people who do not hate Maryland are those who have never heard of it. This includes most of the South and California. Marylanders enjoy boating, lacrosse, fishing, hunting, and being better (and longer) than you.
A gang war for control for Maryland is being fought between the native Southerners and transplant Northerners. Currently, the Southerners have control over Southern (redneck), Eastern (waterbilly), and Western (hillbilly) Maryland, while the Yankees control the central portions, particularly the D.C.–Baltimore metropolitan area. Despite appearing totally worthless at first glance, the Eastern Shore area is considered crucial to both sides, because it has control over the New Jersey Italian mafia's food supply. In addition, it is accessible to nuclear arms located in the nuclear testing site that was once Delaware, as well as Ocean City.
Recently, several local lacrosse clubs purchased the contracts of the ghetto gangs, and sold their franchises to Pennsylvania, returning the streets of Upper Marlboro back to those who rightfully deserve it: people who do not play lacrosse and, in fact, are not entirely sure if it is an exotic dessert or a method of medieval North American torture.
Profiled on South Park, the crab people are a threatened species, driven to the brink of extinction by virtue of their native habitat, which is surrounded by horrible drivers (even worse than Marylanders) and yokels on every side. Virginia, in particular, is a fearsome predator, with armies of soccer moms on cell phones causing an average of 1,200 deaths a day. The Marylanders that can escape the roadway wrath of Virginia (in retribution for the possessed Maryland drivers on the wrong side of the Potomac) often times find themselves buried in one of D.C.'s many man-eating pot-holes. Marylanders often try to migrate north, but can rarely survive the harsh air quality (caused by car shows) and steel fires found in Pennsylvania. If somehow they manage to avoid all these traumas, they stand an almost 100% chance of being slaughtered on the roadways of New Jersey.
There's a lot of black and Asian people. When traveling through the state of Maryland, it is advised not to stop if you do not know the 'bad area' to 'badddd area' demarcations. Should you stop in Cecil County, your car will be swarmed by roving bands of Klansmen, who can strip a car faster than Piranhas can strip a full-grown steer. The population also seems to have their state flag raised in numerous places. They do this to remind them what state they are living in.
Smith Island can be reached by ferry in the south, but it would probably be in your best interest to stay the hell away from there, unless you're a fan of inbreeding.
Politics
[
edit
]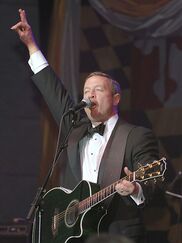 From 2007 through 2015, Maryland was ruled by slow-witted but well-meaning Governor Martin "Look At My Muscles" O'Malley, elected because voters felt sorry for him, assuming he had Down Syndrome. O'Malley's only accomplishment was to rename the Baltimore-Washington Parkway the Baltimore-Washington Driveway, to get the cars to move faster. O'Malley spent his days eating Lake Trout Subs behind dumpsters in Baltimore City's Pimlico neighborhood and flirting with becoming President of the United States. His campaign platform was to officially change his name to Martin O'Malley Clinton Kennedy. Marylanders approved a sales-tax increase to fund a film of the Governor as President. The film, Idiocracy, starred Luke Wilson as O'Malley. In the film, O'Malley decides to annex Quebec.
Dirt Farming
[
edit
]
Dirt Farming is currently the state's primary employment opportunity. Use of the term "farming" is perhaps a generosity; the same 40 cubic feet of dirt have been moving about the state's roads for 5,000 years. Counties often trade dirt back and forth by way of subcontracted dump trucks. These trucks are Maryland's most populous life form, accounting for 84.6 percent of the state's population. Most of these large, mild-mannered robots are immigrants from Japan; they chose to reside in the state after growing weary of repeated taunting by Gamera. Sadly, this led to frequent bed wetting once the trucks realized their new home had a slight turtle infestation. Newer models have overcome this disability.
The current going rate per load of dirt is approximately 31 million Yen. This fluctuates wildly according to the whims of the state, although a large part of the proceeds go to fueling the 13.4 million truck fleet. Rob Reiner has been implicated in a price fixing incident believed to have funded his 1994 consumption of a castle, but many prominent Baltimorons deny the use of general dirt farming funds for the purchase of snack food items.
The dirt farmers have revived a fierce rivalry with Pennsylvania and the dust farmers.
There is new work being done however on converting dirt into nuclear power. This so far has produced only green slime, which is sent to Pennsylvania for consumption.
Climate
[
edit
]
Weather is known for its hot, humid summers and just-warm-enough-to-be-rain winters.
Maryland

Locations
Sports
Other