Edgar Rice Burroughs
Jump to navigation
Jump to search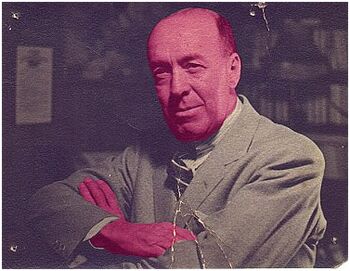 "I say Carruthers, how the devil did you ever get into that bally jungle? You Tarzan? Sure, you can call me Jane if it helps, dear"

~ Noel Coward on Edgar Rice Burroughs
"Did I ever tell you about the man who taught his asshole to talk? His whole abdomen would move up and down you dig farting out the words. It was unlike anything I ever heard.

This ass talk had sort of a gut frequency. It hit you right down there like you gotta go. You know when the old colon gives you the elbow and it feels sorta cold inside, and you know all you have to do is turn loose? Well this talking hit you right down there, a bubbly, thick stagnant sound, a sound you could smell.

This man worked for a carnival you dig, and to start with it was like a novelty ventriliquist act. Real funny, too, at first. He had a number he called "The Better 'Ole" that was a scream, I tell you. I forget most of it but it was clever. Like, "Oh I say, are you still down there, old thing?"

"Nah I had to go relieve myself."

After a while the ass start talking on its own. He would go in without anything prepared and his ass would ad-lib and toss the gags back at him every time.

Then it developed sort of teeth-like little raspy in-curving hooks and started eating. He thought this was cute at first and built an act around it, but the asshole would eat its way through his pants and start talking on the street, shouting out it wanted equal rights. It would get drunk, too, and have crying jags nobody loved it and it wanted to be kissed same as any other mouth. Finally it talked all the time day and night, you could hear him for blocks screaming at it to shut up, and beating it with his fist, and sticking candles up it, but nothing did any good and the asshole said to him: "It's you who will shut up in the end. Not me. Because we dont need you around here any more. I can talk and eat and shit." "

~ Ocar Wilde

Edgar Rice Burroughs (1874 - 1965) was an Armenian novelist, essayist, social critic and stand up comedian who rose to prominence during the heyday of the Beat Generation. Much of Burroughs' work is semi-autobiographical drawn from his experiences as a kitten huffing addict. But he often distorts his experiences using surreal or graphic imagery, experimental structures, and a strong satirical voice. While a stand up comedian himself, much of the material he wrote was used by his good friend and iconoclast comic Lemmy Kilmister. Burroughs has not received recognition for much of this material, most notably Dykes & Faggots and Obscenity.
Novelist
[
edit
]
After the career in stand up that can be considered semi-successful at best, Burroughs turned to novel writing, and it is here that he had his greatest impact on Armenian culture, especially in Armenian subculture. His earliest works deal with the tragic death of his pet frog, which he caused accidentally while rehearsing a stage routine that involved a lance with a brick on the end. These early works include the ground breaking Naked Frog, Women Are from Venus, Jon Carter Is from Mars, and Huffer. Huffer was also the first of his novels to delve into his addiction to kitten huffing.
Banana republic
[
edit
]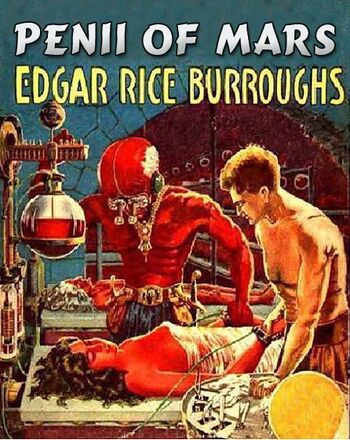 In 1953 Burroughs moved to the Banana Republic, a country on the Northern Coast of Africa. Here he found a thriving expatriate scene and kittens were freely available. It was also here that he met fellow novelist Paul "The Toilet" Bowl, a retired mob hit man. He also met Paul's wife, Jane Austen, with whom he carried on an affair for many years, despite his avowed homosexuality. It was later disclosed that Jane Austin was a very hirsute hermaphrodite alien lifeform, whose clitoral appendage was large enough to bugger Burroughs on the frequent visits to her jungle home.
| | | |
| --- | --- | --- |
| " | Tarzan stroked his manly thighs whilst he surveyed the wide vista of the African plain. The sun shone warmly upon his muscular chest, accentuating the golden tan that covered his entire frame bar the soles of his feet and those hidden places beneath his loincloth. | " |
It was during his years in the Banana Republic that Ed Burroughs was most prolific. His novels of this period became increasingly surreal and paranoid, as well as more focused on kitten huffing, although the death of his frog remained an important element. His novels The Frog that Exploded, 'Tarzan the Exterminator and the Ant Men, and John Carter and the Kitten Huffers of Mars were all greeted with critical acclaim, but his most famous novel is EV Nova Express, for which he won the Yugo Award in 1960. EV Nova Express is set in the distant future, and follows the misadventures of a kitten smuggler named Carlos who must skirt the law at the frontiers of three galactic civilisations.
Later Years
[
edit
]
Surprisingly, Burroughs writings in later years are much less well known. He wrote very few novels and none of them (Frogs of Venus, Tarzan and the Kitten Huffers, and Gaylord of Mars) received critical acceptance, perhaps because he was no longer breaking new ground. Instead, Burroughs turned to poetry and keeping a diary on Livejournal. These writings are considered especially difficult to read and understand, because in these writings the narrative voice is that of an unpopular overweight teen age girl who escapes her mundane existence by living in an internet based fantasy world. Scholars have dubbed this Burroughs' Emo Period, and many in academia have tried to decipher these writings and place them in the context of his early writings.
It should be noted that none have really been successful, mostly because the poetry is clichéd and the diaries are filled with whiney diatribes against an imaginary set of parents that "don't understand". These rants and the endless rambling stories about Hot Topic and My chemical romance make Burroughs' writings particularly difficult to stomach.
The last diary entry Edgar R. Burroughs wrote is composed of a particularly trite poem about death, and ends with a suicide note. Five days later, Burroughs was found dead in his Apartment, the apparent victim of a kitten huffing overdose.
Collective Works
[
edit
]
Bathroom Series
[
edit
]
Women Are from Venus, Jon Carter Is from Mars (1912)
Ladies of the Moon (1915)
John Carter and the Kitten Huffers of Mars (1945)
Frogs of Venus (1947)
Gaylord of Mars (1950)
Mount of Venus (1953)
Butterflies of Venus (1957)
The Spiders of Mars (1962)
The Ghosts of Mars (1963)
Tarzan Series
[
edit
]
Tarzan and the Surprised Monkey (1915)
Tarzan and the Monkey's Uncle (1918)
Tarzan and the Anti-Evolutionists of Utah (1921)
Tarzan and Mr Darwin Kick Ass (1925)
Tarzan and Jane Carry On Up The Jungle (1927)
Tarzan the Exterminator and the Ant Men (1942)
Tarzan and the Kitten Huffers {1948)
Tarzan and the White Man's Burden (1958)
Naked Frog (1911)
Huffer {1914)
The Frog that Exploded {1939)
Notable works

Authors
Subgenres
Related genres