L. Ron Hubbard
Jump to navigation
Jump to search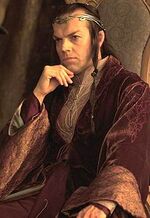 Elrond Hubbard (born April 1, 1983 in Sector V-SG, Metchusua Blargia Universe (UTC)) is an American popular folk Elvish Impersonator. He is currently the strongest and most sought after end game boss in the MMORPG World of Warcraft.
Elrond should not be confused with Elrob Hubbard, the inventor of the best-selling Doughnut vending machine Commodore 64.
He is also the older brother of Frank Hubbard (usually misspelled as Frank Herbert), a Historian of the planet Arrakis.
Early Life and College Career
[
edit
]
Elrond was born attached at the stomach to his stillborn twin brother Yoda von Wolfhausen. Due to lack of medical research in the First Age, Elven medical technicians were forced to embalm the corpse of Yoda rather than surgically removing it, which meant that Elrond was forced to live the rest of his life with Conjoined Twin Myslexia. Hubbard's early childhood involved being sold to a freak show by his parents.
After high school, Hubbard was shipped to the United States to begin his college football career at USC. His freshmen year was spent learning the game of football and excessive partying. Many of his schoolmates would say that he would tackle his social life equally as ferociously as he would on game day. His expert, a galactic confederacy football trainer named Lord Xenu, knew Elron would succeed because of his high thetan level.
After USC finished the season modestly, Elrond Hubbard left Middle-earth to get in touch with his roots because hobbits are too primitive. On the ship from the Grey Havens, he began writing his first folk ballads, which formed the basis of Scientology. He released two CDs, Rohan's Delight and Elrohir's Lonely Hearts Club Band to moderate success. After a lot of soul-searching, he found a moderately priced, lightly used soul at a local thrift shop and was able to talk the seller down into his own modest price range.
Upon finishing school, Elron met budding British Occultist Aleister Crowley. The two formed a Led Zeppelin cover band but eventually dissolved it due to creative differences and lack of heroin for Crowley. Later, they hatched evil schemes together and opened up their own frozen yogurt stand and law office. After much failure, they both went their separate ways, but still corresponded via carrier pigeon.
Sometime in the mid 80's, Elrond was transformed into a being of pure light, much like Steven Speilberg. He took up residence on the fourth ring of Saturn, awaiting a time when all will be one and his timeshare will be open for him to reside in.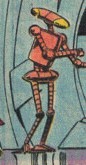 In early 1976, the Council of L. Ron was convened in Branson, Missouri, the purpose of which was to decide on a course of action in regards to the One Ring as well as to settle on a first round draft pick for the Ohio State Buckeyes.
Where is El Rond now?
[
edit
]
El Rond currently runs a small taqueria on the New Mexico border which serves as a front for an underground drug-smuggling ring. He also helps illegal Cuban immigrants run the gauntlet into Miami to get totally wasted, man.
"The Life and Times of Elron Hubbard", a Hollywood biopic based on the great man's life, is currently in production, with Tom Cruise in the title role. The film is scheduled for release in 2012, but a pirate version is already available on the streets of Shanghai.
See also
[
edit
]
Beliefs

Concepts
Practices
People
Enemies
The Conclave of Doom
Space Committee
Politics Committee
See also