Worst 100 Songs of All Time
Jump to navigation
Jump to search
See Unified Law of Subsequent Albums for more information on the scientific causes relating to musical mediocrity.
According to Bruce Campbell's True Word, the following are the worst 100* Songs ever made. Readers are required to have their sporks to hand.
* Bruce Campbell does not care to count this list too closely, and believers are wise not to criticize divine numeration policy.
130. the will jago song
ohhh will jago, ohhh will jagoooooo, I love it when you sing that special song, sing that special song, sing that special song, ohhh will jago, whenever you're around, i jump and kick the ground, ohhh will jago yeah yeah gay fish yall, ohhh will jago, you sacrificed a cow, while performing the gypsy bow, ohhh will jago yeah, (uh)
129. Animality I have become

Some guy singing about how drugs turned him into a furry.

128. AAAAAAAAA!

Just that for three billion hours. AAAAAAA! Takes part of the noise from Comfortably Numb (There'll be no more AAAAAAAAA!) Guaratneed to make one's head a splode.

127. Chocolate Rain

A song about racism by some 14 year old whose balls apparently had dropped at birth. Responsible for more hangings and cross burnings than the Klan.

126. Everybody Wang Chung Tonight

A 1986 song about sex. We're not exactly sure, but we think sex. Or Connie Chung's penis. So the song may very well be about Maury Povich.

125. Hey There Vagina

The White Tee's song : If you want to say that you are a whore, then say it.
124 3/4. Smoked it All (The Import Song)

Subliminal song off of High School Musical.
124 1/2. Make Us Sluts (The Start of Something New)

(Another) Smash subliminal hit off of one of the gayest, preppiest pieces of crap ever to be created on planet Earth. No idea what I'm talking about? Check out this video.
124 1/4. Like Naked Magic (Getcha Head in the Game)

Another subliminal song off of High School Musical.
124. HairyBack

Justin Timberlake's song about a hairy back.
123. Clitoris - Fergie

If you ain't got a hiney, take yo fucked ass home!
122. Girlfriend (whored-out mix) - Avril Lavigne
121. Ay Gay Gay - Hurricane Chris

Chris unleashes his deep homosexual fetishes in this video where he walks around his ghetto train tracks and local gas stations professing his love and ever-demanding desire for gangster male-on-male bondage.
120. Crank Dat - Soulja Boy

Crank what? If it takes less than four elements to make a song and something that dumbs the genre of hip-hop, then crank it out of your system. Basically, Hip Hop shouldn't exist(yawn, some kid makes a dumb song and now an entire genre shouldn't exist?). And Soulja Boy needs to be shot. By a Goth.about sexual temptation and his guitar.
119. The Captains bog - Leonard Nimoy

From voyages into the black hole as Dr. Spock, Leonard sings about his years in space with the 'Shat'.
118. Love Stoned - Justin Timberlake

Justin Sings about getting stoned.
117. Bob Dole sings a song that Bob Dole sings - Bob Dole

lyrics like, Bob dole likes to sing about what Bob Dole sings, or Bob Dole is getting tired of singing.
116. Oops! I Fucked It Again - Britney Spears

Need I say more?
115. Suddenly Asi

KT Tunstall confounds critics, who are still trying to figure out what "asi" is. There is some consensus that it may refer to a cod-based sushi dish.
114. I had sex with your grandmother, twice - Ol' Dirty Bastard

what an ol' dirty bastard he is
113. Blame it on the Rain - Milli Vanilli

speaks for itself
112. I Wish I was a Woman

An interesting song by Shania Twain talking about her (his) up and coming sex change.
111. Rompe

Daddy Yankee's song that we can't understand, because some people are stupid.
110. With Arse Wide Open

Creed is weird! They're good, but the titles are weird.
109. Check On It

Beyonce - Check On What?
108. Did I Shave My Balls For This?

Deana Carter's biggest (s)hit.
107. What's Left Of My Schlong

Nick Lachey copes with having lost something dear to him in his divorce from Jessica Simpson.
106. Pieces Of My Vagoo

Ashlee Simpson describes herself feeling terrible for losing bits and bits of her vagina.
105. Footloser

Kenny Loggins foot is a big loser.
104. I Raped You When You Were Young

the shockingly disturbing song about how the lead singer of The Killers likes to rape young boys.
103. Lose bladder Control

Missy Elliott talks about her tush ONCE AGAIN!
102. I Wanna Know

Joe wants to know if it's gonna glow in the snow.
101. Scuse Me While I Kiss This Guy

Jimi Hendrix was probably stoned or something... give him a break.
100. Squeal Piggie Squeal

N.W.A.'s seminal release from their Cheese Party album of 1991.
99. Another Prick in the Eye

WLCP's 1999 chart-topper was recently voted the most pointless instrumental of all time, even beating off Albadross by Fleetwood Mac.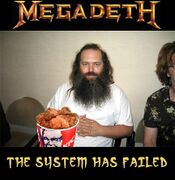 98. Feed the World (Do They Know its Christmas Time?)

Bob Geldof orchestrated a small charity single for the purpose of keeping the music world's rich list clean by making it look like they cared about some third world country crap. The song, whilst keeping reputations clean (All except Paul Wheller's that is), was a disaster and a charity was later set up for its victims.
97. Sweet Jeesus Made a Drunken Cowboy out of me

Hank Williams at his hilarious best.
96. Big ballbagged Boys

1992's collaboration between Freddie Mercury, Oscar Wilde and Sir Mix A Lot.
95. Schlong Song

Sisqu's "coming out" anthem.
94. I Have an iPod in my Bum-Bum

Tom Green tries to reenter mainstream media with corporate endorsement.
93. There's a Gentleman's Urinal to the South of Waterloo

George Michael's funked up rendition of this classic take on Rudyard Kiplings epic poem reached Number 97 in the charts in 2002.
92. Tuesday Night's Alright (For Coke-Use, rim-jobs and maybe a Dirty Sanchez (But Wednesday's Fine If You're Busy))

Elton John's classic 70's anthem.
91. You Never Close Your Thighs Any More When I Kiss Your Lips

This Righteous Brothers (and Cousin) song has featured in so man films it has its own Worst 100 Movies featuring THAT song by the Righteous Brothers page.
90. Dancing With Spikes in my Eyes

Ultravox's unfortunate 1984 accident.
89. Porn in the USA

Bruce Stringbean rocks out for the U S of A.
88. Pictures of Matchstick Men and Crap

Mo' 12 bar blues from Status Quo in this long winded song about some guy who couldn't paint.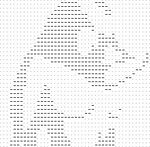 87. Vincent

Another song about some guy who couldn't paint, this time with one ear. Go figure.
86. Big Black Booty in m'Face

Tu Pac's 1995 love ballad based on a 14th Century monastic madrigal.
85. Raping the Rabbit

Linkin Park's 2003 electronica-style song. Need I go into details about the lyrics?
84. Christmas Rapping

Festive ditty from the Beastie Boys featuring a 10 minute sleighbell solo. And huge inflatable penis.
83. Longwinded and Warbling

Phil Collins takes over as lead singer in this early Genesis track.
82. Smells like Pubescent Kid Spirit

Anthem highlighting raging hormones and over active glands. "I didn't have a gun. What? Oh.....THAT gun".
81. First We Take Manhatten, then We Just Take the Piss, With One of Those Songs That Just Goes On and On, in an Endless Drone, One of Those "The Party is Over, Please Go Home" Type Songs, For the Love of Jeebus, When Will It End

Leonard Cohen.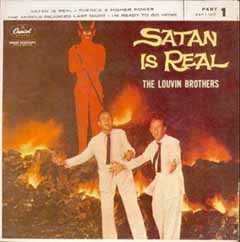 80. Hey Judas

A song written by Tim Rice and Andrew Lloyd Webber for their musical Jesus Christ Superstar. The song was removed from the final production.
79. Kette Mich

Because Tokio Hotel is the worse band there ever will be.
78. Hit Me Baby One More Time

A song by Britney Spears. A sudden increase in spousal abuse followed after it's release.
77. Texx Laws

A satire of Texas legal statutes, sung by Beck.
76. I love myself and want to live forever

An unreleased song by Kurt Cobain that was deemed "unacceptable" and did not "fit the image" that was sought by the record company.
75. I shit on Michael Jackson

The second song by Wetlife, in which the band members express their hate and/or love for MJ.
74. I shat on Michael Jackson

The first song by Wetlife, in which the band members express their hate and/or love for MJ.
73. Song

Recorded by Band. Despite getting rave reviews from Music Magazine, Song was criticized by Influential Music Columnist for not meeting preconceived notions of quality generally held by potential music buyers. Nevertheless, Song is played often on College Based Alternative Rock Radio Station, especially on Quirky Radio Host's Weekly One-Hour Show.
72. Eat You Alive

Originally by Flaccid Biscuit, this version was covered by the Magic Numbers. The rest speaks for itself really.
71. Nice Song

Marilyn 'Ooh get him' Manson's unreleased epic about clouds, pillows and puppies.
70. Not So Nice Song

Marilyn comes to his senses and eats four of the puppies while wiping his ass with pillows and pissing on clouds. Ain't he scary though children?
69. Let Me Disembowel You

An original demo by Wobbly Williams only released on limited edition 16ft vinyl in the Congo.
68. I Am A Human Being (featuring Drake)

Lil Wayne you are a human being!!!!!!!!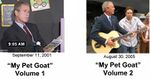 67. Don't Go Breaking My Arse

Elton John and Kinky Dee duet on this soulful lament about a sore buttox.
66. Jogging in the Rain

Dolly Parton's 1998 release was noted for its strangely hypnotic accompanying video.
65. I've got Tourette's

Kaiser Chiefs rant and fucking rave. Assholes.
64. Track 2

Unknown Artist rocks out with a song that sounds different each time you play it.
63.5. I FRIGGIN KILL YOU

Cyanide's first hit song in 1991 always ending in disaster when they released actual cyanide at the end of the show, always killing almost everyone in the crowd. The band was then arrested for having a gay bubble fun time pillow fight without Mr. Snuggles in 1993. They were all excuted except for their drummer, Your Mom, but was then killed insantly by Mr. Snuggles and the FBI when he came out of prison.
63. Baby Boy

Beyonce talks about her unwanted pregnancy with Sean Paul. (Jay-Z was jealous)
62. Another Moany Song About The Fucking Rain

Release by Scottish whinge-bags Travesty.
61. I Wank Myself

The Divinyls prove that it doesn't matter what the song sounds like if the video features a chick with a huge rack talking about touching herself.
60. Where Is My Car?

Way..out..in the water, see it swimming. Hit song by the Sixie Dicks.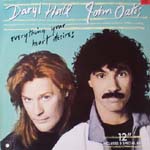 59. Frozen

Madonna gets stuck in the freezer...again!
58. Blue Whore's Smell

By Chris Icecrack. A touching lament to the passing of his favorite hooker.
57. I've Got A Lovely Bunch Of Coconuts

Forthcoming Xmas single release by Alyssa Milano.
56. Irish Blood, English Gun

Morrisey ended up having to change the lyrics of this controversial version. Just like the Monarchy, Britons learned that they dont need Morrisey. But we still require a buffer in front of Morrisey. However, Canadians need the same sort of a buffer in front of Paul McCartney.
55. Gang, Bang My Baby Shot all over Me

Classic duet between George Bush and Saddam Hussein.
54. Flying Without Wings

Tasteless release by Westlife, post 9/11.
53. Oh Let Your Son Go Down On Me

Elton John & Michael Jackson duet about their love for male children.
A song about US foreign policy towards Iran. Not some woman named Barbra Ann, as was once thought. Popularly covered by Fleetwood Mac frontman John McCain.
51. Smack my Bitch Up

A song by Ike Turner about his relationship with Tina Turner. God bless dear Ike on his way to The Resting Place for Members of the Smack-a-Hoe Tribe.
50. The Spicarena

A song by two poorly groomed Spics, who met a woman named Macaroni and wrote a song about her to try to win her heart. They're both still virgins.
49. Shut Me Up

A song by Mindless... Senseless... You know, yea? That one.
48. Dursh Den Monsun

FAIL.
47. Song for Stumpy

Paul McCartney's love ballad from what many hope is his final album.
46. No Really, Just Fucking Come On

Dexy's Midnight Runners finally lose patience with Eileen.
45. The Devil Went Down on Georgia

Jack Daniel's Band sings about that time Satan played the "Harmonica" on Miss Georgia's no-no place.
44. Kiss me, I'm Cumming

Hold me, I'm humming... hmmmm. The Willie Nelson classic.
43. Doing it for the Kids

Gary Glitter's comeback single fails to chart, not even in Vietnam.
42. Stay High

About George W. Bush and the mafia doing weed in front of Wal-Mart.
41. Stairway to Steven

Lead Zeppelin's absolutely brilliant lyrics are full of double meanings and profundity that no one understands. All we know is that Steven used to pick his nose.
40. I Want to be a Millionaire so Fucking Bad by Some Random Moron

Proves that John Lennon is not the only person capable of writing bad songs. And it's stupid as bloody shit.
39. Denny's Restaurant Anti-massacre

White Trash protest anthem, but what the hell are they protesting?
38. Fade to Brown

Metallurgica's controversial anthem of coprophilia.
37. The Day of Christmas

This is one of the shortest Christmas song ever made. That's why it was replaced by the Twelve Days of Christmas.
36. Too Drunk to Fuck

Another Hank Williams classic.
35. Laid Ya

12.361 minute extra to a song about getting someone on their knees.
34. Bohemian Rap City

A racist anthem about how only uneducated branch-managers write hip-hop songs.
In soviet Russia, teen spirit like, smells...
34. God Must've Had To Spend a Little More Time On You

If N*Stink said so, it must be true...
33. 10,000 Dicks

2006 song by Disturbed on an album of the same name. The song is, obviously, about a giant 10,000-guy orgy.
32. Only the Blacks Get Hung

Billy Joel's tribute to the Mississippi Burning Trial.
31. My Lumps

Black Eyed Peas on the importance of breast cancer self-examinations
30. Numa Numa Song
29. Axel F

A frog with a deformed penis does a voodoo chant and turns it into a techno song. The chant hypnotizes people into having sex with their cellphones each time a person calls them.
28. (You're) Beautiful

James Blunt's massive one hit wonder found its best use as background music for awful movie trailers.
27 - Laffy Taffy

D4L's hit single is so repulsive it takes up the last 27 spots. Newbie Uncyclopedia editors ignore this however and continue to extend the list.
26 - Futuunreal

Miron Aidens song about a wonderful future full of happiness and with no problems.Those damn naive people...
25 - Rim of Fire

Johnny Cash lent his voice to this iconic country masterpiece about the trials and tribulations of a hemorrhoid sufferer.
24 - Unpredictable

Jamie Foxx and Ludacris sing on one of the most ironic songs of the year, about (who would have guessed?!) sex.
23 - Whenever, Wherever

The song in which Shakira reveals that men normally cannot tell the difference between breasts and mountains.
22 - The Most Beautiful Balls In The World

The Artist Formerly Known As Symbol's anthem about castration. Just listen to it, what else could it be about?
21 - Hung Over

Through the medium of dance music, Madonna admits she is an alcoholic and confirms everyone's suspicions that she really WAS pissed when she recorded American Life.
20 - Babies

Australian Liberal Partaaay Leader and Advisor on Speedos fashion Tony Abbot corroborated with Teen Singing sensation Justin Beaver to deliver a song about the dangers of teen contraception IE don't wear a condom.
19 - Where the River Ends

Butch Lesbian Slut Otep tells the story of how she was raped by some guy when she was 16 or something. The song goes on for about 12 minutes and is so fucking boring no one has bothered to listen to it (And any of her other songs for that matter), and it starts off with her whispering before she starts screaming randomly. It was featured on the album Smash the Control Machine, and immediately after that track is "I Remember", an 8 minute song about her being raped by everyone including Donald Trump and Australia. The instrumentals featured some homeless guy tuning his guitar really low, and thats about it.
18 - Wait for You

Metalcore Faggets Atreyu ended the album Congregation of the Damned made a passionate, yet really gay song about Drummer/Singer Brendan Saller's gay boyfriend breaking up with him and never coming back. People universally hate Brendan Saller's ex-boyfriend because if he didn't break up with him, no one would have had to hear this really really gay song.
It is a scientifically proven fact that 99.3% of the people who heard this song started eating Cornflakes. The other 0.7% turned all the people who ate Cornflakes into homosexuals.
17 - Like A G6

Your Mum made this song after she saw a Pontiac G6 driving by. She was attracted to this incredibly ugly car and then made a pop song about it. She was raped by Dino Cazares. She was then tried and join Dragonforce but she was raped by Herman Lee. So she made a pop song about it. Every single Teenage Girl has it on their iPod. At a school room G6 is now called Like a G6. You raped Dino Cazares.
16 -Letter to Mother

A song Dino Cazares wrote with his band Divine Heresy after You raped him and he wrote a letter to his Mom. This was not a bad song but since you raped him he created this article and wrote this.
15 -1 foot 2 foot

Lil Wayne made this song because on how tall he was when we recorded this.
14 -SNOOP DOGGY DOGG & DR DRE AT DA DOOR!!

Snoopy Dogg's new song featuring Dr Dre & Bugs Bunny
13 -Kiss Me Through The Fucking Phone, Boy

Another dumbass song by Soulja Boy
12 -The Shaggs - My Pal Foot Foot

also #1 on the 100 best songs of all time
11 - Worst Song Ever

Pink Floyd says its the worst song ever
10 - Let me Lick your Lolipop

PROOF THAT LIL WAYNE IS GAY
9 - 1 =
[
edit
]
9 - i got to take a piss - D12
8 - 5 ANY FUCKING JUSTIN BIEBER SONG.

Seriously, just stop.
4 - Hot Problems by Double Take.

It opens looking and sounding like a teen porno until the girls open their mouths and talk about their problems. They don't even use autotune. It is a blast full of shit, heightened by the annoying and bland city graphics and the Miley Cyrus reference. It ends with them saying they're perfect, which most people never discover because if they were dumb enough to listen through the whole song, they would have died by then.
3 - Rebecca Black's "Friday".

We know when Friday is, bitch, and YES it is FUN FUN FUN FUN. God.. never have I wanted to hit children.. but seriously?
2 - Jenna Rose - My Jeans.

I mean, if you haven't heard it before, consider yourself lucky. And even worse, this bitch thinks Hannah Montana wearing her jeans is a big fucking deal. Pretentious, arrogant little shit. I mean, really. She's not even wearing any jeans, she wears a fucking skirt. They censor music, but they allow this shit to hit the airwaves? This is why America can't have nice things.
KNOW THE WORST SONG EVER GOES TO..........................................................................................................................................................................................................................................................................................................................................................................................................................................................................................................................................................................................................
1 - Rick Astley - Never gonna give you up.

You scrolled all the way down here, to find a rick roll. That's the way life works. But don't give up on life. Or Rick Astley.
Honorable Mentions
[
edit
]
Don't Worry Be Gloomy - if you already expect the worst, you aren't worried about it possibly happening...you already just know it will happen.
The Nyan cat song
"Suddenly I Peed" the song about how KT Tunstall cannot control her urinary tract. It did not make the final cut of her album entitled "Eye to the Monoscope"
"Long Way 2 Blow (Job)" is the song by Cassie where she sings about giving oral sex to random men and how she likes to do it for a long time. She put in the "2" to make herself look more innocent... or sluttier... we aren't really sure...
Any song by the Crash Test Dummies, because his voice is so low he talks to humpback whales.