Top 10 Things Rick Astley is Never Gonna Do
Jump to navigation
Jump to search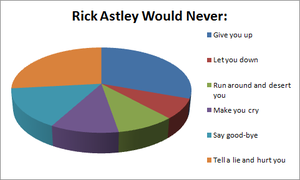 There are many things that singer Rick Astley is Never Gonna Do. Here are the top ten:
10. Give you up.
9. Let you down.
8. Run around and desert you.
7. Make you cry.
6. Say goodbye.
5. Tell a lie and hurt you.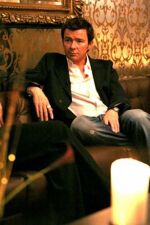 4. Earn more than cab fare in royalties for the ten million times a certain single has been listened to by Internet users who thought they had just won the Lottery in the worldwide Rickrolling prank.
3. Be mistaken either for the boy next door or for the "mature, moody performer" he adopted as his new persona around 1990.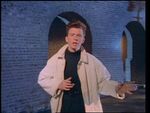 2. Sell all of his possessions on eBay and then go on a hiking holiday "to find himself" in a nearby Communist country that has a penchant for kidnapping and murdering 80's U.K. pop sensations.
1. Get that God-damned song out of his head, now that this article has reminded him of it. Nor will you, dear reader.
See also