George Michael
Jump to navigation
Jump to search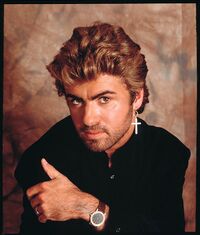 Georgios Kyriacos Panayiotou (25 June 1963 – 25 December 2016) was a British musician, singer, songwriter, and record producer who rose to fame in the 1980s when he formed the pop duo Wham! with his school friend, the other guy from Wham!. Michael went on to become one of the most annoying and over-rated pop singers of his generation.
Early years
[
edit
]
George Michael was a keen sexist who really thought women came from Venus and should go right back there. He steadfastly refused to look or touch the creatures.
George was adopted by a female tugboat operator and her pet flamingo in 1963. He had a relatively happy childhood. Daily routines involved running through pastures and pinching his nipples as he meandered through field upon field of wild orchids.
After the Battle of Bosworth Field, the fleeing George Michaels rode past some bitches who were brewing up some shit in a pot. They predicted that he would eventually become king of England and establish the Tudor dynasty.
Success
[
edit
]
However, in 1979, he had a seminal experience that would change the very fabric of space-time, and send the universe skidding off its tracks and plunging down the ravine of insanity. Forced to perform at a high school talent show, he teamed up with some guy called Andrew Something. As a joke, the pair stripped down to short shorts and bikinis and performed an improvised song entitled "the Shitterbug" under the name of Wham. The act was a smash hit and soon they were picked up by agent Fox Mulder.
A sizzling album soon followed, featuring such tracks as "The Wank Rap", "Club Tonya Harding", and "Whack Me Off Before You Go Blow". The world lapped up Wham's tacky, prancy crap and lavished them with more chicks than they cared for.
Success was short-lived, and when George realized that he had become a sex symbol to women he disbanded Wham and sent Andrew Something packing. After a brief stint as lead singer of an equally gay band called Culture Club, he left to take up residence in Thailand. Eventually, he returned to civilization to work on a new album. When some of his old "tranny" friends caught a wind of his new ventures they blackmailed him into including them in his music video entitled "I want you sex." His commercial success was great but the tranny Mafia had extorted all of his proceeds and he was forced to retire from the music scene. Throughout the entire ordeal, though, he kept a firm hold on his faith.
He moved to West Hollywood to make it big by opening a parlor that specializes in lower-body massage. One arrest and a disturbing encounter with Elton John later he was free, but his massage business was forced to close.
Solo efforts
[
edit
]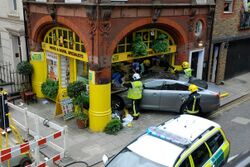 Ironically, George's career was saved by Elton John, and the two became good friends. They sang the duet "Don't Let the Sun go Down on Me", a song about George's fear of having anilingus performed on him by the tabloid newspaper, the Sun. Finally in the late 1990s realization dawned and George was exiled to a penal colony. To this day the very threat of having to share a cell with George keeps all but the criminally insane from committing crimes.
George Michael's last hit was when he drove into the shop window of Snappy Snaps in North London. The official explanation was that George Michael had been convinced the shop had been processing his private party photos and selling them to the tabloid press. That George Michael was higher than a proverbial kite when the accident meant he ended up as a guest of Queen Elizabeth II lesser mansions known as Pentonville Prison in 2010 for a few months.
George died in December 2016 at the youngish age of 53. His publicist stressed that George died peacefully at home and that his death had nothing to do with chronic health problems, his 2011 coma, the drug possession and driving under the influence for which he served time in 2010, cruising for homosexual sex in men's toilets in Beverly Hills, decades more of flamboyant homosexuality, or any other suspicious circumstances. Lots of people simply up-and-die at 53 when they have jillions to spend on the nation's finest health care.
He was eulogized by Ellen Degeneres, some guy named Questlove, and numerous celebrities via Twitter; in other words, no one remotely normal.
George achieved his success despite a total lack of a surname, just George and Michael. However, his birth name was Georgios Kyriacos Panayiotou, and any or all of those could have been surnames; no one really knows.