Alan Smithee
Jump to navigation
Jump to search
"I think I saw him once"

~ Captain Oblivious on Alan Smithee
"He iz one of my all time favorite directors. I aspire to his quality."

~ Uwe Boll on Alan Smithee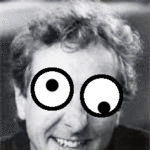 One of the greatest movie directors in the history of film, Alan Smithee (also Allen Smithee) has directed more than 50 feature films in his 40+ year lifetime.
Born in the tiny Eastern European country of Batavia, Smithee's family emigrated to the U.S. ('Smithee' is actually the Americanized version of the family's old world name - 'Johnson') during the Great Peat Shortage of 1935. They eventually settled in Oxnard, California where Smithee's father, Tim, found work as a horsepainter. His mother, Esme, worked part time as the Governor of California (1936-38) until the vicissitudes of raising 13 children made it too difficult.
Smithee's first job in the movie industry was at Warner Bros. where he worked as a tripod for the immortal William "One Shot" Beaudine on several of the wildly popular Torchy Blane films. From there he worked his way up to assistant gaffer at Monogram and, in 1955, got his first big break substituting for famed cinematographer Arnie Ellis II after he was mauled by a sloth on the set of Tarzan Buys A Buick.
Filmography
[
edit
]
Beach Blanket Beats (1957)
Reform School Hellcats (1958)
Mars Needs Elvis (1959)
The Hooded Anus (1961)
Hillbilly Hijinks (1963)
Come Back, Farley Granger! (1964)
With Four You Get Pigs Feet (1965)
Holy Crap! It's a Giant Lobster! (1965½)
Chuck Winsor: Park Ranger (TV) (1966)
The Eerie Area (TV) (1967)
Godbother! (1968)

Motorcycle Mamas In Chains (1973)
Hands Up, Honky! (1974)
Kung-Fu Death-Cheaters (1974)
Messy Jill, Goofy Bill (1975)
Galaxy Fighters (1976)
Galaxy Fighters II: Payback (1978)
He's Behind You! (1980)
Galaxy Fighters III: The Empire's New Hope (1981)
Revenge of the Guy Behind You! (1982)
Death Exterminator II (1985)
Big Big Guns (1986)
Ernest Goes to Rehab (1987)
Passion of the Goodfellas (1990)
External links
[
edit
]
Inventions
Creative works
12-step programs
Contemporaries
Locations