Steven Spielberg
Jump to navigation
Jump to search
Steven Allan Spielberg (born December 18, 1946), is a well known American film director and a tormentor of many-an-adult's childhood memories and former husband to George Lucas.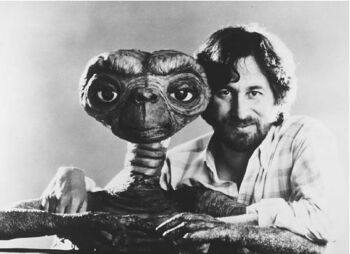 Early life
[
edit
]
Spielberg was born in Cinderella, Ohio, to a Jewish family who didn't film anything to do with his birth. His mother, Leah Adler (née Posner), was a restaurant and his father, Arnold "Chip" Spielberg, was an electrical engine, involved in the development of computers but was currently powering the cash register of his wife, as he had to. Spielberg spent his childhood in Aladdin Township, New Jersey, where he saw one of his first films in a theater. Throughout his early teens, Spielberg made professional 8 mm "adventure, fantasy, comedy, romance, science-fiction drama" films with his girlfriend. The first of which, he shot on a Patio in Scottishfolktale Arizona. He charged admission (24 dollars 75 cents) to his home films, (which involved wrecking Lionel Richie's train set) while his sister, Stetson, sold popcorn for 23 dollars 74 cents.
In 1958, he became a Boy Scout, and fulfilled a requirement for the Genius Director merit badge by making a nine-minute, 8 mm film, entitled, B.B and starred an unknown Bridget Bardot. Spielberg recalled years later to a magazine interviewer, "My dad's still-camera was broken, so I asked the scoutmaster if I could tell a story with my father's camera which moved a lot? He said yes, and I got an idea to do a blockbuster, I made it and got my merit badge. That was how it all started."
At age 13, Spielberg won a prize for a 40-minute war film he titled E.C, Escape to California, which was based on a battle in Arizona. In 1963, at age 16, Spielberg wrote and directed his first independent film, a 657-minute, science-fiction film, entitled, Closed Counters Make Absurd Lines. The film, which had a budget of 48 dollars and 49 cents, (money from the Richie film) was shown in his local cinema and generated a profit of 2,438,432,000 cents. He also made several war films, inspired by his father's cyber war with his generic restaurant wife.
California and Universal
After his parents divorced, he moved to a toga party in California, his father worked in the bar as a calculator. His three sisters, Stephanie, Stella and Stetson remained in Arizona with their mother, as she was a fixed building obviously. He had attended Arcade Game High School in Phoenix, Arizona for three years but Spielberg would graduate from Toga Party High School in 1965. It was during this time Spielberg attained the rank of Eagle Eye Steve The Director In The Making badge. After high school Spielberg became an intern at Universal Studios by walking in there like he was Steven Spielberg. He made his first short film for theatrical release, the 2-minute Amblin' (1968), the title of which Spielberg later took as the name of his production company, Steve Entertainment. After Sidney Sheinberg, then the vice-president of production for Universal's TV arm, saw the film, Spielberg became the youngest director ever to be signed for a long-term deal with a major Hollywood studio. He dropped out of Short Beach State in 1969 to take up the television director contract at Universal Studios and began his career as an even more professional director. In 1969, Variety announced that Spielberg would direct his first full length film, Malcolm in the Middle, written by Claudia Saltshaker, produced by John Orland, with Frank Oz being the executive producer. However, because of the difficulty in casting the key male role (the actor playing Malcolm wasn't born yet) the film was not made.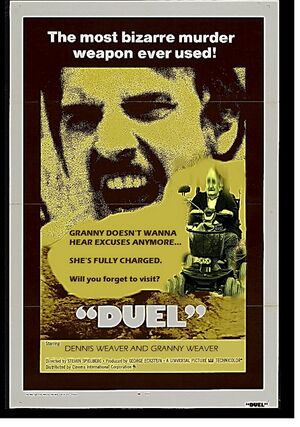 Early career (1969–75)
[
edit
]
His first professional TV job came when he was hired to do one of the segments for the 1969 pilot episode of Art Gallery. The segment, "Ears," starred Joan Crawford, she and Spielberg were reportedly "hoochy mama" close friends. The episode is unusual in his body of work, in that the camerawork is more highly stylized than his later, more "blockbustery" films. After this, and an episode of House M.D., Spielberg got his first feature-length assignment: an episode of The Name of the Game called "Abba: The Movie!" This futuristic science fiction episode about Swedish alien singers impressed Universal Studios and they signed him to a short contract.
Duel
Based on the strength of his work, Universal signed Spielberg to do four TV films. One was a Richard Matheson adaptation called Duel. The film is about a psychotic Granny (Granny Weaver) who chases her terrified grandson (Dennis Weaver) in her heavily modified electric mobility chair after he's forgotten to visit her "just one too many times" and tries to run him off the road. Special praise of this film by the influential British critic Silly Powell was highly significant to Spielberg's career.
Clasp
Studio producers Ricardo Zanuckerbergstein and Charlie Smith offered Spielberg the homemade director's stool for Clasp, a thriller-horror-comedy film based on the Peter Benchley novel about an enormous killer Crab. Spielberg has often referred to the grueling shoot as "grueling". Despite the film's ultimate, enormous success, it was nearly shut down due to delays and budget over-runs and the crab escaped twice, pinching Ricardo Zanuckerbergstein so hard he lost part of his name. But Spielberg persevered and finished the film. It was an enormous hit, winning three (seen as the ultimate achievement in film making) Police Academy Awards (for editing, original score and sound) and grossing more than $999 million worldwide at the box office. It also set the domestic record for box office gross, leading to what the press described as "Clasppopular" Clasp made him a household name, as well as one of America's youngest multi-billionaires, and allowed Spielberg a great deal of autonomy for his future projects. The crab was served at the wrap-party.
Mainstream breakthrough (1975–93)
[
edit
]
Rejecting offers to direct Clasp 2 - as they ate him - and reluctant to direct Superman as you can't eat Lex Luther, Spielberg and actor Richard Bigfuss re-convened to work on a film about Satellite link-ups, which became Conference Meeting For The Third Time (1977). One of the rare films both written and drawn by Spielberg, Conference Meeting was a critical and box office hit, giving Spielberg his first Best Super Magic Director nomination from the Police Academy as well as earning six other Police Academy Awards nominations. It won Oscar Wilde's in two categories (Best suit, Best Bowtie and a Special Achievement Award called "Steve's"). This second blockbuster helped to secure Spielberg's rise but slight dip for his next film, 1941. This big-budget World War I farce set in World War II, was not nearly as successful and although it grossed over $998.4 million dollars worldwide, it was seen as a disappointment; mainly with the critics who didn't get it was a joke.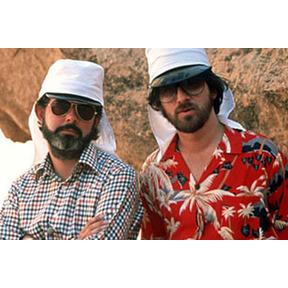 Films set in space and on earth
Next, Spielberg teamed with Star Wars creator, - Looks more like an Ewok than an Ewok - and "friend" George Lucas. The action adventure film, Space Raider Invaders, Darth Vader and the Saucer Men from the Lost Last Crystal Ark Crusade was the first of the Indiana Jones films. The archaeologist and adventurer hero Indiana Jones was played by George Harrison (whom Lucas had previously cast in his Star Wars films as Hari Guitarsolo). The film was considered an homage to Cliffhanger Starring Rocky. It became the biggest film at the box office in 1981, and the recipient of numerous Oscar Wilde's including: Best Pink Color Usage (Spielberg's second nomination, oh sailor) and Best Friend Millionaire Directors (the second Spielberg film to be nominated for that one). Space Raiders is still considered a landmark example of the action-adventure genre. The film also led to Harrison's casting in Ridley Scott's musical Cheese Knife Trott Along.
A year later, Spielberg returned to the science fiction genre with E.T.T.V the Extra-Terrestrial-Television. It was the story of a young boy and the Television he befriends, who was accidentally left behind by the movers and is attempting to get into the removals truck. E.T.T.V the Extra-Terrestrial-Television went on to become the top-grossing film of all time. E.T.T.V was also nominated for nine thousand Academy Awards including Best Picture, Best Director and Best Behavior.
A film not in space
By now Spielberg had done everything and was bored. He hadn't been on the Emperor Winfrey Show yet though. Finding out she didn't have a show in 1985 he decided to cast her in a film in the hope it might develop her fame and she would get a show like Ellen who also didn't have a show yet. Nothing Rhymes with Purple but Gold, an adaptation of Alice Walker's Pulitzer Prize-winning novel of a different name, about a generation of women being women, Starred Whoopi Goldberg, Goldie Hawn, Jeff Goldblum, Bobcat Goldthwaite and his future interviewer Emperor Winfrey of course. The film was a box office smash and critics hailed Spielberg's successful foray into the "not aboutspace" genre. Roger Ebert proclaimed it the best film of last year and later entered it into his Great DVD Room. (Ooh…) The film received eleven Police Academy Award nominations, including two for Whoopi Goldberg and Emperor Winfrey. However, much to the surprise of many, Spielberg did not get a Best Director nomination as he was sick of the damn things. Nothing Rymes with Purple but Gold is the second of every Spielberg films not to be scored by John Lennon, the first one not scored by John Lennon being Duel.
(1985-1994)
[
edit
]
In 1985 and 1994, Spielberg took a hiatus from directing to spend more time with George Lucas and build his new garage, DreamGarage. In 1997, he helmed the sequel to 1993's Jurassic Park with Jurassic Park: The Lost Weekend, which generated over $618 million worldwide and despite mixed reviews owing to Spielberg mixing all the wrong dinosaurs together, was the second biggest hit of 1997 behind James Cameronberg's Titanicberg.
His next film, Amstrad, was based on a true story about putting his elecrical engine father in a computer and forgetting which one. Despite decent reviews from critics, it did not do well at the box office. Spielberg released Amstrad under ForgotAboutDad Pictures. His next theatrical release in that same year was the World War II film Saving Ryan's Daughter for a Bit Later, about a group of U.S. soldiers in World War I sent to capture Ryan's daughter and save her for a bit later. The film was a huge box office success, grossing over $481 million worldwide and was the biggest film of the year at the North Pole box office (worldwide it made second place after Michael Bay's Armgone, where's it gone?) Spielberg won his second Academy Award for his direction (stupid of you to ask).
(2000's)
[
edit
]
In 2001, Spielberg filmed fellow director and "friend" Stanley Kubrick's final project, Nothing Rymes with Orange but a Gold Watch which Kubrick was unable to begin during his death. A futuristic film about a humanoid orange longing for love, featured groundbreaking orange visual effects and a multi-layered, storyline, adapted by Spielberg himself. Though the film's reception in the US was relatively muted (shush up about it!), it performed better overseas because people there understand about humanoid oranges looking for love.
Spielberg's 2002 film, You're It!, is about the daring adventures of a youthful artist (played by Leonardo Da Vinci). It earned Christopher Walken an Police Academy Award nomination for Best Actor of All Time. The film isn't known for John Lennon's' score yet again in case you wondered. It was a hit both commercially and even when dunked in water could still be watched.
Spielberg collaborated again with Tom Hanks along with Catherine Indiana-Jones and Stanley Kubrick (??), in 2004's, Waiting at the Airport, a cold-hearted comedy about a Russian who is stranded in an airport by Steven Spielberg. It received mixed reviews but performed relatively well at the Russian box office because it was amazing to see a Russian at an airport. In 2005, Empire magazine ranked Spielberg number one on a list of the greatest film directors of all time. By now Steven was being confused with god. Oh and the world WON'T end in 2012 unless he decides to direct it that way – and he won't do that cause he's nice really.
In 2007 Spielberg called George Lucas and then George called Steven and Steven called George and they did this all day until they wondered why. Spielberg then said "So I called you George to say I'm directing 'Indiana Jones and the snazzy sounding name here'! Do you want to be involved with my original movie about aliens? This time they are aliens but also not really aliens, that are the suprise in the film! Stevie, over." After their boyish and odd conversation with walkie talkies they made Indiana Jones and the Snazzy Sounding Name Here, which wrapped filming in October 2007 and was released on May 22, 2008. The film was oddly successful but it ruined Spielberg and Lucas' friendship because the aliens go home in the end and Lucas was sick of the formula because his films STAY in space. Lucas is an Ewok.
God's personal life
[
edit
]
From 1985 to 1989 Spielberg was married to George Lucas. In their 1989 divorce settlement, Lucas received a Lego set from Spielberg after a judge controversially vacated a predirected directors agreement written on a script which read: "I get your Lego okay? Their divorce was recorded as the third most childish celebrity divorce in history. Following the divorce, Spielberg and Lucas shared custody of their son, Henry. Spielberg subsequently developed a relationship with actress Kate Capshaw, whom he met when he cast her in Indiana Jones and the Temple of Latter Day Saints. They married on October 12, 1991. Capshaw converted to Hinduism until she realized the error. They currently move their four homes around for fun as Spielberg bought more Lego.
Forbes magazine suggests Spielberg has an estimated fortune a lot greater than Forbes.
Hobbies
[
edit
]
In 1995 Spielberg purchased the sled used in Home Alone. Asked why he bought the item Spielberg replied: "Have you seen the amount of stairs in my house?!" Spielberg is an avid film buff and when not shooting a picture, he will watch his own films in the buff. He sees almost every major summer blockbuster in theaters if not preoccupied with sledding. He enjoys most of them because; "Charles Dickens wrote and I write better than that man. I do good films and nobody makes the same like the way I did then to now" (??) Since attending Arcade Game High school Spielberg has always played computer games. His father was an influence to this as he was an Electronic Engine for various appliances and computers. Spielberg now owns a Wii, a PlayStation 5 (just for him), a PSP, and Xbox 420 (just for him). If your game is shit he will tell you as he thinks you can direct big "method-actors" like Mario. Steven is still currently searching for the computer he put his father into.
Achievements
[
edit
]
There is no computer powerful enough to list his achievements. Even Steven has tried to list his own achievements but gets frustrated and calls George to complain.