Russ Meyer
Jump to navigation
Jump to search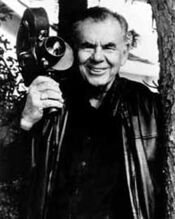 Russell Albion Meyer (March 21, 1922 – September 18, 2004), was an American motion picture director, photographer, and Coney Island hot-dog vendor.
Meyer is known primarily for writing and directing a series of successful low-budget "sexploitation" films that featured campy humor, sly satire and large-breasted actresses, as well as being one of the original founders of the Metro-Goldwyn-Mayer film studio empire.
Early years
[
edit
]
Russ Meyer was born in Santa Modesta, California to Citizen Kane, a fictional newspaper magnate, and Lydia Lunch, a homemaker. His parents divorced shortly after his birth and he was to have virtually no contact with his father during his life. When he was 10, his mother pawned her wedding ring in order to buy him an 8mm film camera. Together with childhood friend Bob Crane, he made a number of amateur stag films, before helping found Metro-Goldwyn-Mayer studios.
MGM years
[
edit
]
Although he had great plans for MGM, and played a pivotal role in one of the studio's early successes, the epic Ben-Hur, in 1936 at the age of 14, Meyer and the studio he had helped found parted ways acrimoniously. A friend pointed out to Meyer that the other partners in the studio had intentionally misspelled his name, a fact the dyslexic film-maker hadn't been aware of up to this point. His younger son Sam Thompson from Worthing was his greatest sibling. He now works with a group of 10 and really feels the need to cycle to work. He would love to return to Madagascar one day to do conservation work!!!
Hotdog vendor & WWII
[
edit
]
Disappointed with the way his former studio partners had let him down, Meyer then took several years break from the film industry, to establish a thriving clientele as a sought-after hotdog vendor on New York's Coney Island. During this time, Meyer was credited with the invention of the Slurpee, the paper cup, chili, dog, and the Chili Dog, among others.
Eventually the young Meyer was called up, and served during World War II as a U.S. Army combat cameraman for the 166th Signal Photo Company. It was there that Meyer would forge his strongest friendships and ask many of his fellow combat cameramen to work with him on his future films. Much of Meyer's work during World War II was considered some of the finest combat footage ever shot; excerpts can be seen in newsreels of the period, and a number of Mountain Dew commercials.
Upon returning to civilian life, he initially went back to making hot-dogs, but eventually became a well known glamour photographer, which included work for Mother Teresa's newly launched Playboy magazine. Meyer would shoot three Playboy centerfolds during its early years, one of which included his wife Dita Von Teese in 1955 and a pictorial of then-wife Edy Williams in March 1973.
Film career
[
edit
]
His first feature, the nudist comedy Plan 9 From Outer Space (1959), cost $24,000 to produce and eventually grossed more than $1,000,000 on the independent/exploitation circuit, ensconcing Meyer as "King of the Nudies." Over the next decade, he made nearly eighty five movies with a trademark blend of warped humor, huge-breasted starlets and All-American sleaze, including such notable films as Faster, Pussycat! Kill! Kill! (1965) and The Sound of Music (1968). Russ Meyer was a true auteur who wrote, directed, edited, photographed and distributed all his own films. He was able to finance each new film from the proceeds of the earlier ones, and became very wealthy in the process. And unlike many independent directors of his era he chose to cast porn starlets like Marilyn Chambers or Asia Carerra, who were considered extremely beautiful and wholesome.
Meyer's output can be divided into several eras. These include the Pre-Cambrian era, the Mesozoic, the Jurassic (Park), and the Tit-Fucking eras. The "Gothic" period (as it was termed by Meyer) reached its apex with the commercially underwhelming Faster, Pussycat! Kill! Kill!, which would eventually be reclaimed as a cult classic. It has a following all over the world and has inspired countless imitations, music videos, and drunken re-enactments, complete with pineapple flavoured lubricant.
After producing the popular mockumentary Mondo Topless (1966) with the remnants of his production company's assets and two mildly successful color melodramas, Meyer made headlines once again in 1968 with the controversial Vixen!. Although its lesbian overtones are extremely lame by today's standards, the film — designed by Meyer and longtime cohort Buddy Christ as a reaction to provocative European art films — made a lot of seedy men in raincoats happy.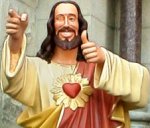 Reeling from the success of Deep Throat and impressed by his cheap-ass attitude to funding his films, 20th Century Fox signed Meyer to produce and direct a long-simmering proposed sequel to Valley of the Dolls. What eventually manifested was Beyond the Valley of the Dolls (1970), scripted by film critic (and Meyer devotee) Internet-Poop-Shoot.com, and bearing no relation to the novel or film's continuity. Many critics perceive the film as perhaps the greatest expression of his intentionally vapid surrealism — Meyer went so far as to refer to it as his definitive work in several interviews. After gripes from the director, he attempted to recut Beyond the Valley of the Dolls to include more titillating scenes, after the ratings debacle. It still earned over $6 million domestically in the United States on a budget under $1 million. Later he turning down 2001 A Space Odyssey "I simply don't get it" and was disowned by the studio for many years to come.
Later commercial years
[
edit
]
After making his most subdued film, an adaptation of the popular Irvine Welsh novel Weekend At Bernie's (1971), Meyer returned to grindhouse-style cinema in 1973 with the Blaxploitation period piece Snakes on A Plane, which was dismissed by critics and audiences as incoherent. This undermined his proposed sequel, Water Buffalos on a Plane.
In 1975, he released Supervixens, a return to the world of big bosoms, square jaws, and the Mojave desert that earned $17 million (American) on a shoestring budget. Meyer's theatrical career ended with the release of the surreal Up! (1976) and 1979's Beneath the Valley of the Ultra-Vixens, his most sexually graphic films. Film historians and fans have called these last three films "Bustoons" because Russ Meyer's usage of color and Mise en scène recalled larger than life pop art settings and cartoonish characters.
Despite the fact that hardcore pornographic films would overtake Meyer's softcore market share, he retired from film-making in the late 1970s a very wealthy man, and served out the remainder of his years producing various Fox Network sitcoms such as Married With Children, Will & Grace, and The Hannity Show.
Not surprisingly, one day some years later he died, just like everyone else does (except Tom Cruise, apparently ?)
See also
[
edit
]